Ryder Cup food and drink prices hit extortionate levels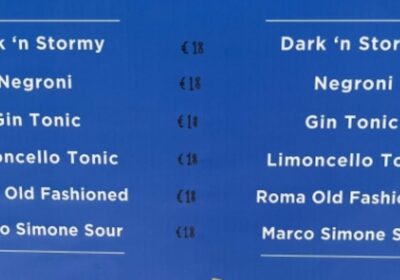 The Ryder Cup rip-off: Prices at Marco Simone Golf & Country club hit extortionate levels with burgers costing £17 and a beer priced at £7
Novak Djokovic and Gareth Bale won the star-studded celebrity match in Rome 
Team Europe are looking to win back the Cup and defend their home record 
Mail Sport's new WhatsApp Channel: Get the breaking news and exclusives here 
Fans looking to enjoy refreshments when they go to watch the 2023 Ryder Cup will be in for a shock when they see the prices on offer at the Marco Simone Golf & Country Club in Rome.
The Ryder Cup begins in the Italian capital on Friday, with Team Europe looking to extend their stunning home record over Team USA, which stretches all the way back to 1999, and wrestle back the famous trophy.
Ryder Cup fever has already hit the iconic course, with the star-studded celebrity match seeing tennis star Novak Djokovic and Gareth Bale sealing victory in Italy. 
It has been a competition like no other in its long, 96-year history, though, with the ongoing rumblings of the LIV rebels missing out continuing in the background.
Fans in attendance may be forgiven for having their attention snatched away from the action and onto their wallets once the gates open on Friday morning. 
Cocktail prices at Rome's Marco Simone Golf & Country club will see fans part with £15.60 for a tall drink
Golf lovers can charge their phones at the course – but only if they are willing to spend £17.33 to rent a charger
All four of the course's burger options are priced ad £17.24 with water also costing a further £3.47
Prices for food and drinks at sport's biggest festivals have always left even the most ardent enthusiasts wincing a little, and the Ryder Cup will be no different. 
With the heat expected to be in the region of 29 degrees Celsius in Rome this weekend, fans might think twice before looking to quench their thirst. 
Cocktails are perhaps unsurprisingly the more expensive options, with a gin and tonic, negroni and an old fashioned setting fans back to the tune of £15.60 (€18).
A beer will also be a pricey option for golf fans, at £6.93 (€8), and even water is priced at £3.47 (€4). 
In terms of food, fans can choose from four different burger options, although all four will be priced the same. The beef, chicken and vegetarian options all cost a whopping £17.24 (€19,90).
It's not just the food and drink that will be landing a hefty blow on fans' wallets this weekend, though.
With play on each day set to last several hours, phone batteries are sure to gradually go down, but you can rent a charger for £17.33 (€20) or buy one outright for £40 (€34.66).
Team Europe will be looking to defend their 24-year unbeaten run at home in the Ryder Cup
Gareth Bale and Novak Djokovic won the celebrity-studded all star match in Rome on Wednesday
Source: Read Full Article