Slow as she goes approach just the ticket for Eddie's Wallabies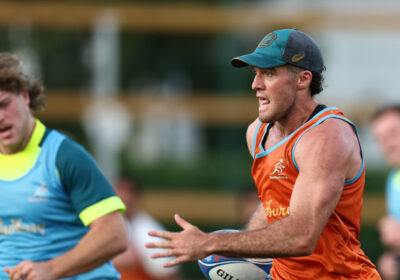 Save articles for later
Add articles to your saved list and come back to them any time.
Roll up, roll up!
As if you didn't know, on Sunday morning Sydney time the Wallabies take on Georgia to get their World Cup campaign under way in France. They should win, probably in scratchy fashion.
In his remarks at a reception at the Australian embassy on Wednesday evening, coach Eddie Jones put out his view that in the early rounds of a World Cup, you ideally only want to do just enough to win, keeping your best stuff for when it counts.
And while everybody else was exulting the Boks thumping of the All Blacks a fortnight ago, he made it sound like this was his stuff of nightmares – playing out of their trees before the tournament itself and perhaps peaking early.
I know, I know, whatever else they say about the Wallabies form leading into this World Cup – with five straight losses to begin Eddie's reign – they are unlikely to be accused of peaking early. Unless that 20-point loss to France was as good as we've got? I think not. Stand by, sports fans. Scratchy win over Georgia. Second gear over Fiji. Third gear over Wales. Fourth gear over Portugal. Quarter-finals, overdrive, cruising together!
In a little light palling around afterwards, well away from microphones and the public gaze, Eddie genuinely seems confident that the bloody surgery we have seen on the team to date will produce results and the patient is recovering and in good shape. We will see.
Onwards!
Ben Donaldson runs the ball during a Wallabies training session.Credit: Getty
Woody Allen's in your corner, what can go wrong?
Listen, in terms of people trying to help others get out of a jam by providing public support, I have long thought it could never get worse than Keef Richards coming out to help his mate, the late, great Shane Warne after he failed his drug test.
(Keef? I know you're trying to help but, look, could you maybe sit this one out?)
Well, I was wrong.
Jorge Vilda with Luis Rubiales in Sydney.Credit: Getty
The sporting issue du jour, globally, is the forced kiss by Spanish soccer chief Luis Rubiales on star striker Jenni Hermoso, on the victory podium of the World Cup – now likely to be the subject of legal action. Just about no one – with only his mum as the notable exception – has publicly supported Rubiales, for how could you? Until this week.
Enter . . . Woody Allen, famed for his film work, and infamous for marrying a woman nearly four decades his junior who was . . . his step-daughter.
This week, Allen spoke out.
"He didn't even kiss her in a dark alley. He wasn't raping her. It was only a kiss, and it was a friend. What's wrong with that? It's not like he murdered someone."
Woody? When seeking moral guidance on the rights and wrongs of this, the best bet might be to start with the feelings of the woman concerned, then move to the feelings of other women who have been themselves the victims of unwanted intimacy, and then . . . you get the drift.
It might be some time getting to you. In the meantime, I am reminded of the words of David Letterman in his opening monologue, on the evening of the news of your affair with your step-daugther broke.
"And here's a little cheerio to Woody Allen's counsellor . . . Nice work."
Graham's admirable work in important space
The evolution of James Graham from a down-player of the gravity of repeated concussions to footballers, to a leading advocate that proper care be taken, continues – and bravo.
You will recall that as recently as 2019, TFF and the former rugby league star got into a public donnybrook on what I saw as his reckless disregard for looking after himself and the effect that risked having on others who might also take a cavalier approach.
He saw it as me being a preening prat publicly telling him what was good for him and others, and how dare I, so get nicked until further notice. But in the "Concussions and repeated head trauma in contact sports" report that the Senate released this week it is noted of the Englishman:
"Graham stated that, although rugby league gave him a 'great life' and many opportunities, he believes that it is likely that it will come at cost to his health and life span: 'Some of this is due to the nature of my sport, due to the environment that I was put into, the attitudes that existed around concussion and my own choices, at times, to carry on and take advantage of a system that allowed me to play six days after being knocked unconscious'.
"'I … received the information that I'm in the bottom three per cent for a certain area of the volume of my brain. I'm glad I know that information because I can look to do something about it. Unfortunately, that resource isn't there for a number of the people I used to play with and play against. I think it should be. During that time of my own ill health, I was diagnosed with depression and anxiety, and I'm now looking at possible bipolar disorder as well. It's an ongoing process, and it's something that I will likely deal with for the rest of my life'.
"'You can't cease the decline, but you can put the brakes on things. You can certainly hit that accelerator. Unfortunately, people don't know where to turn to, they don't know what resources are available to them, and that self-medication aspect is far too common, in my opinion, from what I've seen in the community'."
Again, as sobering as that medical news is about him, bravo for speaking out.
Back in the day: Trevor, Ian and Greg Chappell.Credit: Archive
Chappell brothers unite for great causes
Back in the day, the "Holy Trinity" of Australian rugby was Farr-Jones, Lynagh and Campese. Cricket's rough equivalent was the Chappell brothers: Ian, Greg and Trevor. Only rarely do the latter appear on stage at the same time discussing their careers, but it will happen this Wednesday, at the 6th Annual Dinner of The Chappell Foundation at the sublime SCG, with drinks on the sacred soil from 5.30pm.
They will be interviewed by Adam Spencer, and all money raised – every dollar, without seepage – will go to charities that help to alleviate youth homelessness charities, the likes of Stepping Stone House, Taldumande, and the Burdekin Association. There are just a handful of seats left of the 500 available. Google and go-go.
Two tickets, please. That'll be $25,000
Stop Press. After a Kiwi woman overheard me telling a friend at breakfast in a Parisian hotel on Thursday morning to forget about going to the opening match of the World Cup because they were selling for thousands of dollars, she politely interrupted.
"Can I tell you, that we just tried," she said, "and were told we could get two tickets for 8,000 Euro each."
In Australian dollars, that's $13,500.
In Kiwi dollars, you could probably buy Invercargill, and have change left over for Timaru and a night out.
All Blacks great Dan Carter promoting the Rugby World Cup in Paris.Credit: Getty
Anne damned by bad luck with drivers
Dutch golfer Anne Van Dam headed off to the Irish Open last week, only to find when she landed in Dublin that her main driver had been broken in transit. Not to worry, she had a backup and used it to get to 16 under after the final hole on Sunday, and into a three-way playoff.
But then on a golf cart with an official, heading to the first playoff hole, Ms Van Dam casually lifted a boundary rope, so the cart could get under. Alas, she dropped the rope a moment early, meaning it caught the top of her golf bag, and destroyed a club.
It was her backup driver. She lost the play-off.
Dam!
What They Said
Fullback for the Chilean rugby team, who are making their debut appearance at this World Cup, Inaki Ayarza: "We know the teams we're going to play. We've watched them on the television for a long time. For me, it's the stuff of dreams. But we haven't come to France just to take photos." Chile kicks off against Japan.
Sonny Bill Williams, in Paris as a Stan commentator for the World Cup, tells the SMH's Tom Decent, of the Wallabies: "They can win the World Cup. They're so close. People forget how good this Australian team is. All you have to do is look at the history. Australia is the third-ranked team in the history of rugby. They've won two World Cups." I know. Tell him he's dreaming, but, why not?
Deion Sanders on his successful start in college coaching, with his Colorado Buffaloes beating the heralded Texas Christian University team: "Ain't none of [the media] thought we were going to end up sitting here . . . Everybody's quiet now. We told you we coming. You thought we was joking. And guess what? We keep receipts."
Sanders: "I don't have captains. I don't believe in captains. I believe in leaders and dogs. Every dog ain't a leader and every leader ain't a dog."
Colorado coach Deion Sanders gets a point across.Credit: AP
Nicole Livingstone on the AFLW support being boosted by the Matildas: "Australia has been awoken that they love women's sport and the green and gold tsunami that was the Matildas has helped us with that. We're happy to grab that as a platform and keep running with it."
Alex de Minaur on his US Open match against Daniil Medvedev: "Whenever you play him, you have got to be ready for an absolute chess battle from start to finish." Sadly, in the end, it was check-mate to Medvedev.
Sergio Scariolo, Spain basketball coach, with a collective Michael Clarke: "Tonight, we were Spain until the very end."
Coco Gauff says she drew inspiration from Justin Bieber during her third-round comeback victory at the US Open: "I definitely saw who was there. I thought, 'I cannot lose in front of Justin Bieber.' I didn't lose a game after I saw that." Justin, a word? The Wallabies are playing Fiji next Sunday at St Etienne, if you could drop by, and I'll tell the guys you're there?
Shark Wade Graham: "I think the government should throw some funding at the Sharks to update that facility because the infrastructure there now with the new development needs a new stadium to sit side-by-side with it. That's a government issue, not ours." And schools and hospitals, Wade? Whose issue is that? Why should the Sharks be further forward in the queue than them?
Eddie Jones on being dragged into Danny Cipriani's book, with the former English fly-half claiming when Eddie was coaching England he asked Cipriani about his relationships: "It's just f—ing nonsense. If anyone is stupid enough to pay attention to it then good luck to them. I get criticised for being too hard – now someone is trying to make out that I'm too familiar with the players. Work out what you want me to be!"
Unseeded American, Ben Shelton, 20, on making it all the way to the US Open semi-finals: "Sometimes, you've got to shut off your brain, close your eyes, and just swing." There's a Djoker in the pack, but it'd be great to see him make the final, with an attitude like that!
Boomers coach Brian Goorjian after their scratchy World Cup: "I've read a lot and respect everyone's opinion, but what I said to the group inside is that I'm not embarrassed and I'll go back to Melbourne with my head high."
Team of the Week
Wallabies. Play Georgia in Paris to get their World Cup Campaign under way.
South Sudan. Their men's basketball team qualified for next year's Olympics.
Rinky Hijikata. The Australian did remarkably well at the US Open.
Sydney Roosters. After not winning two games in a row all year, won their last five to get into the finals.
Swans. Their AFLW side was winless last year but they won their opener this year in a thriller against GWS Giants.
Kaden Groves. The Australian cyclist is tearing them up in Spain, winning two stages of the Vuelta a Espana.
Socceroos. Take on Mexico on Sunday.
Heath Streak. Rumours of the former Zimbabwean cricketer captain's death weren't that much exaggerated, and he passed away only a couple of weeks after those rumours circulated, this week, aged 49. Two years ago, Streak was banned by the ICC from being involved in cricket for eight years, for breaching their anti-corruption code. He died from colon cancer.
Twitter: @Peter_Fitz
Watch all the action from Rugby World Cup 2023 on the Home of Rugby, Stan Sport. Every match ad-free, live and on demand in 4K UHD from September 9.
Sports news, results and expert commentary. Sign up for our Sport newsletter.
Most Viewed in Sport
From our partners
Source: Read Full Article