Tyson Fury sends message of support to Alexander Volkanovski after UFC champ opens up on mental health battle | The Sun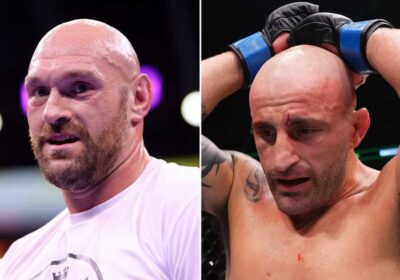 TYSON FURY sent a message of support to Alexander Volkanovski after the UFC champion opened up on his mental health battle.
Volkanovski revealed the struggles he went through while out of training camp following his rematch loss to Islam Makhachev.
Fury has been an advocate of mental health amid his own battle which saw him lose his world titles and balloon up to nearly 30 stone.
But it inspired one of sport's greatest ever comebacks after the Gypsy King returned to boxing to win the belts again.
Now the heavyweight hero is encouraging others to speak out and hailed Volkanovski for his post-fight admission.
Fury, 35, told The Mac Life: "I have been in that situation all year.
READ MORE IN BOXING
REAL JI
Tyson Fury leaves Deji speechless in backstage conversation at KSI vs Tommy Fury
FAB £30
Get £30 in FREE BETS when you place any amount on any sports market with Sky Bet
"I've not boxed since last year, early-December of 2022 and there was a lot of uncertainty [about] if I would even box again.
"Out of the blue, all of this has come, and I've not got one fight but two fights lined up.
"What I would say to Alexander is keep going. You know, he's a very good professional athlete and you win some, you lose some.
"Dust yourself off, get back in there and kick a***."
Most read in Boxing
BLUNDERCARD
Fury slams Joshua as 'embarrassing' for unusual request & asks 'is he a child?'
SHOWTIME
How to watch Fury vs Ngannou: Live stream and TV guide for huge crossover fight
WORLDS COLLIDE
Boxing and MMA worlds make picks for epic Fury vs Ngannou crossover fight
TELLING PORKIES
Fury says 'sausage' Usyk will be SUED if he doesn't fight him in December
Volkanovski filled in for Charles Oliveira on just 11 days' notice to rematch lightweight champ Makhachev in Abu Dhabi.
Volkanovski, 35, had been beaten by Makhachev, 31, on points in his initial 155lb title challenge in February but beat Yair Rodriguez in July.
And the Australian legend revealed the mental battle he had fought during the three months of not being in training camp.
Volkanovski said: "It is hard. It really is hard for athletes.
"I never thought I'd struggle with it but for some reason when I wasn't fighting or in camp…"
Volkanovski had to pause to gather his thoughts before adding: "F***, sorry. It (not being in camp) was just doing my head in.
"So when this opportunity came up, I'll be honest I wasn't training as much as I should've, but I thought I had to do it.
"Had to take it. I thought it would be… I was telling myself it was meant to be. I was doing my head in not fighting.
Read More on The Sun
BANK BOOST
One-off payment worth £185 set for thousands – check if you're getting one
STREWTH
Soap legend in talks to join I'm A Celebrity after 28 years on show
"Don't know why. I've got a beautiful family. I think you just need to keep busy. So I ask the UFC to keep me busy.
"I need to be in camp or I'm gunna do my head in. I'll leave it at that."
How to get help
NHS talking therapies can help if you're struggling to cope with feelings of anxiety or depression. 
Your GP can refer you or, in England, you can refer yourself online via nhs.uk/talk.
If you need help for a mental health crisis, emergency or breakdown, NHS urgent mental health helplines offer 24-hour advice and support for people of all ages. 
Find a local NHS urgent mental health helpline via nhs.uk/urgentmentalhealth (England only). 
The charity Mind also provides support to those that need it. Call 0300 123 3393.
If someone's life is at risk or they cannot be kept safe, call 999.
Source: Read Full Article