USC's Brenden Rice enjoys productive Colorado return: "I kind of had butterflies"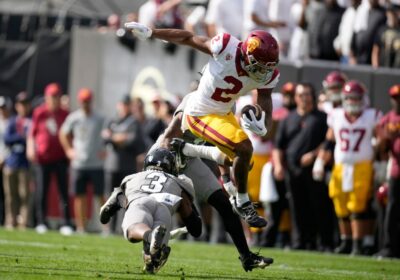 BOULDER — Brenden Rice was up early Saturday morning.
Technically, everyone on the USC football team was. The Trojans had to play a game at 9 a.m., Los Angeles time, against the Colorado Buffaloes.
But this was a different deal for Rice, who was one of Colorado's best players in 2021 before leaving the program to join Lincoln Riley, Caleb Williams & Co.
"I was up an hour earlier, went to work out and burn off some steam because I wanted to come in here and I kind of had butterflies," Rice said after USC's wild 48-41 victory. "I just wanted to settle myself in."
Rice was a freshman in Boulder during the COVID-19 pandemic-altered season in 2020, then was a bright spot the following year for a Buffs team that went 4-8. He had 21 receptions and a team-high three touchdown catches.
The son of arguably the greatest pass catcher in football history, Jerry Rice, couldn't resist the opportunity to transfer to the Trojans. A lot has changed at his former program, and it was all on display Saturday.
"Just being back in Folsom, it was crazy for me," Rice said. "It was amazing. It was everything I had dreamt it to be. Just being out there and playing in front of (54,032) fans. It was packed out. Shoot, they did it for our home games even when we were losing when I played. It was very cool for the fan base. I didn't hear too much chatter boxing. Just more people cheering me on, which I was thankful for that."
Rice's first year with USC was solid but unspectacular until a monster performance in the Cotton Bowl — six catches, 174 yards and a pair of touchdowns. With Jordan Addison now in the NFL, Rice is emerging as one of Williams' top targets in a deep and talented receiving corps.
He had five catches for 81 yards and a pair of touchdowns against his former team Saturday. Rice now has seven touchdown receptions in five games.
"I put in the work in the offseason," Rice said. "I went through some days where I didn't want to get up. I came in, got some extra work with Caleb. Did some extra background work with the coaches and stuff like that. Got in the film room. To see it all coming together now … to say I'm surprised? No. But am I thankful? Most definitely."
His first touchdown was a catch-and-run along the left sideline that included a soaring lunge for the end zone late in the second quarter. Rice nearly caught a second touchdown midway through the third quarter, but Colorado freshman cornerback Cormani McClain was able to knock the pass down.
Rice moved to the other side of the formation on the next play and corralled a slant pass from Williams to put USC up 41-14 before a furious rally from the Buffaloes. He was upset with himself about missing the first end zone opportunity and one other pass earlier in the game, saying he "left money on the field."
It proved to be a productive trip for Rice, complete with some nostalgic feelings about his days here. There aren't a lot of former teammates left on the team, but he did have a moment with Colorado quarterback Shedeur Sanders on the field afterwards.
"When I first came to Colorado, coming over that hill and looking into all of Boulder, that's what I really loved," Rice said. "That's what made me fall in love with Boulder. Then it was the fan base and the college town and everything. Those were big factors for me."
Want more sports news? Sign up for the Sports Omelette to get all our analysis on Denver's teams.
Share this:
Click to share on Facebook (Opens in new window)

Click to share on Reddit (Opens in new window)

Click to share on Twitter (Opens in new window)
Policies
Report an Error
Contact Us
Submit a News Tip
Most Popular
40,000 drivers caught on camera cutting illegally in and out of Colorado highway express lanes

40,000 drivers caught on camera cutting illegally in and out of Colorado highway express lanes

Terrell Davis pays $3.3M for Cherry Hills mansion

Terrell Davis pays $3.3M for Cherry Hills mansion

Everything you need to know about the solar eclipse at Mesa Verde National Park

Everything you need to know about the solar eclipse at Mesa Verde National Park

Lauren Boebert escorted out of "Beetlejuice" musical in Denver after "causing a disturbance"

Lauren Boebert escorted out of "Beetlejuice" musical in Denver after "causing a disturbance"

CU Buffs vs. USC quick hits: Shedeur Sanders runs out of time in masterful duel with Caleb Williams

CU Buffs vs. USC quick hits: Shedeur Sanders runs out of time in masterful duel with Caleb Williams

Construction starts on $125M, 81-acre technology park in Broomfield

Construction starts on $125M, 81-acre technology park in Broomfield

Kiszla: Have 0-3 Broncos hit rock bottom? Frank Clark says: "This is going to be a season of grit. We're going to have to take some (bleep)."

Kiszla: Have 0-3 Broncos hit rock bottom? Frank Clark says: "This is going to be a season of grit. We're going to have to take some (bleep)."

Gov. Jared Polis orders plan to keep Colorado's national parks open in a federal shutdown

Gov. Jared Polis orders plan to keep Colorado's national parks open in a federal shutdown

Discovery of Suzanne Morphew's body raises new legal questions in 3-year-old case

Discovery of Suzanne Morphew's body raises new legal questions in 3-year-old case

Bustang canceled 51 Colorado rides over past two weeks

Bustang canceled 51 Colorado rides over past two weeks
Trending Nationally
What services and benefits are at risk if Congress fails to fund the government? Here's what you should know
Sen. Dianne Feinstein's career: From San Francisco mayor to U.S. senator
California has 6 of the most-valuable housing markets in US
Discovery of Suzanne Morphew's body raises new legal questions in 3-year-old case
PHOTOS: New York City pummeled by torrential downpours, flash floods
Source: Read Full Article