Wayne Lineker targeted by false slurs by crowd at Crouchfest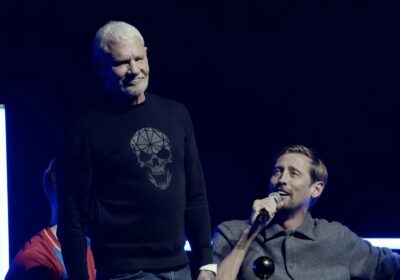 Wayne Lineker is falsely accused of being a 'paedo' by 12,000-strong crowd at Crouchfest… with Ocean Beach club owner refusing to answer questions on stage as he is targeted by false slurs
Wayne Lineker was one of the guests for Peter Crouch's Crouchfest live event 
Brother of Match of the Day host Gary, Lineker is an owner of Ocean Beach Ibiza
Big debates on Man United, Chelsea and Arsenal on It's All Kicking Off podcast 
Wayne Lineker found himself falsely accused of being a 'paedo' during an appearance at Crouchfest, with the Ocean Beach owner abused by the 12,000-strong crowd at Wembley Arena.
Lineker was brought on stage as one of the live guests during the event, which was a live podcast recording in the style of a festival for the hugely popular 'That Peter Crouch Podcast'.
Lineker, who has previously been trolled online with the false slurs, looked suitably unimpressed when he was loudly abused when he emerged on stage.  
'Wayne, I want to have a chat,' Crouch said to the 61-year-old, trying not to acknowledge the crowd noise. 
Crouch began to ask Lineker about his best experiences with footballers at Ocean Beach club in Ibiza, with Man City Jack Grealish picked out as his favourite visitor. But the offensive, and false, slurs grew louder and Lineker would go on to avoid answering further questions on stage in an awkward segment.
Wayne Lineker was abused with false slurs as he emerged on stage at Crouchfest on Saturday
Lineker was one of the guests during the event at Wembley Arena for Peter Crouch's podcast
Your browser does not support iframes.
With awkwardness at the situation growing as Crouch looked to avoid acknowledging it all together, the former footballer's podcast co-host Chris Stark eventually diverted the conversation away to another segment about the Samrat curry house in Ealing – one of the in-jokes on the podcast – in what he jests was 'convenient timing'. 
It is not unfamiliar territory for Lineker, brother of Match of the Day host Gary, and he has consistently defended himself in the face of trolls. 
Back in 2021 furious fans falsely labelled him a 'paedophile' after a prank in which he announced a fake engagement to Geordie Shore star Chloe Ferry.
The pair, who grew closer while appearing on Celebs Go Dating, shared a snap online which left fans angry. 
As abuse aimed at Lineker (left) continued, he stopped answering Crouch's questions on stage
Wayne defended himself against the false and offensive slurs in the comments.
'Love you so much. I don't care if I get abused,' he wrote in reference to the Geordie star.
Ferry was herself furious at the backlash Lineker faced and she defended him on her own Instagram page, labelling him an 'amazing person'. 
Ferry, who is 33 years his junior, said on Instagram: 'Some of the stuff that I have had to read about him is disgusting. I can't believe the stuff he is getting called.
'Paedophile is such a strong word to call someone it is absolutely disgusting that he is getting called that when all his friends and family have to read that about him.
'Wayne is one of the most amazing people I have ever met in my life and he does not deserve the abuse and the awful words that are getting said about him I am disgusted having to read that.' 
Lineker has long been accused of having a penchant for younger women, with three of his much younger girlfriends eventually becoming his wives.
Lineker previously faced similarly offensive and false slurs when he pulled a prank pretending he was engaged to his Celebs Go Dating co-star, and Geordie Shore ace, Chloe Ferry
Lineker defended himself in the comments of the post and has continually responded to slurs
Among them was Zoe Davey – their friendship began when he was 29 and she was a 15-year-old Essex schoolgirl.
'This isn't a Bill Wyman-Mandy Smith situation,' Lineker insisted when tabloids asked him about their association, referring to the Rolling Stone's infamous relationship with a 14-year-old. 
'Zoe is a virgin and she'll stay that way until she is at least 16.'
They later married and had a daughter, now 16 herself, but the relationship broke down and Lineker moved on.
IT'S ALL KICKING OFF! 
It's All Kicking Off is an exciting new podcast from Mail Sport that promises a different take on Premier League football.
It is available on MailOnline, Mail+, YouTube, Apple Music and Spotify.
Your browser does not support iframes.
Source: Read Full Article