Black Friday 2023 – Exact date, predicted deals and tips to get best bargains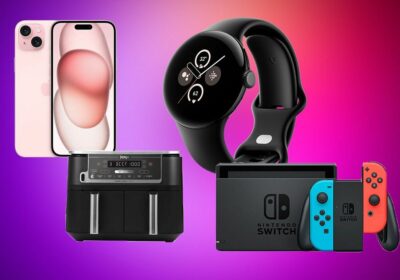 Currys has already launched its Black Friday deals and you can find all the best offers that the store has right now.
It has dropped the prices of items such as Samsung TVs, Apple iPhones and more
Ninja has already launched its Black Friday deals on its website.
You can save more that 25 per cent on air fryers, multi-cookers and more.
John Lewis has chopped the price of tons of products including tech, perfumes and more.
You can get 20 per cent or more off certain products such as LG, Samsung and Apple.
Jump on Shark's Black Friday deals right now as it slashes prices on multiple vacuum cleaners.
Shark is expected to include more products as Black Friday approaches closer so keep an eye out.
JUMP TO…
When is Black Friday and what can I expect?
Who is taking part?
The top tricks and tips to get the best deals
November is almost here which means Black Friday is almost here – but for some retailers it has already started early.
Black Friday has become one of, if not THE most popular shopping dates on the calendar. This year the official date for Black Friday is November 24.
However as we mentioned, many retailers take the opportunity to launch sneaky early deals that might be worth picking up just in time for Christmas meaning effectively Black Friday season has already begun now.
And with the cost-of-living higher than it has been for years, getting the best deal possible for Christmas could help you save cash for the more essential items in your life.
So how do you find the best deals and what can you expect before and on Black Friday? We've done a round-up of the best tips and tricks as well as the best deals around for you to look at.
When is Black Friday and what can I expect?
Black Friday falls on November 24, 2023 this year and Cyber Monday will take place on Monday, November 27 2023. However, many retailers have already started cutting prices on certain products.
Throughout the month, you can see retailers slash prices of thousands of products before, during and even after Black Friday. However, just because it has "Black Friday deal" next to it – doesn't mean it's a good deal.
If there's is a specific item you want during Black Friday, make sure you do a little research as other retailers might be selling the product cheaper during their own Black Friday deal duration – or you might just find it cheaper anyway.
Who is taking part?
Black Friday has become so universal that most popular retailers take part in the event before, during and after Black Friday. Some retailers have already started flogging off Black Friday products.
These retailers include Currys, Ninja, John Lewis and Shark. We've already complied a list of the best Currys Black Friday deals if you want to explore some good offers.
We expect other retailers such as Amazon, ASOS, Boots, Virgin Media, BT, Sky and more to take part as November continues.
Some retailers wait until Black Friday to unveil the best offers but its worth keeping a close eye on items that you have been wanting just in case a deal pops up.
The top tricks and tips to get the best deals
Sometimes it can feel overwhelming especially with multiple retailers telling you about their amazing Black Friday deals so what should you do to ensure you get the best Black Friday deal?
We've complied some top tips so you don't feel overwhelmed or you get ripped off during Black Friday.
Do research ahead of time – preparation is key and getting some background knowledge on items you intend to buy will save you time and effort ahead of the big day. Don't forget to read the reviews and expert roundups for an independent recommendation.
Register your interest – Sign up to specific retailer newsletters to stay in the loop and get the latest news on what they will be offering for Black Friday. Most retailers will be regularly updating shoppers on all the exciting promotions and the latest deals on thousands of products in the lead up and during the shopping bonanza.
Bookmark pages of products you want ahead of time, that way when the clock strikes midnight you won't have to waste time scrolling through thousands of products.
Get online early – online demand last year was unprecedented, and we expect this year will be no different. It's worth burning the midnight oil if you really want to score huge deals.
Compare prices across a number of retailers and look for free delivery options to maximise your savings. This will help ensure you get the best possible discounts on all your coveted items.
READ NEXT
Best Currys Black Friday deals
Best Galaxy Z Flip 5 deals
Best Galaxy S23 deals
Best Galaxy S23 Ultra deals
Best Galaxy S22 deals
Best Galaxy Z Fold 4 deals
Best Galaxy Z Flip 4 deals
Best VPN
Best VPN deals
Best mattress deals
Best air fryer deals
Source: Read Full Article