iPhone 15 Pro, USB-C, Apple Watch 9: Everything Apple just announced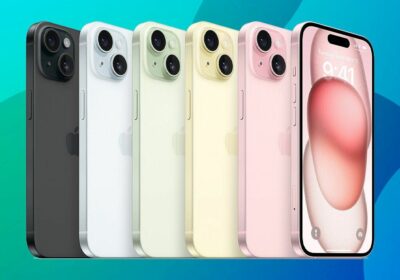 JUMP TO…
iPhone 15
iPhone 15 Pro
Switch To USB-C
Apple Watch Series 9
Apple has just wrapped-up its annual September event, where it announced the latest entry into its best-selling iPhone series, two new Apple Watch models, and a refresh to its AirPods Pro wireless earbuds.
Missed the keynote? Don't worry, we've got everything you need to know about the iPhone 15, iPhone 15 Pro, Apple Watch Series 9, and more. Scroll down for details on the new slate of products, as well as the long-rumoured switch to USB-C and what it means for you, the best iPhone 14 Pro deals now that its successor has been revealed, and much more.
iPhone 15
iPhone 15 borrows some of the biggest innovations from the top-tier iPhone 14 Pro launched last year.
The A16 system-on-a-chip, which was introduced exclusively for the Pro lineup last time around, is finally coming to the standard iPhone range. Its promises faster performance, especially for those who push the silicon to the limits with graphics-intensive mobile games. Apple has also brought the peak brightness – a whopping 2,000nits – exclusive to the pricier Pro phones to iPhone 15 too, which should make it more visible outdoors in bright sunlight.
iPhone 15 also arrives with a 48MP main camera – that's the same humongous sensor that was introduced with the iPhone 14 Pro last year. Using its clever computational photography, Apple combines multiple images at different exposures into a single file. Apple does this to find the perfect balance between light capture and pixel-packed detail.
All of this complex machine learning happens in the blink of an eye and the final image is a more manageable 24MP, so you shouldn't run out of storage too quickly.
Apple is relying on that 48MP sensor to offer a new lossless zoom feature on the iPhone 15. Until now, lossless zoom was exclusive to the Pro version of the iPhone, which shipped with a dedicated telephoto lens in its trademark triple-camera system. That all changes with the iPhone 15, which crops into the 48MP image for a crisp 24MP at 2x zoom.
This will appear alongside the 0.5x ultra-wide and 1x main sensor at the bottom of the viewfinder. The 2x zoom can be used in a rebooted Portrait Mode, which now lets you pick between multiple faces as the focal point after the photo has been taken. Apple has also reworked the algorithms that power Portrait Mode so that it works better with animals.
Finally, iPhone 15 enjoys the clever Dynamic Island notch introduced with the iPhone 14 Pro and 14 Pro Max.
This clever feature adds shortcuts to apps running in the background to a small window that surrounds the cut-out for the front-facing camera and Face ID system.
So, if you've got a timer running in the background, it will count down in the corner of the Dynamic Island window. Music and podcasts you're playing will be displayed in the Dynamic Island, while third-party apps can be updated to take advantage of the feature, with some airlines now adding your Departure Gate into the small preview window. Press-and-hold on the icon to see a detailed preview, or tap to launch the app.
Apple has tweaked its clever SOS via Satellite feature from the iPhone 14 and 14 Pro, which allowed users without signal to call for help via satellite, with Roadside Assistance via Satellite. As the name suggests, this allows iPhone 15 owners to reach roadside assistance companies, starting with AAA in the United States, with details of car trouble – even when they're stuck somewhere without mobile signal or Wi-Fi.
iPhone 15 also ditches the Lightning port that's been used to charge iPhones since 2012 in favour of USB-C.
This is the same connection found on the MacBook Air, MacBook Pro, iPad Air, and iPad Pro. Of course, it's also found on most Android smartphones, as well as gadgets like the Nintendo Switch, Kindle e-readers, and much more. Apple has been forced to move away from its proprietary connector to comply with a new EU law that requires all phones to charge via USB-C from autumn 2024 onwards.
In our iPhone 14 review last year, we praised its "life-saving new features, including sending texts to emergency services when you don't have any phone signal or are unconscious after a car crash" as well as its "oodles of power", "tough design" and "fuss-free camera that snaps great images no matter how much of an amateur photographer you are".
However, we noted that it was a "shame that it feels identical to the (now much cheaper) iPhone 13. In fact, it even looks pretty similar to iPhone 12." And that the biggest upgrades – like the 120Hz ProMotion display, always-on screen, A16 processor, Dynamic Island notch design, and telephoto camera – were all still reserved for the pricier iPhone 14 Pro series.
Although we'll reserve final judgment until our iPhone 15 review, it seems like Apple heard our grumbles and ticked off almost all of our complaints about the standard iPhone missing out on those Pro features.
iPhone 15 starts from £799. Like last year, those who want a larger screen (6.7-inch) can plump for the pricier iPhone 15 Plus, which starts from £899. Both handsets will be available in a choice of Pink, Yellow, Green, Blue, and Black.
Both new handsets will be available to preorder from 8am on Friday September 15th, with the first handsets dropping through letterboxes (or available to pick-up in-store) on September 22nd.
iPhone 15 Pro
iPhone 15 Pro now uses titanium for its case, replacing the stainless steel that has been a trademark of the pricier Pro lineup since the iPhone X in 2017. Apple says titanium has one of the highest strength-to-weight ratios of any metal, which should ensure the new iPhone 15 Pro and 15 Pro Max are incredibly durable. It's also much lighter than stainless steel, so should be less cumbersome to carry around.
Switching to the new metal for the case has enabled Apple to shave a few millimetres off the bezel around the display, shrinking the overall footprint of the phone but keeping the same 6.1- and 6.7-inch screen sizes. Like last year, Apple is using its Ceramic Shield strengthened glass on the front, which should be resistant to accidental drops.
And that's not the only change to the design.
Apple has ditched the mute slider, which let users quickly toggle between Silent and Ring modes with the flick of a switch, from the iPhone 15 Pro and 15 Pro Max. Taking its place is a new Action Button. Fortunately, this can still be used in the same way as the mute slider, with a press-and-hold switching between the two modes as before.
But a single tap on the button can be used for a variety of other shortcuts, including launching the camera or flashlight, kickstarting a new Voice Memo recording, switching between your Focus modes, starting a live translation, as well as accessibility features like Magnifier. Apple is also enabling iPhone 15 Pro owners to launch Shortcuts with a tap, so you can customise an entire chain of events from a single tap.
Like last year, iPhone 15 Pro is the only handset in the lineup with an always-on display. This reduces the refresh-rate of the screen down to just 1Hz to maintain battery life, while still showing your wallpaper, the current date and time, widgets, and incoming notifications when your iPhone is asleep. This clever ProMotion display technology can also ramp-up to 120Hz, twice the refresh-rate found on the iPhone 15, so system animations and gaming looks buttery-smooth and fluid at all times. Apple is constantly tweaking the refresh-rate in the background based on what's happening on-screen so that it can maintain its claimed "all-day battery life".
iPhone 15 Pro and 15 Pro Max also keep the Dynamic Island introduced with the Pro series last time around, but Apple has increased the peak brightness to an incredible 3,000nits. That should keep things visible in the brightest conditions outdoors.
The upgraded Portrait Mode images are also supported on the two new Pro models, but the biggest change to photography comes exclusively to the iPhone 15 Pro Max.
Yes, while the iPhone 15 Pro keeps the same triple-camera system found on its predecessor, the larger footprint of the iPhone 15 Pro Max allowed Apple to include a new 5x lossless zoom camera. This should be ideal for close-ups, wildlife photos, and catching the action from further distances. To reduce any hand-shake ruining your shots, Apple had added Optical Image Stabilisation (OIS) and an autofocus 3D sensor-shift module.
The iPhone 15 Pro and 15 Pro Max are also capable of shooting Spatial Video, which captures the depth of a scene so you can peer around the video as if you're standing there. You'll only be able to view this fancy new video format on the upcoming Apple Vision Pro headset, which is due to launch in the new year in the United States. Still, it means you won't have to always be wearing the futuristic visor to capture the immersive new videos.
Under the bonnet of the new Pro handsets is the A17 Pro chipset, which makes history as the first 3-nanometer chip in a consumer product. As well as a tightly-packed design (which should help efficiency) it boasts a reworked Neural Engine with twice the speed of its predecessor, so that any tasks that require machine learning – photography, Siri, automatic suggestions – are faster. A redesigned GPU (that Apple says is the biggest in the history of the company) promises console-quality gaming on the iPhone for the first time. Titles like Resident Evil Village, Resident Evil 4, Death Stranding, and Assassin's Creed Mirage will be coming to iPhone 15 Pro and 15 Pro Max in the coming months.
Some of these games are designed for the latest generation of home consoles, like Playstation 5 and Xbox Series X and Series S – hinting at the sheer amount of power available in this latest chipset from Apple.
Like iPhone 15, the Pro lineup ditches the Lightning connector in favour of USB-C. However, a new USB controller packed into the A17 Pro system-on-a-chip enables USB 3 speeds on iPhone for the first time, now supporting much higher transfer speeds and video output up to 4K at 60 fps HDR. Apple says you can expect 20x faster transfer speeds when using the correct USB 3 cable.
That should be particularly helpful for photographer and videographers looking to export clips as fast as possible.
Looking back at the reaction to last year's iPhone, we were effusive in our iPhone 14 Pro review, starting that it had "everything we've ever wanted in a smartphone".
Sure, that's a bold claim, but the addition of the "fabulous new always-on screen that never stops glowing, interactive camera notch – called the Dynamic Island – that magically changes depending on what's running in the background, and a more powerful A16 processor" made the iPhone 14 Pro feel like a substantial step-up compared to its predecessor.
"This is another blockbuster update to the iPhone Pro series and, for the first time in years, it's now easier than ever to recommend spending the extra cash as the standard iPhone 14 lacks all of these barnstorming updates. The Pro is undoubtedly the best iPhone you can buy this year," we noted.
With the arrival of the lighter and tougher titanium frame, speedier A17 Pro chipset with console-quality gaming, new-found flexibility of the Action Button, and USB-C be enough to make this out go-to recommendation? And of course, that all-important 5x lossless zoom exclusive to the iPhone 15 Pro Max means the two variants in the Pro lineup are no longer equal. We'll have our review of the new iPhone 15 Pro models very soon, so stay tuned.
iPhone 15 Pro and iPhone 15 Pro Max will be available in Black Titanium, White Titanium, Blue Titanium, and Natural Titanium finishes.
iPhone 15 Pro starts from £999 or £41.62 per month – the same price as last year. It's available in 128GB, 256GB, 512GB, and 1TB storage capacities. Meanwhile, iPhone 15 Pro Max starts at £1,199 or £49.95 per month, available in 256GB, 512GB, and 1TB storage capacities. Both new handsets will be available to preorder from 8am on Friday September 15th, with the first handsets dropping through letterboxes (or available to pick-up in-store) on September 22nd.
Switch To USB-C
The Lightning connector was first introduced with iPhone 5 back in 2012, when it replaced the ageing 30-pin connector, which had been present on the iPhone since its debut in 2007.
When it made its debut 11 years ago, Lightning introduced a number of impressive advances: it was smaller, more durable, and most importantly of all, it was reversible – so you no longer needed to worry about plugging in your cable the wrong way. Lightning was also capable of high-resolution music playback, huge data transfers, and fast wired charging.
During the 16-year lifetime of the iPhone, Apple has only switched the charging port once. This marks the second shake-up from the Californian company.
Unfortunately, that means all of the teeth-grinding frustrations endured back in 2012 – using adapters to keep using treasured accessories with the wrong connection, buying new chargers, and car adapters – are coming around again. That said, there is one major difference this time around.
USB-C is not a proprietary connection developed by Apple and only available on its products, instead it's an industry-wide standard.
Yes, this durable, reversible connection was co-developed by a consortium of technology firms, including Apple. With its widespread adoption, the charging and cable you're already using to refill the battery on your Kindle, Nintendo Switch, MacBook Air, Sony wireless headphones, and Xbox Series X wireless controller can be used with your iPhone.
Apple has already embraced USB-C on MacBook Air, MacBook Pro, iPad Air, and iPad Pro. By moving away from its proprietary charging port on iPhone, Apple is ensuring that it will fully comply with an incoming EU regulation that mandates that all phones sold after autumn 2024 will need to use the USB-C connector for all charging ports.
Apple Watch Series 9
Apple Watch Series 9 arrives with a brand-new way to control everything you do on its small touchscreen, called double-tap.
While wearing the tech-packed timepiece, all you'll need to do is snap the tips of your thumb and index finger together to interact with an app on-screen. By default, a double-tap will perform the most common action within that app.
For example, if you've got an incoming call, a double-tap will answer the call. If you're already in a call, a double-tap will hang-up.
If your Apple Watch is buzzing with a timer, a double-tap will dismiss it, but when playing a podcast, audiobook or music track, a double-tap will act as a way to quickly play/pause.
If you're not inside an app, or receiving an incoming call, a double-tap on the main watch face will summon the Smart Stack, with another double tap starting to scroll through widgets in the stack. These are auto-suggested based on what the AI inside the Apple Watch thinks will be most useful to you at any one moment. For example, if you've walked into your home listening to music and pass by an Apple HomePod, the Smart Stack will show a quick shortcut to beam your current track to the speaker.
Double-tap is only possible, thanks to the new system-on-a-chip called the S9, which is more powerful than ever before. This extra grunt means the Watch Series 9 is capable of tracking minute changes detected from the accelerometer, gyroscope, and optical heart sensor with a new machine learning algorithm.
That speedier system-on-a-chip also comes in handy for Siri. For the first time on an Apple Watch, Apple will be processing your spoken requests to Siri on-device. Since nothing is being beamed to the cloud for processing, response times should be quicker and if you're somewhere with no mobile signal or Wi-Fi, you'll still be able to use the chatty voice assistant.
Because on-device processing is more private and secure, Apple is enabling Siri to access data from the Health app for the first time, so the AI assistant can answer health and fitness related queries, like "how was my sleep last night?". You'll also be able to use Siri on Apple Watch Series 9 to log health data points, like a weigh-in, start of a menstrual cycle, or any medications taken.
Elsewhere, Apple has cranked-up the peak brightness to 2,000nits on the Series 9, which should make viewing outdoors much easier than before. For dark rooms or early mornings, the display can also lower to just 1nit so as not to disturb people close by.
Apple Watch Series 9 is available in the same 41mm and 45mm screen sizes as before. Aluminium models are available in Starlight, Midnight, Silver, (PRODUCT)RED, and a new Pink colour case. For the stainless steel variation, the colours are Gold, Silver, and Graphite. Apple Watch Series 9 starts at £399, and Apple Watch SE starts at £219. It's available to order today.
Source: Read Full Article