OnePlus Open review: Stepping up to the crease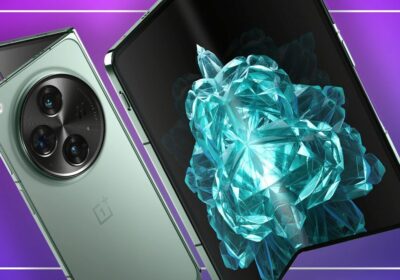 The OnePlus Open is a remarkably good folding phone with toip performance, excellent design, and very good cameras
What we love
Best inner display on a foldable
Normal size outer display
Incredibly good cameras
Clever software
Fast charging
What we don't
Not fully waterproof
Very expensive
The best place to buy the OnePlus Open in the UK is directly from OnePlus itself. If you pre-order before 26 October you will get a free pair of OnePlus Buds Pro 2 worth £179.
This box contains affiliate links, we may receive a commission on any sales we generate from it. https://www.express.co.uk/life-style/science-technology/1078812/Daily-Express-Information-on-Affiliate-links
The OnePlus Open is an incredibly accomplished foldable phone despite it being OnePlus's first go at one. It is a better looking and feeling device than the Samsung Galaxy Z Fold 5, with less of a crease in the folding screen and a more suitable sized outer display that is like using a regular smartphone.
The Open is also blessed with very good triple cameras that take frankly unbelievable photos for a foldable – every other folding phone compromises on camera performance to either keep the size or price down, but OnePlus has gone all-out. You might not love the big circular camera bump on the back, but we'd rather that than sub-par cameras on a £1,599 phone.
It's a shame the price is so high. Even if it's £150 cheaper than the Galaxy Z Fold 5 and Google Pixel Fold, it's still an awful lot to pay for a phone – especially as you have to fork out the full price because this phone isn't being sold by any mobile operators on contract. But if you go for the OnePlus Open you'll be rewarded by premium hardware build, awesome displays, great performance, and thoughtful software with updates guaranteed until 2028.
The absence of full waterproofing and wireless charging shouldn't bother you too much, especially when you can charge the phone in about 40 minutes with the included fast charger. The OnePlus Open is one of the best folding phones you can buy in the UK.
JUMP TO…
Design
Displays
Cameras
Performance and battery life
Software
Price
Verdict
OnePlus Open review
Folding phones have only been around for about four years and choice is still limited if you live in the UK. Samsung rules the roost with its Galaxy Z Fold 5 and Z Flip 5 currently, though you could also opt for the Google Pixel Fold.
If it's a book-style folding phone you like the look of then you should sit up and pay attention to the new OnePlus Open. It's a direct competitor to Samsung and Google, and after we've had it in our hands and pockets for two weeks, we think it's the best one you can buy – a very pleasant surprise given this is OnePlus's first ever foldable device.
With an incredible inner folding screen that has much less of a crease than rival phones, an outside screen you can use like a regular smartphone, fast charging, slick design, and wonderful cameras, there's little to complain about here.
Design
5.8mm thick when unfolded
Matte green glass rear
Bold camera design
When you're designing a folding phone there's only so many things you can do – you need an inner screen that folds in half and a screen on the outside to use when the phone is folded shut. OnePlus has put all its design chops into the back of the phone, which has a striking camera bump that draws the eye.
It's a large circular module with three lenses that sticks out a fair bit. We find it actually acts as a useful place under which to rest your finger when holding the phone shut with one hand, like a natural Popsocket. The phone is quite chunky when closed but a svelte 5.8mm when you open it up, as the product name instructs you to do.
OnePlus has put all its design chops into the back of the phone, which has a striking camera bump that draws the eye
The glass back is a green matte finish to hide fingerprints though the glossy edges of the phone show smears quickly. The whole thing is quite lightweight thanks to the use of cobalt and titanium in the frame and hinge rather than heavier stainless steel. The hinge, a very important part of a foldable, feels excellent. It clunks into place when opened or closed, and pushes you to use it in either way rather than half closed like a tiny laptop like Samsung does.
This is a very premium piece of hardware with excellent attention to detail that is befitting of its hefty price tag. Bear in mind it's only IPX4 water resistant though – think light rain shower. This gadget isn't safe to take a dip in the pool.
Displays
Best inner screen on a foldable
Minimal crease
Outside screen a normal size
When open, there's a 7.82-inch inner display that's close to square in shape. It has a pin-sharp 2K resolution and a 120Hz refresh rate for super smooth scrolling and animations. Colours are vibrant and bright, and it's a screen we enjoyed using immensely from everything from social media to email and gaming to reading.
The best thing about the screen is the minimal crease in the middle. Other foldables have inner screens with huge creases down the middle with an actual dip in the screen – OnePlus has done some magic here, and the crease is practically non-existent to the point you barely see or feel it. OnePlus is using its Ceramic Guard tech on the display to keep it free of scratches too, and in our time with the phone it looks unscathed.
The best thing about the screen is the minimal crease in the middle
Add to that the anti-reflective coating that makes the Open's main display much less reflective and shiny than the Galaxy Z Fold 5's, and this is the folding screen we want to keep using. It naturally picks up fingerprints, but that's something every foldable screen suffers.
When closed there's a 6.3-inch outer screen with the same high refresh rate that really feels like a regular sized smartphone. You can hold the Open and type and swipe normally, something you can't do on all folding phones. We find Samsung's Z Fold 5 outer screen too tall and narrow, and the Pixel Fold's inner screen too short and wide. The OnePlus Open is the Goldilocks option for both, with the right sized screens whether the phone is open or closed.
Cameras
The best camera on a foldable
Incredible detail and colour
Zoom lens is also excellent
If the excellent displays weren't enough, we've been blown away by the OnePlus Open's cameras, which are the best we've used on any folding phone bar none. For context, many foldables compromise on camera quality – this is usually to keep the cost or size of the device down. Samsung does not put its best cameras from the Galaxy S23 Ultra into any of its folding phones.
But OnePlus has thrown the rulebook away and put its best cameras ever in the OnePlus Open – they're better than the OnePlus 11's and we've got shots out of them that rival the quality of the iPhone 15 Pro Max and Google Pixel 8 Pro
OnePlus has worked with legendary camera brand Hasselblad to tweak the cameras here, and the efforts look to have paid off (even if such partnerships often feel like pure marketing hype). You get a 48Mp main sensor with 'Pixel Stacked' technology to cram as much data into shots as possible, with superb results. Here are some examples from that camera:
… we've been blown away by the OnePlus Open's cameras
Also on board is a 64Mp telephoto zoom lens that can go to 3x optical or 6x by cropping the image with little loss in quality. We've been blown away by how good it is, and it's particularly good at shots of animals whether in regular or portrait mode:
You also get a very capable 48Mp ultra-wide lens for shots like this:
OnePlus has not held back here, and the Open has some amazing cameras that are only a notch below the best out there, foldable or not. There are also front-facing camera in cut-outs on the inner screen and the outer screen so you can snap selfies and group shots or join video calls no matter how you're using the phone. They get the job done.
Performance and battery life
Snapdragon 8 Gen 2
16GB RAM
512GB storage
Much like its approach to the cameras, OnePlus has also thrown the kitchen sinks at the Open's core specs. It comes in just one version with 16GB RAM and 512GB storage, which is very generous compared to the cheapest models of rival phones. Paired with the latest Qualcomm Snapdragon 8 Gen 2 chipset, the OnePlus Open absolutely flies through any task you throw at it.
This is a phone that you can confidently play any high-end mobile game on, as well as multi-task between several open apps at once. The thing flies, and it lasts all day thanks to a 4,805mAh battery. That's large, but when it's powering the big bright inner display, the battery does tick down faster. Thankfully the OnePlus Open comes with a 67W wired charger in the box, unlike the Z Fold 5 and Pixel Fold that both charge slower and don't come with a charger.
You can fully charge the phone in 42 minutes from flat, which is great – it's a little annoying there's no wireless charging compatibility though, so that's worth noting if you like that feature on your current phone.
Software
Android 13 at launch
Open Canvas is clever
Five years of software support
The OnePlus Open's software is mostly like other OnePlus phones but on a larger display when opened. That's no bad thing as OxygenOS based on Android 13 is an easy to use version of Google's mobile software. It's not as slick as what you'll find on a Pixel, but it's easier on the eye than Samsung's cluttered One UI.
One thing to note is when watching YouTube, Netflix, or any kind of video on the main display you will have black bars at the top or bottom whichever way you hold the phone, as the screen is basically square but most video is not. Instagram also formats to the point a post takes up most of the screen and you can't read the captions. These are minor drawbacks, and the Open is designed with multitasking in mind. A new software feature called Open Canvas is very clever, where you can open three apps at once but hide some of their content off screen, tapping an app when you want to bring it front and centre.
This makes much more sense than on the Z Fold 5 where you can only cram three apps onto the screen where they are tiny and barely usable. Open Canvas makes the screen feel more like you are tapping between windows on a desktop computer. That said, it's easier to resize windows on Samsung's foldable.
A taskbar at the bottom of the screen can be hidden but is a good way to bring up apps quickly. Overall there's not too many bells and whistles here but the phone is powerful and fun enough to use that it doesn't need too many tricks. There's no stylus support, something the Z Fold 5 does have going for it if you want to write directly onto the displays.
OnePlus promises four years of Android platform updates, and five years of security updates, so the Open will be supported until late 2028.
Price
The OnePlus Open costs £1,599 direct from OnePlus. That's very expensive for a smartphone, even one that folds in half and is on the cutting edge of consumer tech. You're going to have to really want what's on offer here to part with that kind of cash, but it's good to see a charger and case in the box.
It's £150 less than the Samsung Galaxy Z Fold 5 and Google Pixel Fold, but that doesn;t mean it's cheap. But we do recommend the OnePlus Open over those two rivals. If you want the best phone for your money, we would point you in the direction of the iPhone 15 Pro – at £999 it's £600 less and is among the best smartphones going. It doesn't fold in half, though.
Verdict
The OnePlus Open is the best folding phone you can buy in the UK right now, besting the Galaxy Z Fold 5 and Pixel Fold at the premium end of the smartphone market. OnePlus has jumped to the front of the pack thanks to the Open's incredibly high-end design, top-tier cameras, flagship performance, and superfast charging. The lack of full waterproofing and wireless charging are minor dings against what is otherwise a full spec sheet.
Most importantly, the two displays are the best sizes on any book-style foldable. The inner screen uses clever software features to multitask and handles apps well, while the our screen is the shape of a normal smartphone, meaning the Open is not awkward to use when it's closed.
It's a lot to pay for a phone, and it's not available on contract, but if you can afford it then this is the best foldable phone yet for the UK market. Good job, OnePlus.
The best place to buy the OnePlus Open in the UK is directly from OnePlus itself. If you pre-order before 26 October you will get a free pair of OnePlus Buds Pro 2 worth £179.
This box contains affiliate links, we may receive a commission on any sales we generate from it. https://www.express.co.uk/life-style/science-technology/1078812/Daily-Express-Information-on-Affiliate-links
MORE LIKE THIS
Best iPhone 15 deals
Best iPhone 15 Pro deals
Best iPhone 15 cases
Best iPhone 15 Pro cases
Best Apple Watch Series 9 deals
Best iPhone 14 deals
Best iPhone 14 Pro deals
Best iPhone 13 deals
iPhone 15 Pro review
iPhone 15 Pro Max review
iPhone 15 review
iPhone 15 Plus review
iPhone 14 Pro Max review
iPhone 14 review
iPhone 14 Plus review
iPhone 13 review
iPhone SE review
Best VPN deals
Best Sky TV deals
MORE LIKE THIS
Best iPhone 15 deals
Best iPhone 15 Pro deals
Best iPhone 15 cases
Best iPhone 15 Pro cases
Best Apple Watch Series 9 deals
Best iPhone 14 deals
Best iPhone 14 Pro deals
Best iPhone 13 deals
iPhone 15 Pro review
iPhone 15 Pro Max review
iPhone 15 review
iPhone 15 Plus review
iPhone 14 Pro Max review
iPhone 14 review
iPhone 14 Plus review
iPhone 13 review
iPhone SE review
Best VPN deals
Best Sky TV deals
Source: Read Full Article