Calls to stop BA pilot from being released from jail just 13 years after he bludgeoned wife to death with a claw hammer | The Sun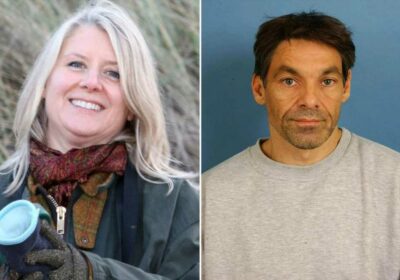 FRIENDS of a woman bludgeoned to death with a claw hammer by her BA pilot husband have called for him to be kept behind bars.
Robert Brown is set to be freed from prison within weeks after serving just 13 years for killing his wife Joanna Simpson.
Her friends have now issued a warning that "no woman will be safe" if the former British Airways pilot is allowed out, calling him "the devil".
They have urged justice secretary Alex Chalk to make sure 59-year-old Brown remains in jail, after he pledged to do all he could.
Mum-of-two Joanna, 46, was found dead in November 2010, justdays before her divorce from Brown was due to be finalised.
He had subjected her to a campaign of domestic abuse and coercive control, prompting fears among those who knew her.
Read More On Crime
World's deadliest city where cartels war over Fentanyl as tourists flock to beach
Woman arrested on suspicion of murder after man found dying outside pub
They now say he should be kept in prison despite being due for release in November after serving half his 26-year sentence.
He is not expected to have to face a parole board.
Brown hit her at least 14 times at the family home in Ascot, Berkshire, on October 31 2010, as their two children played nearby – Alex, then ten, and nine-year-old Katie.
Her body was discovered five days later in Windsor Great Park, buried in a pre-dug grave, after Brown admitted to cops he killed her.
Most read in The Sun
TRAGIC END
Horror pics show 230ft cliff where reality star, 36, died in tragic car plunge
ENDER THE ROAD
Enders in crisis as Brian Conley quits to leave key storyline in tatters
TODDLER TRAGEDY
Woman arrested for murder after girl, 2, found in pond 200 yards from home
CUTTING EDGE
BBC radio DJ in on-air rant during final show which bosses tried to silence
Brown was cleared of murder in May 2011 at Reading Crown Court but convicted of manslaughter due to diminished responsibility.
He was given a 24-year jail term for manslaughter plus two more years for obstructing a coroner in the execution of his duty.
His eligibility for parole this November has provoked protests from not only Joanna's family and friends but also supporters such as Carrie Johnson, wife of ex-PM Boris Johnson.
Joanna's mother Diana Parkes, 83, issued an appeal in The Sun to halt Brown's release.
Diana told The Sun in February of her belief Brown would find a way to hurt her and her grandchildren if set free.
Mr Chalk appeared emotional when discussing the case on Sunday, telling the BBC: "I will do everything I can within the law to keep people safe and to ensure there is justice in this case."
Now Joanna's friends have begged him to live up to that promise.
They recalled being warned by Joanna she was at risk from her violent husband three years before he did kill her.
Belinda Skudder described a phone call from her late at night in July 2007, asking her to come round and then revealing Brown had threatened to kill her with a kitchen knife.
Belinda told the Daily Mail how her friend managed to "talk him down" that time, reminding him of the children they had together.
She has now teamed up with fellow friends Amanda Key and Hetti Barkworth-Nanton for Brown's release to be blocked.
Hetti set up the Joanna Simpson Foundation along with the victim's mother Diana, to help the children of domestic abuse victims.
She is also chair of anti-domestic abuse charity Refuge.
She said: "How could I possibly stand by and see Brown, who I believe is a very dangerous psychopath, freed onto our streets without doing anything to stop it?
"No woman is safe. I'm frightened – we all are."
And Belinda accused Brown of being a "narcissist" who insisted in court "nothing was his fault", adding: "If he is allowed out of prison he will feel wronged.
"No one will be safe – we are dealing with the devil."
READ MORE SUN STORIES
BBC radio DJ in on-air rant during final show which bosses tried to silence
Horror pics show 230ft cliff where reality star, 36, died in tragic car plunge
The Sun Online approached the Ministry of Justice for comment.
How you can get help
Women's Aid has this advice for victims and their families:
Always keep your phone nearby.
Get in touch with charities for help, including the Women's Aid live chat helpline and services such as SupportLine.
If you are in danger, call 999.
Familiarise yourself with the Silent Solution, reporting abuse without speaking down the phone, instead dialing "55".
Always keep some money on you, including change for a pay phone or bus fare.
If you suspect your partner is about to attack you, try to go to a lower-risk area of the house – for example, where there is a way out and access to a telephone.
Avoid the kitchen and garage, where there are likely to be knives or other weapons. Avoid rooms where you might become trapped, such as the bathroom, or where you might be shut into a cupboard or other small space.
If you are a ­victim of domestic abuse, SupportLine is open Tuesday, Wednesday and Thursday from 6pm to 8pm on 01708 765200. The charity's email support ­service is open weekdays and weekends during the crisis – [email protected].
Women's Aid provides a live chat service – available weekdays from 8am-6pm and weekends 10am-6pm.
You can also call the freephone 24-hour ­National Domestic Abuse Helpline on 0808 2000 247.
Source: Read Full Article