Debris of 'ghost' F-35 jet found 80 miles from South Carolina base after warplane kept flying despite pilot ejecting | The Sun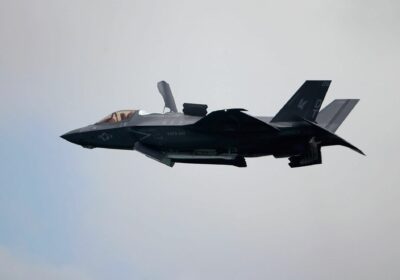 THE debris of the missing F-35 fighter jet has been found 28 hours after its pilot ejected and the plane continued to fly on.
The US military had been desperately appealing for help to find the stealth plane that suffered a "mishap" on Sunday afternoon as it flew over over South Carolina.
The debris field was found 80 miles from the £64million aircraft's base in Charleston finally ending the mystery that surrounded its disappearance.
At around 2pm on Sunday, the pilot safely ejected following an unknown error, but the plane – reportedly left in a "zombie" state on autopilot – continued to fly on.
Military officials had called on the public to help find the Lightning II fighter jet as they struggled to locate it.
They described the incident as a "mishap" and stated they were focusing their attention around Lake Moultrie and Lake Marion based on the "jet's last-known position".
read more on world news
Hunt for missing F-35 'ghost' jet after pilot ejects but warplane KEEPS FLYING
How ghost war jets flew without pilots for hours & LANDED in one piece
"The mishap is currently under investigation, and we are unable to provide additional details to preserve the integrity of the investigative process," the base said on Monday.
Also on Monday, the Marine Corps issued a two-day stand-down for all aviation units inside and outside of the US this week. 
No units will be allowed to fly until a two-day discussion about safety measures and procedures has taken place, according to an email seen by ABC News.
"Personnel from Joint Base Charleston and @MCASBeaufortSC, in close coordination with local authorities, have located a debris field in Williamsburg County," the base wrote on X/Twitter.
Most read in The Sun
IN PLAIN SIGHT
Sara Pascoe warns of TWO well-known predators in comedy industry
double trouble
Star's lunge leaves TWO rivals in agony as fans demand 'life sentence'
BABY ON BOARD
Paris Fury welcomes baby number seven with husband Tyson
TRAGIC LOSS
This Morning star dies aged 53 after 'sudden illness' as tributes pour in
They added: "The debris was discovered two hours northeast of JB Charleston.
"Members of the community should avoid the area as the recovery team secures the debris field."
F-35s are some of the world's most expensive and advanced fighter jets – known for their stealth, speed and aerodynamic body.
Their state-of-the-art sensors, systems and airframe enable it to be undetected by enemies, which further hampered the search effort.
Local congresswoman, Nancy Mace, argued on X/Twitter on Monday: "How in the hell do you lose an F-35?
"How is there not a tracking device and we're asking the public to what, find a jet and turn it in?"
Along with its stealth capabilities, the jet's transponder – which is usually used to locate the aircraft – was not working "for some reason that we haven't determined," a spokesperson at Joint Base Charleston told The Washington Post.
The plane and pilot belonged to the Marine Fighter Attack Training Squadron 501 based in Beaufort, not far from South Carolina's Atlantic coast.
In 2018, the same squadron crashed an F-35 for the first time after 17 years of flying the model in the sky.
In January 2022, a F-35C Lightning II fighter jet plummeted into the South China Sea after crashing on the deck of a US aircraft carrier.
F-35s are some of the world's most expensive and advanced fighter jets – known for their stealth, speed and aerodynamic body.
UK's RAF flies the same model as the missing jet, which operates on the new Queen Elizabeth Class aircraft carriers.
They describe it as an aircraft "capable of conducting air-to-surface, electronic warfare, intelligence gathering and air-to-air missions simultaneously".
In 2021, the Air Force lost a £100million F-35B stealth jet in the Mediterranean after it crashed while taking off from the flagship aircraft carrier HMS Queen Elizabeth.
READ MORE SUN STORIES
Holly Willoughby pays emotional tribute to This Morning doc after her sudden death
I spent £2k on my 13 'fake' babies, my dad says it's bizarre… who cares
A secret salvage operation conducted by the Royal Navy submarines, special forces and the US Navy located and recovered the wreckage before it fell into the wrong hands.
Military top brass feared the jet's secret stealth technology could fall into Vladimir Putin's hands as the area is known to be closely monitored by the Russians.

Source: Read Full Article