Donald Trump, 77, tells New Hampshire rally Barack Obama is president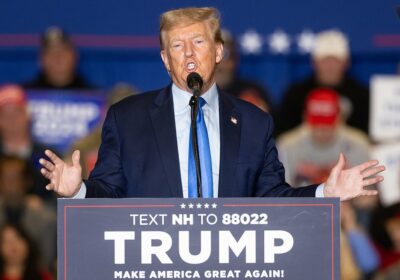 Confused Donald Trump, 77, tells New Hampshire rally Barack Obama is president despite nicknaming Biden 'Sleepy Joe'
On Saturday, GOP frontrunner Donald Trump gave a speech in Claremont, New Hampshire, where he mistakenly said that Obama was still president
President Biden has had his fair share of trips, falls, and confusions in public
A confused Donald Trump made a gaffe during a New Hampshire rally over the weekend as he called Barack Obama the current president of the United States.
Trump, 77, made the error on stage – despite constantly nicknaming his 2020 rival 'Sleepy Joe' for his embarrassing public mistakes. 
On Saturday, Trump gave a speech in Claremont, New Hampshire, where he said the Prime Minister of Hungary Viktor Orban called on 'President Obama' to resign and be 'replaced by Trump.' 
This is despite the fact that Obama hasn't been in power since 2016. 
Trump told the crowds: 'The head of Hungary Viktor Orban, very powerful within his country and outside of his country, they were interviewing him two weeks ago and said what would advise President Obama?
A confused Donald Trump made a gaffe at a New Hampshire rally over the weekend, as he called Barack Obama the current president. Trump, 77, made the error on stage – despite constantly nicknaming President Biden, 80, as 'Sleepy Joe' for his public mistakes 
'The whole world seems to be exploding and imploding. He said "It's very simple, he should immediately resign and replace him with President Trump who kept the world safe."'
He also mistakenly called Orban the 'leader of Turkey.' 
This is not the first time in recent weeks that Donald Trump has made a mistake on stage. Speaking in Iowa last month, he greeted his audience in Sioux City by the wrong name. 
He called the location 'Sioux Falls,' which is actually a city in South Dakota. 
'I go around saying of course we're going to win Iowa. My people said you cannot assume that,' Trump told his audience in the ornate Orpheum Theater in Sioux City, Iowa.
'There's no way Iowa is voting against Trump,' he said, noting the economic benefits to farm states from the tariffs his administration imposed on China.
Trump is currently the Republican frontrunner for the 2024 presidential nomination – and has leaned in on the fact that Joe Biden's age, 80, has made him prone to mishaps in recent years.
Biden has had his fair share of trips, falls, and confusions in public. His nickname, Sleepy Joe, was originally created by Trump in 2019 after a series of videos emerged showing Biden falling asleep during meetings and interviews.
On September 20, ailing Biden seemed to produce gaffe after gaffe while on the UN stage alongside Brazil's President, Luiz Inácio Lula da Silva.
Former President Barack Obama and U.S. President Joe Biden shake hands in the East Room of the White House on April 5, 2022
Biden bumped into the Brazilian flag, marking his first gaffe within seconds of appearing on stage at the UN's big meeting in New York City in September
Lula da Silva, 77, looked visibly irritated after the two leaders shared a stage to speak about their initiative to improve workers' rights in each country – because Biden walked off without shaking his hand.
Their diplomatic meeting got off to a labored start when Biden, 80, shuffled into a seven-foot Brazilian flag, leaving it teetering as he approached the podium.
The president made a rambling speech about his 'economic vision to rebuild our economy from the middle out and the bottom up, not the top down' while Lula watched on from his right flank.
Meanwhile, during Lula's speech, Biden fumbled with his headset, which he was using to hear a translated version.
'Can you hear me President Biden? This is an historical moment for Brazil, and for the US,' Lula said at the start of his speech. Biden fumbled around with the headpiece and then dropped it on the ground. 
On September 22, the president made yet another public gaffe when all eyes were on him during a keynote speech in Washington, DC. 
Biden mistakenly praised the 'Congressional Black Caucus' during a speech to the Congressional Hispanic Caucus. 
The 80-year-old made the blunder during a speech at the Congressional Hispanic Caucus Institute's 46th Annual Gala. 
Meanwhile on Saturday, Trump promised the crowd at the rally that he would win the New Hampshire primary for a third straight time. 
'We're going to crush crooked Joe Biden. He's a crooked man. next November and we're going to make America great again,' he said. 'We have no choice, we have to.'
He also boasted about his endorsements and took a swipe at this Republican rival Ron DeSantis. 
'We've had a lot of endorsements in New Hampshire, almost everyone is endorsing us,' Trump said.
'Now they're coming and the money is flowing and all those funders said maybe we'll endorse somebody else with our money.
'All of a sudden they're calling and saying 'President, President hi'. 
'I said 'I thought you were going to be DeSanctimonious', they say 'no way sir, I'll give you whatever you want'.' 
Barack Obama, Joe Biden and Hunter Biden talk during a college basketball game between Georgetown Hoyas and the Duke Blue Devils on January 30, 2010
But Trump's 'President Obama' gaffe was slammed by commentators. 
CNN anchor Jim Acosta said: 'Trump has had a lot of these slip-ups, mental lapses. Just getting things wrong. 
'Some of his recent rallies, he did one earlier this week where he was down in Hialeah at the same they're having that debate in Miami. 
'We talked about Kim Jong-un being in charge of a country of 1.4 billion people. Obviously that was a verbal slip-up, a mental slip-up.'
Political commentator Larry Sabato said: 'Well, good luck to his opponents in the Republican Party because the base, the Trump base, which is the biggest part of the Republican base, isn't listening to any criticism of Trump. 
'They don't care even if they think it's accurate, but it is important. Maybe the press reports should be more balanced. 
'When President Biden's age and questions about his so-called mental acuity or race may be the very same thing should be mentioned for Donald Trump.
'I think that would be fair. And I've got to say, Jim, I just hope President Putin's feelings weren't hurt by the good things that Trump said about Orban. You know, I hope he's not switching dictators here.'
Source: Read Full Article