'Elderly gunman takes group of 10 hostage' in post office in Japan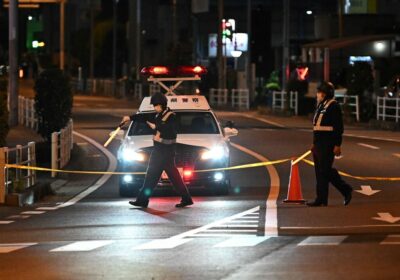 Japan: Gunman barricades himself inside post office
A shooter, thought to be in his 80s, and possibly carrying flammable liquid, is understood to have taken a group of people hostage at a post office in Japan.
Local media has reported that at least two female post office workers in Warabi city, on the the south-eastern coast of Japan, have been taken hostage and it was reported by one local paper that the gunman could have as many as 10 people with him.
There are also reports the shooter may be carrying paraffin or kerosene, as fears grow over large fires being started.
Japanese police on Tuesday surrounded the building, where a man with a gun was holed up, and said the case may be linked to an earlier apparent shooting at a nearby hospital in which two people were wounded.
Hundreds of officers are understood to have been mobilised.
READ MORE: EU corruption warning as Macron ally says bloc 'must restore confidence'[INSIGHT]
A picture released by the AP news agency showed a woman who was apparently being kept hostage being freed. One clip showed armed police outside the post office this morning.
Saitama Prefectural Police said two men – a doctor in his 40s and a patient in his 60s – were wounded after blasts resembling gunfire were heard at a general hospital in the city of Toda, just north of Tokyo. Police did not give details of how exactly the two people were injured.
The two victims are both conscious and their wounds are not life-threatening, police said.
Kyodo News agency said the two were believed to be inside a consultation room on the first floor when they were attacked.
Advert-free experience without interruptions.
Rocket-fast speedy loading pages.
Exclusive & Unlimited access to all our content.
Saitama police are also investigating another case involving a man carrying a handgun holed up inside a post office in the city of Warabi, just north of Toda.
They said the two cases are being investigated together because of a possibility that they involve a same suspect.
Police said the alleged gunman could be seen through a glass window at cash machines, but there was no obvious sign that he had taken hostages.
A number of post office staff safely escaped from the building, while two of them may still be inside but they are believed to be safe and may not have been seen by the gunman, police said.
In a third suspicious case, police are also investigating a fire that broke out at an apartment building near the hospital in Toda just around the time of the shooting. Video footage showed smoke rising over the scene.
Japan has strict gun control laws, but in recent years, there has been a growing concern about handmade weapons, such as the one allegedly used in the July 2022 assassination of former Prime Minister Shinzo Abe.
We'll be bringing you the very latest updates, pictures and video on this breaking news story.
For the latest news and breaking news visit: /news
Stay up to date with all the big headlines, pictures, analysis, opinion and video on the stories that matter to you.
Follow our social media accounts here on facebook.com/DailyExpress and @daily_express
Source: Read Full Article