Entire Greek town submerged after dam bursts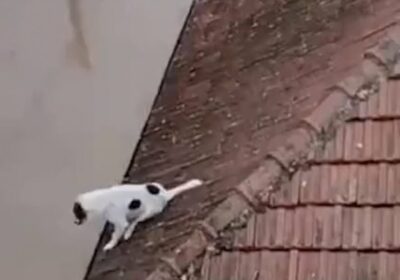 Entire Greek town is submerged in floodwaters after dam bursts – leaving survivors and even dogs stranded on rooftops
The region's mayor said dozens could still be trapped in their flooded houses after a dam burst during storm
Storm Daniel has battered wide areas of Greece, some getting 31.5ins of rain in recent days 
An entire Greek town has been submerged in flood water after a dam burst amid devastating storms this week.
The mayor of Palamas, Giorgos Sakellariou, told Open television that dozens were still trapped inside their flooded homes in Metamorfosi village after the Stavros dam broke due to floods caused by Storm Daniel. 
The channel showed footage of houses underwater. Video shared on social media showed a dog and residents stranded on roofs, waiting for help, as water levels rose as high as 18ft.
Fire service spokesman Yannis Artopios told Ert that a 'large scale' operation was underway to reach villages where the water level had risen between five and seven feet.
Konstantinos Tsiukas, a resident of Metamorfosi in Palamas Karditas, said that two locals with fishing boats were going back and forth to save people.
'The whole village has disappeared,' he said. 'Only the tiles are visible nothing else. We are at God's mercy.' 
Emergency services said they were also searching for an Austrian couple who went missing on their honeymoon in Potistika, further south, after their rented bungalow was swept away by flash floods on Tuesday, the BBC reported today.
Fierce storms battered Greece, Turkey and Bulgaria earlier this week, following a period of extreme heat and devastating wildfires, resulting in the deaths of more than a dozen people.
The community of 300 was left 'without assistance' after the Stavros dam broke and flooded the village. Left: a dog finds high ground on a roof in Metamorfosi. Right: extent of damage
A woman breaks down in tears as she embraces two others after being evacuated by volunteers, as storm Daniel hits central Greece, in Farkadona, Greece today
Flood waters cover the area, as Storm Daniel hits central Greece, near Larissa, on September 7
Twitter user Konstantinos said his grandfather (pictured) was trying to help stranded citizens from his old iron river boat
Mayor Sakellariou told private TV channel Skai that villagers in Metamorfosi were still stuck in their homes 'without any form of assistance'.
One resident told Greek TV channel Alpha: '[It is] literally a sea. We need help, for them to come and get us. 
'We are in the community office, on the roof. We don't know what to do, we don't have water, we don't have food.
'We are around 60 people, the building is not stable, I can feel it shaking. 
'About 300 people live in the community. Some have left, we stayed to save what we can. But there are also missing people.'
Twitter user Konstantinos said that his 80-year-old grandfather was out 'looking for his fellow citizens on the roofs of houses with the help of his old iron river boat'.
He said there was '4+ metres of water' in the village. 
'Helpless, alone, abandoned,' he wrote. 
Resident Mr Tsiukas added: 'They informed us a long time ago that they will come to take us by helicopter with boats with everything they can as long as they come because in the end we will drown.'
Reports today said helicopters had not been given permission to take off 'in the near future' due to low-lying clouds.
Government spokesperson Marinakis said that aircraft could not offer any help to the affected areas for now as they were not allowed to fly due to thunderstorms. 
Local residents use a small boat during an evacuee operation from the village of Farkadona, Thessaly region, central Greece, Thursday, September 7, 2023
A woman was lifted to safety in one of many helicopter evacuations today, as storm Daniel continued to lash central Greece. This was the scene above the village of Agia Triada, near Karditsa, Greece, September 7, 2023
People distribute water after another storm in Agria, Greece September 7, 2023
Damage in the area of Lamia after the storm named Daniel, Greece, 07 September 2023. At least three people have died as unprecedented storms lash the country
The debris of a collapsed bridge is seen following heavy rains and floods in Farsala central Greece, on September 7
A woman walks in front of damaged seaside store at a beach after the storm named Daniel in the area of Milina at Pilio, Magnesia, Greece
A damaged house after the storm named Daniel in the area of Chorto at Pilio, Magnesia, Greece
READ MORE: Brits stranded on flooded Greek island are evacuated from apartments and made to share hotel rooms with strangers
A fire brigade official added that emergency crews assisted by the army and coastguard used lifeboats in an effort to reach storm-hit villages, where water was 2 metres (6.5 feet) deep.
'Operations are been carried out very carefully as flood debris obstructed the boats, while, in other cases, the power of the water does not allow us to approach,' fire brigade spokesperson Vasilios Vathrakogiannis told a briefing.
An emergency message was sent out to residents of the Palamas region calling for them to 'move away from underground and ground floor areas of buildings'.
Another resident appealed for help, claiming that 'people have died, people have drowned'.
Deaths have not yet been confirmed in Metamorfosi. More than a dozen people are known to have died in events linked to Storm Daniel in Turkey, Bulgaria and Greece since Monday.
The deputy governor of Trikalon, Christos Michalakis, warned today that mountains were 'coming down' as storm devastation triggered multiple landslides in Greece. 
Evacuation orders have also been issued in the last 48 hours to residents in Karditsa, Magnesia and Trikala. 
British travel company Jet2 said on Wednesday it was cancelling all flights and holidays to the Aegean island of Skiathos, the closest to Volos, up to September 12 due to the weather.
Uprooted trees and debris are piled up next to a destroyed bungalow as rescue teams search for a missing person after a flood hit bungalow homes in the Igneada district of Kirklarel, Turkey, on September 7, 2023
Storms have killed at least 14 people in Greece, Turkey and Bulgaria, with a Greek region hit by more rain in 24 hours than it normally sees in a year, officials said September 6, 2023
Source: Read Full Article