How a single clue brought down 'world's worst animal abuser' Adam Britton after sleuth spotted detail in torture video | The Sun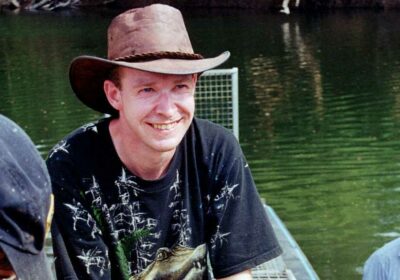 AN ONLINE sleuth rumbled sadistic dog rapist Adam Britton after spotting a clue in one of his sick torture videos.
The British crocodile expert, 51, filmed himself raping, abusing and murdering dogs for eight years, posting footage of the abuse online.
The twisted zoologist posted one of these videos in March last year, when an anonymous internet user spotted something.
The dog in the horror clip was wearing a distinctive bright orange City of Darwin leash, with the slogan "great pets start with you".
The online sleuth contacted an animal welfare charity in the area, who then went to local police.
A month after Britton had posted the sick video, cops raided his Darwin home and arrested him.
READ MORE WORLD NEWS
WEDDING INFERNO
100 dead in wedding fire sparked by 'fireworks set off before first dance'
DEATH MACHINE
Ukraine unveils 'invisible'kamikaze drone to aim at Putin's Black Sea fleet
39 animals died in his care after suffering the horrific torture, which he posted on Telegram to engage with like-minded abusers.
In one chilling message on the site, the 'world's worst animal abuser' spoke about his urges to a stranger: 
"I had repressed it. In the last few years, I let it out again, and now I can't stop. I don't want to."
He plead guilty this week to the animal abuse, including charges of bestiality and rape as well as possession of child exploitation material.
Most read in The Sun
AIR LINES
BA pilot snorts coke off topless woman… then tries to fly packed plane to UK
PARK HORROR
Center Parcs staff member who died after being hit by car is pictured
ENDER AN ERA
Danny Dyer reveals damning reason he left EastEnders & slams former co-stars
WALLIAMS HITS BACK
David Walliams SUES BGT bosses after he was axed over X-rated rant
Britton would use websites like Gumtree Australia to "adopt" dogs for his gruesome crimes.
He would often go to pet owners who had to give up their beloved animals because of work or travel commitments.
Cops seized computers, phones, cameras, external hard drives, tools, and weapons during the raid of his home.
His Telegram account had 114 threads where he described how he acquired the pets and how he abused them.
The twisted pet owner even shared photos of his two dogs, Ursa and Bolt, whom he regularly abused, on his Flickr accounts.
In one chilling photo, his dog Bolt was pictured as a puppy in 2015 – a year after Britton began regularly abusing his pets and other dogs.
The once well-respected zoologist is married to a biologist and wildlife ranger, Erin, and led a double life as he carried out the abuse.
There is no suggestion that she knew anything about her husband's crimes, and she appears to have dropped his surname online.
Social media posts have revealed Britton's wife even met Prince Harry when he visited Australia in 2015 and worked alongside saltwater crocodiles.
Photos showed Erin smiling next to the prince as he snared a crocodile – the animal which her disturbed former husband was an expert on.
She told news media at the time: "I was a little nervous at first when I was getting the snout rope on the croc, because Harry was observing so closely."
Britton and his wife also hosted Sir David Attenborough at their home while he filmed the BBC documentary Life In Cold Blood.
He reminisced over the meeting online in 2016: "David Attenborough, it turns out, is even more remarkable in real life as he is on the screen.
"He's not a big fan of hero worship, so we had to rein that in, but he's just a normal, humble, down-to-Earth kinda guy who is incredibly smart and possessed of a razor-sharp wit."
The British senior researcher at Charles Darwin University in Australia – pleaded guilty to the "grotesque and perverse" acts at Darwin's Northern Territory Supreme Court on Monday.
Prosecutor Marty Aust said Britton's crimes were too sick to be published, as he had a "sadistic sexual interest in animals and in particular dogs."
READ MORE SUN STORIES
TO THE MAX
Pepsi brings out new 'best ever' flavour – but not everyone agrees
BACK TO BASICS
Will Best reveals HUGE change to new Big Brother as iconic feature scrapped
He has been remanded in custody after pleading guilty to 37 counts of animal cruelty, ten counts of raping or attempting to rape a dog, and four counts of possessing or transmitting child abuse material.
Britton will return to court on December 13 for sentencing.

Source: Read Full Article