Iran 'hijacking Pro-Palestinian protests in the UK'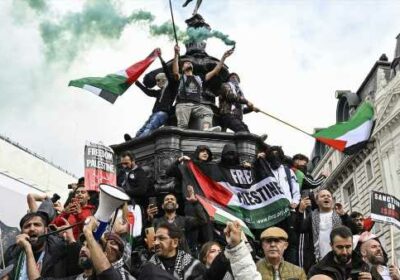 Iran 'hijacking Pro-Palestinian protests in the UK': Police warn agents are stoking unrest with more than 100,000 set to descend on London today – after police said they will 'intervene' if protesters shout 'jihad'
A third weekend of pro-Palestine marches in London begins at midday today 
Israel-Palestine war LIVE: War rages in Gaza as IDF intensifies bombardment  
Iranian agents are hijacking Britain's UK pro-Palestinian protests, police have warned – as 100,000 demonstrators prepare to take to the streets of London today for a third weekend running.
Counterterrorism officers have held private discussions about Iran trying to stoke protests over Israel's bombing of Gaza and have warned of increased hostile state activity in the UK.
The Times has learnt that it is directly linked to the Iranian regime and features spreading disinformation online, while Iranian agents are understood to be attending marches. 
Iran has been accused of playing a role in funding the Hamas and of stoking tensions in the Middle East by celebrating the barbaric attacks launched by the terrorists on Israel three weeks ago. 
Foreign Secretary James Cleverly has also warned activists marching on London and other British cities to beware fake news from Iran.
The extraordinary revelations come as the Met Police prepare for more than 100,000 protesters to descend on London today for a fresh round of protests. The march, organised by the Palestine Solidarity Campaign, sets off from Victoria Embankment at midday and is due to finish at Parliament Square.
More than 100,000 demonstrators are preparing to take to the streets of London today for a third weekend running. Pictured: Pro-Palestine protesters in London on October 21
Thousands of Met Police officers will be monitoring the protests today. Pictured: Police officers and protesters clash in Trafalgar Square during a March for Palestine in London on October 14
The Met, who will deploy thousands of officers, have said that they will 'intervene' if protests shout 'jihad' during the demonstrations, while London Mayor Sadiq Khan said the force 'will do everything in its power to tackle hate'.
A video emerged of a pro-Palestinian protester chanting 'jihad' at one event but officers had said no offences were identified in the footage from the demonstration. 
Yesterday, the Met stopped short of vowing they would arrest people saying the term, saying only that they would 'intervene'. 
Ahead of the weekend, Kyle Gordon, who is leading the force's command team, told a press briefing: 'If somebody is calling for jihad specifically against Israel the officers will intervene, gather the information, report it back into us and we'll be working with colleagues (from counter-terrorism) in relation to what the best course of action is.'
The Met, who will form a ring of steel around the Israeli Embassy again today, has also issued a fresh appeal in the hunt for people with photos of paragliding terrorists and a 'I support Hamas' sign at previous marches.
The reports about Iran's involvement in Britain's protest come after repeated warnings over Tehran's activities in the UK.
Last week, counterextremism commissioner Robin Simcok warned that the 'scale of Iranian-backed activity in this country; and the extent to which Iran attempts to stoke extremism here' was underappreciated.
Sources told The Times that senior police have been privately warning of Iran's involvement in pro-Palestine protests. It is said to be making the policing of protests more complicated.
Police officers prepare to barricade off access to the Israeli Embassy. Parts of Kensington High Street will be closed today
Huge concrete blocks are being put in front of the entrance to the road which leads to the Israeli Embassy 
Demonstrators participate in a pro-Palestine rally on October 21. A fresh round of marches start today
Pro-Palestine demonstrators light flares and wave flags on Nelson's Column in London on October 21
Police clash with protesters in Trafalgar Square. Thousands of officers will be on hand today
They said that as well as the physical presence of Iranian agents at marches, misinformation aimed to stoking tension is also being put online.
The source said that the main groups organising the demonstrations are not linked to Iran, but the regime's activities were 'more on the fringes'.
The source told the newspaper: 'Senior police have said that the policing of protest, disinformation and other linked issues are the most challenging they've faced. The Iranian links are a major part of that. Look at the past year where Iran has stepped up its activities in the UK.'
A Home Office source said: 'We are very worried about foreign hostile governments spreading disinformation to try and stoke anti-Israel feelings in the domestic Muslim population for their own purposes.'
Foreign Secretary James Cleverly also voiced concerns over Iran involvement, telling reporters this morning: 'Many people will recognise that there has often been attempts to subvert the actions of other people – it is perfectly possible to support the Palestinian people but also to condemn Hamas.
'But sadly we do see people being manipulated, subject to disinformation, distortion and sadly I do think a small minority within those protests have got very much more negative aims.
'I would say to everyone involved in the protests – be conscious of disinformation and manipulation.'
Today's march comes amid a 1,357 per cent increase in anti-Semitic incidents and a 168 per cent spike in Islamophobic incidents. 
There were 408 anti-Semitic incidents between October 1 and yesterday, compared with 28 during the same period last year, the Met revealed. 
Stephen Silverman, of the Campaign Against Antisemitism, said calling for jihad following the October 7 massacres of 1,400 people in Israel was 'extremely likely to be an offence of glorifying terrorism'. 
People wave Palestine flags and let off flares as they participate in a March for Palestine on October 21
Thousands of protesters march through central London to demonstrate solidarity with the Palestinian people and demand an immediate ceasefire to end the war on Gaza on October 21
He added: 'The public expects the Met to make arrests, not excuses.' 
A stand-off approach last Saturday put the Met and Downing Street at odds, with Prime Minister Rishi Sunak saying such chants were a threat to the Jewish community and our democratic values.
A spokesman for Labour Against Anti-Semitism said: 'In the context of the Israel/Palestinian conflict, jihad only has one meaning and that is the violence of holy war.
'Allowing people to call for jihad on the streets of London is consistent with the ideology of Hamas.
'It doesn't just put the Jewish community at risk but is a threat to all communities. Londoners have previously been the victims of this ideology in terror attacks.'
Last night, Sadiq Khan tweeted: 'Ahead of the weekend let me be clear: antisemitism and other hate crime will not be tolerated. 
'The Met will do everything in its power to tackle hate. I remain in close contact with the Commissioner, and continue to support his calls for the Govt to review hate laws & guidance.'
Commander Kyle Morgan said: "We've been clear over the last week that wherever possible we will police up to the line of the law.
"Our most experienced and knowledgeable officers are working on the policing of these events, making sure we are utilising all legislation to its fullest extent.
"I would encourage anyone who sees any crimes happening in the moment to report it to the nearest police officer.
"Any footage or images of potential crimes should be reported to us – we have specialist teams whose role is to scour thousands of pieces of content identifying crime."
Today's march is aimed at demanding a ceasefire to stop the war which escalated even further last night.
Yesterday, the Met shared new photos of three women who wore hoodies with paragliders on them during last weekend's marches in London
The pictures are understood to be a reference to motorised gliders used by Hamas during a deadly surprise attack on Israel three weeks ago
A protestor holding a placard reading 'I fully support Hamas' is also among suspects being sought by police
Hamas is proscribed in the UK as a terrorist organisation, meaning it is illegal to support it 
Israel carried out aerial bombardments of northern Gaza overnight Friday into Saturday, illuminating the sky with explosions and fire
Israel says it has killed the architect of Hamas' aerial incursion into the country three weeks ago – as jets struck 150 'underground targets' during an intense night of raids.
Asem Abu Rakaba was killed in one of the attacks carried out on alleged targets linked to the terror group, according to a statement issued by the Israeli military.
Abu Rakaba commanded the Hamas militants who infiltrated Israel on paragliders on October 7, the Israel Defense Forces (IDF) said; terrorists flew over the border into Israel to carry out the attacks that killed some 1,400 Israelis, mostly civilians.
The health ministry in the Hamas-run Gaza Strip says more than 7,300 people have been killed in Israel's raids since, including 3,000 children. 
Source: Read Full Article