Israel Gaza LIVE: 'All-out war' with Hezbollah resting on a knife's edge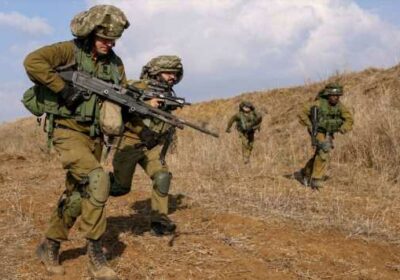 IDF releases video showing airstrikes on Hezbollah in the border area with Lebanon
The commander of a peacekeeping force in Lebanon has warned of the possibility of an 'all-out war' between Hezbollah and Israel.
Each attack, which began a day after the conflict in Gaza, from Iran-backed Hezbollah is met with fire from Israel. Every rocket from Hezbollah prompts artillery fire from the state, which is met with anti-tank missiles from the militants, which are followed up with air strikes from Israel.
Also in the mix is the United Nations Interim Force in Lebanon – a multi-national force charged with keeping the peace. Lieutenant-Colonel Cathal Keohane from the force told Sky News that recent fighting at the border has been deeply worrying.
"It is fair to say that this is the most fraught period of time in the last 20 years for us," he said. "While initially in the first few weeks, it was very localised to the Blue Line, more lately, it has escalated, the attacks are moving deeper into Lebanon.
"There are a wider range of weapons with great lethality being used by both sides. Our concern is that at the top of the ladder is all-out war and our concern is that we are progressing towards that."
Bethlehem officially cancels Christmas for the first time in decades over Israel-Hamas war
Bethlehem, Jesus' birthplace, has officially cancelled Christmas for the first time in decades due to the Israel-Hamas war.
The Palestinian city in the West Bank has announced its usual Christmas decorations will be taken down this year.
Bethlehem will also put a stop to its usual celebrations "in honor of the martyrs and in solidarity with our people in Gaza."
This means there will be no Christmas tree put up in Manger Square – the spot where Jesus is said to be born.
This marks the first time Bethlehem has cancelled Christmas celebrations since the tradition began – the square was still decorated even during the Covid-19 pandemic.
Support fearless journalism
Read The Daily Express online, advert free
Get super-fast page loading

Source: Read Full Article