It's a scream! Halloween night partygoers brave the cold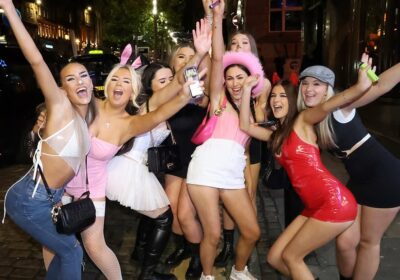 It's a scream! Halloween night partygoers brave the cold with some outrageous outfits in Newcastle, Leeds and Portsmouth
Halloween partygoers have been getting in the spooky spirit with some outrageous outfits as revellers braved the cold during nights out across the UK.
Thousands of people hit the bars and clubs on Tuesday night across the country as they prepared for an evening of Halloween hi-jinks. 
Partygoers were pictured in a range of hilarious, raunchy and just plain scary costumes as they made the most of the final day of spooky celebrations, despite temperatures dropping into single figures in some places. 
From Mario, Luigi and Toad, to Freddie Krueger and Jason, to Ali G and … a monk, there was certainly no shortage of inventive outfits from people pictured out and about across the country. 
Constant rain didn't put the revellers off who queued for some time to get into venues in Portsmouth, while others in Leeds and Newcastle managed to keep their costumes in tact by avoiding the rain ahead of a boozy evening. 
A grou of girls donned a range of outfits from a devil, a pink bunny and a cowgirl in Newcastle
These two lads dressed up as Ali G and a monkwhile out on the town in Newcastle 
Two girls braved the rain in Portsmouth tonight, each donning a Tesco bag as the final touch to their costumes
These two partygoers in Leeds couldn't wait to get into the bar before their first drink as they dressed up as clowns
This group of friends in one nightclub in Portsmouth went for a retro theme with costumes from the Super Mario games series 
Two lads dressed as vampires posed up with their friend in a batman costume during a night out in Newcastle 
Two girls dressed up as angels for a night out in Leeds
A lad dressed a nun braved the rain for a night out in Portsmouth
One girl tried to keep her make up in tact while dressed as a spooky bridein Portsmouth 
Two lads dressed up as horror film icons Jason and Freddie Kruger while enjoying a night out in Leeds
A girl dressed as a fairy embraced the downpours in Portsmouth while queuing outside a nightclub
A group of friends in Newcastle got in the spooky spirit with their costumes including a wizard and a witch 
Two girls put a spin on their cowgirl outfits with some fake blood on their foreheads, while their friend posed as a dark angel in Newcastle 
These girls seemed to be having a good time during a night out in Leeds, with one donning a pair of red devil horns
Two people tired to avoid the rain as they donned some smart atire with a shirt and tie while on a night out in Portsmouth
One girl dressed up as a pirate, while her friend donned an odd looking tiara and green dress
Partygoers dressed in a range of outfits from a convict to a police officer while out celebrating in Newcastle
This group of friends dressed up as a mix of scary clowns during a night out in Leeds
This group of friends posed up for a photo, with one dressed as a bunny and another as a bride, before hitting the town in Leeds
A geoup of girls braved the cold in their costumes ahead of the spooky celebrations in Leeds
This lad busted out some moves in a bar in Portmouth while dressed as Ali G 
The torrential rain didn't stop this group of girls while out and about in Portsmouth
Source: Read Full Article