Jewish students hide in NYC's Cooper Union amid pro-Palestine demo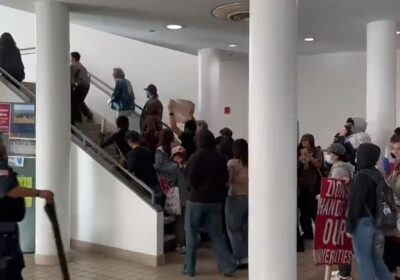 Jewish students take refuge in library and lock themselves in while pro-Palestinian demonstrators POUND on the door to gain entry at NYC's liberal Cooper Union college
A group of Jewish students in New York City locked themselves in the library of Cooper Union college to escape a braying pro-Palestine crowd
Chanting: 'Free, free, Palestine,' the mob banged on the door while the scared-looking Jewish students stood nervously inside the library
No one was injured, and the crowd has been dispersed: the Jewish students left safely and the library reopened after 20 minutes
A group of Jewish students were forced to flee a braying mob of pro-Palestine activists inside a New York City college on Wednesday, locking themselves in a library while the crowd hammered on the door.
Ugly scenes unfolded at Cooper Union, a liberal college near Astor Place in Manhattan, on Wednesday afternoon.
A crowd chanting 'Free, free Palestine' were initially held in the lobby of the building.
But they barged past a security guard, who yelled, hopelessly: 'No!'
They then stormed up the stairs and hammered on the door of the library, where the Jewish students had taken refuge. The people inside the library were later freed.
No one was injured, and the protest has been dispersed, The Messenger reported. 
An NYPD source told DailyMail.com no arrests have been made. 
A pro-Palestine mob is seen on Wednesday barging past a security guard, yelling: 'Free, free Palestine'
Upstairs, a group of Jewish students had taken refuge in the library: the mob can be heard pounding on the door
Cooper Union, on Astor Place in the heart of Manhattan, was rocked by a pro-Palestine protest on Wednesday
Outside the college on Wednesday evening, a passerby could be seen tearing away a pro-Palestine sign, which was placed next to the posters highlighting the plight of those kidnapped by Hamas.
The sign said: 'Killing children is justified???'
NYPD officers could be seen entering the building, and were standing outside.
DailyMail.com has approached Cooper Union for comment. 
Kim Newman, a spokesperson for the college, told The Messenger the library was temporarily 'closed' as the protesters marched through the building.
She said that all students have been 'dispersed.'
'The library was closed for approximately 20 minutes while student protestors moved through our building,' she said. 
'Some students who were previously in the library remained during this time. All students have now dispersed.'
Posters calling for a ceasefire in the Gaza Strip are seen lying on the ground beside posters calling for the release of the 200 hostages currently held by Hamas
The student protest comes amid intense tension on campuses nationwide over the Israel-Hamas war. 
Academics have waded in: a geneticist at Washington University in Missouri sparked outrage by claiming that Israel was carrying out a 'much needed cleansing' in Gaza, while a law professor at Berkeley called on law firms not to hire 'my anti-Semitic students'.
Last week, a climate scientist teaching at the School of the Art Institute of Chicago issued a groveling apology after calling Israelis 'pigs', 'savages' and 'irredeemable excrement.'
Dr. Mika Tosca, who describes herself on social media as 'Chicago's radically optimistic transsexual climate scientist', published a screed on her Instagram Story on Tuesday.
'Israelis are pigs. Savages,' she wrote. 'Very bad people. Irredeemable excrement.'
She apologized on Wednesday, saying the rejected her own words, and wanted to retract them.
'Yesterday I wrote some things on my Instagram Story that I unequivocally reject and do not stand behind,' she wrote.
'I am deeply sorry for writing what I wrote, and for hurting many people with my words, and I am especially sorry to Israeli people that I broadly placed at fault for the war.
'You did not – and do not – deserve that, and I was wrong to post what I posted: I know that my words perpetuated harmful stereotypes.'
At Harvard University, the Palestinian Solidarity Committee has been condemned for issuing a letter on October 7, co-signed by 33 other Harvard student organizations, stating: 'We, the undersigned student organizations, hold the Israeli regime entirely responsible for all unfolding violence.'
Some of the signatories have been named and shamed, and billionaire financier Bill Ackman is demanding that companies refuse to hire them.
Harvard's president has apologized for the statement, and said it does not represent the views of the university.
Harvard and the University of Pennsylvania are both scrambling to limit the fallout: The schools could lose $487 million in funding, based on current and prior donations by those now speaking out against the students for defending Hamas' attacks.
On Friday, a Cornell University professor in upstate New York who called the Hamas terror attacks 'exhilarating and energizing' announced he has taken a leave of absence, and will not return to class for the remainder of the year.
Russell Rickford told an October 15 rally at Ithaca Commons, the downtown shopping district in the city, that he was thrilled by Hamas' October 7 attack on Israel, in which 1,400 Israelis were killed.
His words were met by anger, and Rickford, a history professor, attempted to explain – and doubled down on his outrageous views.
He said he condemned the killing of any civilians, but said he was angered by 'the injustice and the hypocrisy of Western support in celebration of Israeli war crimes, and the equation of any form of Palestinian resistance with terrorism.'
Rickford later apologized, saying on October 18 that he was sorry 'for the horrible choice of words that I used', and calling his language 'reprehensible'.
A Cornell professor with a history of radical left-wing views called the Hamas terror attacks in Israel 'exhilarating' and 'energizing' at a pro-Palestine rally on October 15. He apologized on October 18, but on October 20 announced he was taking a leave of absence
Tamika Nunley, an associate professor of history, will fill in for him.
'Professor Rickford will be taking a leave of absence and I will assume teaching responsibilities for this course for the remainder of the semester,' she wrote on October 20, in an email obtained by The Cornell Review.
The university confirmed he would not be teaching for the remainder of the semester.
'Professor Russell Rickford has requested and received approval to take a leave of absence from the university,' the university's spokesperson said.
Claudia Tenney, a Republican congresswoman whose district borders that of Cornell, said Rickford's leave of absence was insufficient, and he needed to resign. 
'Since I sent a letter to Cornell President Martha Pollack demanding that Professor Russell Rickford resign for his anti-Semitic comments, he has taken a leave of absence,' she wrote on X. 
'Cornell must take this a step further and fire him for his pro-Hamas comments!'
Source: Read Full Article