Kim Jong-un's rarely-seen daughter, 10, spotted with tyrant on strange day out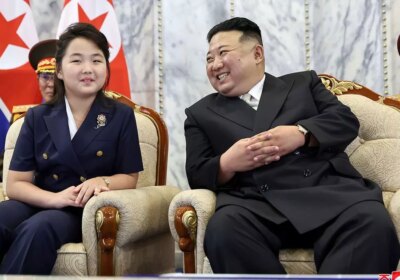 Kim Jong-un has been spotted with his rarely-seen child as the pair enjoyed a bizarre family day out in Pyongyang.
The dictator and his daughter Kim Ju-ae, thought to be about 10-years-old, were snapped sitting together as they watched a paramilitary display on Friday (September 8) ahead of North Korea's 75th anniversary today (September 9).
The show saw rocket launchers towed by trucks and tractors paraded through Kim Il-sung Square.
READ MORE: North Korea's unfinished 'Hotel of Doom' cost £1.6bn but never hosted a single guest
Meanwhile photos showed Kim Jong-un smiling and chatting to his young daughter as they took in the parade from the dictator's balcony overlooking the square.
Little is known about Kim Jong-un's daughter, who is believed to have an older brother and a younger sibling whose gender isn't known.
She was seen alongside her father for the first time last November at a missile launch, and by February of this year had been spotted five times.
It is thought the sprog, who was born at some point in 2012 or 2013, may have already been selected as Kim's heir as official public appearances gradually ramp up.
'Emotional support stripper in Ukraine' asked to 'smuggle arms' for Mafia
Historian and North Korea expert Fyodor Tertitskiy previously told Al Jazeera: "The main message is that [she is] sort of like a symbol of power because the first time she appeared was near missiles, and missiles are probably the biggest symbol of North Korea's military.
"The idea is, look how stable we are. No one can attack us because we have these missiles… and our system can last for another generation."
The Kims were joined by Chinese delegates, led by Vice Premier Liu Guozhong, as well as a Russian military song and dance group who attended North Korea's celebrations, in an apparent bid to display the country's unity with Moscow and Beijing.
KCNA also reported that Kim Jong-un received letters from Vladimir Putin and President Xi Jinping marking his country's anniversary.
The news comes after plans for Kim Jong-un to visit the Russian despot came to light.
Reports from South Korea suggested that the lack of Russian government officials at yesterday's event could signal the country is preparing to welcome the North Korean leader, while US politicians anticipate a summit could take place as early as this month.
It is thought the pair will discuss possible Korean arm sales to Russia as the country's supplies are depleted by its ongoing conflict with Ukraine.
A Russia-North Korea arms deal would breach a swathe of international sanctions as well as strengthen the alliance between the two countries.
North Korea has not confirmed the rumours.
To stay up to date with all the latest news, make sure you sign up to one of our newsletters here.
Source: Read Full Article