Minister from family of bricklayers becomes Kirk Moderator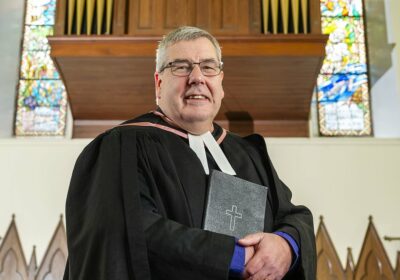 Handyman of God: Minister from family of bricklayers becomes Kirk Moderator – despite being told his accent would hold him back
Reverend Dr Shaw James Paterson named as next Moderator of the General Assembly of the Church of Scotland 
Rev Dr Paterson supported himself through university by working as a tiler – and is 'hands on with property in my church'
Like many others in his family, he was expected to become a bricklayer.
But now Reverend Dr Shaw James Paterson has been named as the next Moderator of the General Assembly of the Church of Scotland.
Rev Paterson will take over the role from the Right Rev Sally Foster-Fulton next year.
The father-of-three, who has served as minister at Strathaven Trinity Parish Church in Lanarkshire, will begin his new role on May 18.
Dr Paterson was expected to become a bricklayer like other family members before him, but he took a different path and went on to complete four degrees at the University of Glasgow, including a doctorate in practical theology.
Reverend Dr Shaw James Paterson will take over as the next Moderator on May 18
When he was younger he was told his Lanarkshire accent would hamper his life prospects and at school teachers said there was no point continuing his studies, but he was encouraged to do so at home.
He said: 'My father recognised something in me and I got in to study biology at Glasgow University.
'He pushed me in a gentle and encouraging way.
'That moment when they shout Moderator – it will be for my dad.'
During his time at university, Dr Paterson supported himself by working various jobs, including as a tiler.
He still does some tiling for people, and describes himself as 'hands on with property in my church'.
After finishing his undergraduate degree, Dr Paterson married his wife Christine at the University of Glasgow Memorial Chapel. She is now a senior member of the community nursing team.
He said he plans to spend his year as Moderator 'listening to as many people as possible'.
The minister, who is originally from Holytown, Lanarkshire, said: 'If you asked me for three words to describe what's important to me as a minister – and indeed as a Moderator – it would be people, people, people.
Reverend Dr Shaw James Paterson with his wife Christine
'People in the pews, in the parish. People of all ages, from pupils to pensioners and every stage in between.
'I love connecting with people, hearing their stories and reminding them that I care, the church cares, God cares.'
Over the past three decades, Dr Paterson's interests have included supporting Loaves and Fishes, a charity in East Kilbride which distributes food, toiletries and clothing to people in need locally.
He also set up Strathaven Memory Group for those with memory issues and their carers, is involved with youth musical theatre, and is currently a lay adviser within the Royal College of Physicians and Surgeons (Glasgow).
Source: Read Full Article