Moment train passenger refuses to move from reserved seat because she's 'older'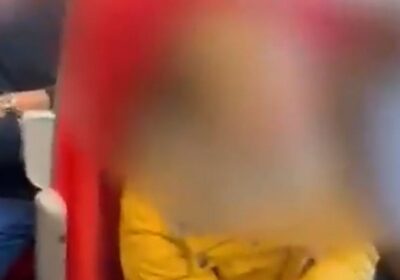 Bookmark
Never miss any of the fun stuff. Get the biggest stories and wackiest takes from the Daily Star, including our special WTF Wednesday email
Thank you for subscribing!
Never miss any of the fun stuff. Get the biggest stories and wackiest takes from the Daily Star, including our special WTF Wednesday email
We have more newsletters
An American couple on holiday in the UK were left stunned after a woman refused to leave the train seats they'd reserved because she's 'older' than the pair who reserved them.
Shrija Bajpai, 33, and her husband, Ujjwal Singh, 34, had come to the UK for a holiday and were travelling on a LNER service from Edinburgh to London to catch their flight back home when they had a frustrating encounter with a woman who refused to vacate their pre-booked seats. The couple shared a video showing them asking the woman to move but were told they should give up their seat because they are "younger" and "fitter" than she is.
The woman, when challenged, also goaded the pair into contacting LNER and refused to move citing that the couple should show her some "respect." But the pair claim they were let down by LNER after they failed to intervene when the woman stole a seat they had paid for on the busy 5.30pm train on September 30.
READ MORE: Plus sized influencer demands hotels make hallways more 'spacious' for larger guests
Read all the latest stories from the Daily Star's travel team
Speaking to Edinbrugh Live, Shrija said: "My husband and I were travelling back to London from Edinburgh on September 30 at 5.30pm on LNER. We saw two individuals identified on the video sitting on our reserved seats K81, L82, we requested them to move but they declined.
"We tried finding the train staff and I also tweeted LNER while this was happening. But no one came to check the tickets and they remained in our seat until their station came. I am a Canadian citizen and my husband is an Indian citizen, we both live in USA.
"We were on vacation in the UK and we were heading back to London to catch our flight back to the USA when this incident happened. We felt frustrated and disappointed, we expected better customer service but it was not even close to average.
"I want to acknowledge that other passengers also supported us. As a tourist, when something like this happens we take back an impression and unfortunately after this incident I asked all my family and friends to beware. I just hope LNER will take this matter seriously, so no one else has to go through this."
An LNER spokesperson said: "Due to a number of incidents across the rail network on 29 September 2023 our services were busier than usual. We would always advise customers to speak to our onboard teams should they have any concerns or queries while travelling with us. Our onboard crew were not aware of an incident on this service, however we will look into this further and will be making contact with customer."
For the latest breaking news and stories from across the globe from the Daily Star, sign up for our newsletter by clicking here.
Source: Read Full Article