Neighbours on posh 'Millionare's Walk' at war over ramshackle beach hut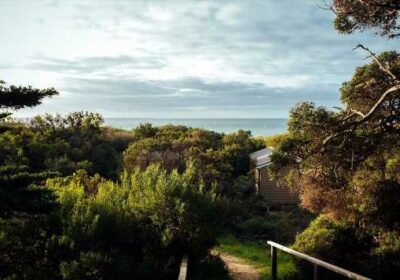 Neighbours who live along the stretch of coast known as 'Millionaire's Walk', are at war over a beach hut.
It is all because of a tiny, decrepit boat shed once owned by the Australian media person, Eddie McGuire.
Located at the foot of cliffs in Portsea at the bottom of Melbourne's Port Phillip Bay, it is just a stone's throw away from some of Melbourne's wealthiest individuals.
Transport tycoon Lindsay Fox's grand mansion sits just moments away from the warring neighbours.
Mr McGuire, host of Australia's Millionaire Hot Seat, was linked to the property back in 2009 when he was reported to have taken out a long-term lease on the then $10million (£5.2million) property for a figure around $100,000 (£52,000) a year.
READ MORE Man punches 'monster kangaroo' in the mouth as it tries to drown his beloved dog
Set on pristine lawns, the holiday home boasts gardens and a walkway to a secluded beach and was believed to have been leased to Mr McGuire's family for at least five years, according to Daily Mail Australia.
Documents seen by the publication show the boat shed sitting between shrubs just off Shelley Beach, with stairs leading to it also in hot dispute, as well as a boat ramp and an old bore well.
In a writ filed with County Court of Victoria, Ann Hyams claims that the shed and everything else attached to it has been exclusively used by her family, including their tenants and invitees.
She is at war with Helen Blythe, the widow of Brian Blythe, who was the boss and later chair of Spotless Group, a cleaning and catering business.
Ms Blythe and her deceased husband were the former owners of billionaire Paul Little's historic Coonac on Clendon Road home in Toorak, one of the biggest properties in the Melbourne suburb.
Don't miss…
Girl, five, dies in crash that hurt pregnant mum and killed unborn child[REPORT]
Woman saves £10,000 while travelling Australia for free[INSIGHT]
Cricket chaos as 'parts of the stadium' fall down during Australia vs Sri Lanka[LATEST]
Advert-free experience without interruptions.
Rocket-fast speedy loading pages.
Exclusive & Unlimited access to all our content.
She is also the mother of Laura McLachlan, the wife of AFL CEO Gillon McLachlan. The house attached to the boat shed in question was originally built by Water Waldemar Pisterman, who died in 1989 and left the property to Ms Hyams.
The writ says she is entitled to the boasted through an "Adverse Possession Claim", a property law principle that allows a person to claim ownership of land without paying for it after 15 years of exclusive use of it.
Ms Hyams claims that Mr Pisterman built the shed around 1958 and used it to store beach equipment, swimming and boat accessories, and watercraft, as well as for recreational purposes while at Shelley Beach.
The writ states: "The boat shed was the primary access point to beach from the Plaintiffs' title land noting that there was no direct access to the beach other than through the boat shed via the cliff stairs from the plaintiffs' title land.
"The boat shed can only be accessed via an enclosed stairway that connects the plaintiffs' title land or from a locked door at the beach end.
"The Estate and Walter prior to his death have controlled the keys and access to the Boat Shed and only provided keys and access to their tenants and invitees."
Ms Hyams claimed that Mr Pisterman and later his estate exercised "exclusive occupation and control of the boat shed since its construction in around 1958".
The original owner of the disputed land, she claimed, made an agreement with Mr Pisterman and gave him permission to construct and use the boat shed on his land in return for a nominal yearly fee, and also permission to share the use of the bore water pump.
Tensions over ownership of the shed boiled over in 2021, around the time that Ms Hyams claims her people acting for Ms Blythe had locks installed on its door.
Ms Blythe had originally bought the property in 2007 and applied for a new title in 2019 that she claims scrapped the previous boat shed agreement.
Filed with the court, a defence states that Ms Blythe claimed her family had paid rates and land tax for the contested land since its purchase, and that the land has always been theirs. The matter will be decided at a date yet to be set.
Source: Read Full Article