New York Times adds two Denver eateries to 2023 best restaurant list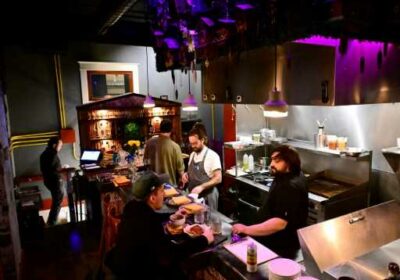 The Denver restaurant accolades just keep piling up. After a thrilling week of Michelin awards, The New York Times just included two Denver restaurants in its 2023 best restaurant list.
La Diabla Pozole y Mezcal, owned by Jose Avila, and Molotov Kitschen + Cocktails, owned by Bo Porytko, were among the "50 places in the United States that we're most excited about right now," the newspaper wrote.
Both restaurants are newcomers to the Times' third annual list. Although, since chef Avila opened La Diabla in 2021, he's been no stranger to awards. Bon Appetit named La Diabla Denver's best new restaurant of 2022, and he was nominated for a James Beard Award the past two years. Most recently, Michelin awarded La Diabla Bib Gourmand recognition.
"… Avila is something of a serial specialist," Brian Gallagher of The New York Times wrote in the article. "Previously heading up Machete Tequila + Tacos, he then became known for his El Borrego Negro pop-ups, where he grilled a whole sheep on Sundays. Here, he is working with the signature hominy soup of his native Mexico… ."
Molotov Kitschen + Cocktails just opened in January this year, but chef Porytko is already impressing local and out-of-state diners with his rotating menu based on traditional cuisine from Ukraine, Scandinavia, Germany, Poland and Georgia.
"The quarters are close — 20 or so seats — but intimacy is the point, as you shuffle in and find yourself nearly face-to-face with Bo Porytko as he diligently works the stove," Gallagher wrote in the article. "The food is hearty — as you might expect from a chef cooking in the tradition of his Ukrainian grandmother — but it is accented by expert grace notes."
Despite the recognition from both Michelin and The New York Times, Colorado was snubbed in Bon Appetit's 2023 best new restaurant list, after winning multiple features in the past few years.
Subscribe to our new food newsletter, Stuffed, to get Denver food and drink news sent straight to your inbox.
Source: Read Full Article