'North Fitzroy has become, in every way, grey': Street art pioneer's mural painted over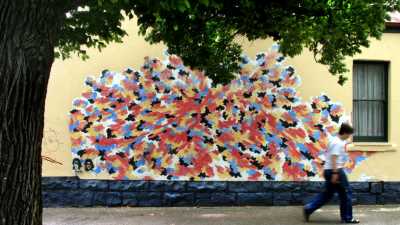 Save articles for later
Add articles to your saved list and come back to them any time.
More than 30 years ago, artist Mike Brown painted a burst of colour on the side of a North Fitzroy terrace house at the corner of Grant and McKean streets.
The mural, known as For Angela II, was considered a significant piece of art by one of the city's renegade painters and early graffitists.
Nick Selenitsch, Charles Nodrum, Kate Nodrum and Kirsten Rann (L-R) at the North Fitzroy house where the Mike Brown mural was painted over.Credit: Luis Enrique Ascui
Until last year, that is, when the mural was covered over with grey paint in the process of the owner selling the house at auction for $1.48 million.
Brown's friends, fans and fellow artists are banding together to campaign in the hope the mural can be restored to recognise his forward-thinking views on street art.
"A lot of the locals were attached to it," says independent curator Kirsten Rann, who works at Charles Nodrum Gallery in Richmond, which has long featured Brown's work.
"It was quite an explosive highly coloured thing. It's the way it interacted with the street, I think that's why people so many people loved it."
Mike Brown's mural before it was covered over.Credit: Cathryn Tremain
At one stage, City of Yarra attempted to preserve the mural, including a failed application for listing on the Victorian Heritage Register. A similar successful bid was made around the same time in 2004 for American artist Keith Haring's mural in Collingwood.
With no official protection, Brown's work had begun to fade in recent years and was a target for taggers until its removal.
In the late 1980s, Brown was renowned for stalking the streets around his North Fitzroy home at night and painting pictures, colours and symbols on just about every surface he could find, including fence posts, road signs and walls.
He was also a celebrated artist in his own right, with works displayed in the National Gallery of Victoria, as well as every major public art gallery across Australia, and in the homes of many wealthy collectors.
Artist Mike Brown in the 1980s with some of the graffiti which he painted around North Fitzroy's streets.Credit: John Woudstra
However, Brown railed against the art establishment and thought graffiti was often a more authentic form of artistic expression than high art. He remains the only Australian artist successfully prosecuted for obscenity.
While street art has become a sign of gentrification in inner Melbourne and a marketing tool for bringing tourists to places such as Hosier Lane, it was not always that way.
In 1987, Brown wrote a letter to the editor of The Age outing himself as a graffitist. He gave his support to children who were being criminalised for what he saw as creative freedom.
"[They are] the most promisingly creative sector of modern youth," wrote Brown. "We have an art bureaucracy that costs us millions, supporting an inbred and narcissistic coterie of 'high artists'.
Brown's 1984 painting Manifestations, owned by the National Gallery of Victoria.
"Yet, when an authentic art-of-the-people spontaneously erupts on the streets and railways, society reacts as though plague had broken out."
Brown expanded on his views on graffiti in a Good Weekend profile in 1988. "When the whole meaning of art ends up as being something that happens inside an art gallery, art very quickly becomes meaningless," he told the magazine.
Brown lived a few doors down from the wall where the mural was painted on Grant Street in North Fitzroy. It was dedicated to a woman called Angela McKenna, who was the subject of an exhibition he painted in 1990.
Nick Selenitsch, an artist and lecturer at the Victorian College of the Arts, said it was fitting that the mural had been painted over with a "particularly bland, non-committal grey".
The Keith Haring mural in Collingwood was given heritage protection.Credit: Chris Hopkins
"North Fitzroy has become, in every way, grey," he said.
"In many ways, Mike was a one-person artistic movement, which is why he's not better known. He was a complete nonconformist in every way in the art that he made."
"What he painted on the side of the wall was the last remaining remnants of his artistic expression around that neighbourhood."
While it will take the owner to give permission for it to happen, Selenitsch said he hoped the mural could be repainted by students as a kind of art history lesson.
Mike Brown walked the streets at night with a brush to paint faces, symbols and shapes.Credit: John Woudstra
He said that efforts had been made to contact the previous owner to restore the mural when it was being defaced.
"The context is crucial, there's a reason why it was painted there," he said.
"I think it would be welcomed by locals if they understood what was here and what had been lost."
If the mural can't be restored, it's hoped that a small plaque can be installed instead to pay tribute to Brown's work.
A Yarra City Council spokesperson said the removal of the Mike Brown mural was disappointing, but the property owner was entitled to paint the wall without a permit.
"The mural was located on private property and any decisions about the mural rests with the property owners," they said.
The Booklist is a weekly newsletter for book lovers from books editor Jason Steger. Get it delivered every Friday.
Most Viewed in National
From our partners
Source: Read Full Article