NYC and Boston bracing for potential Cat-5 Hurricane Lee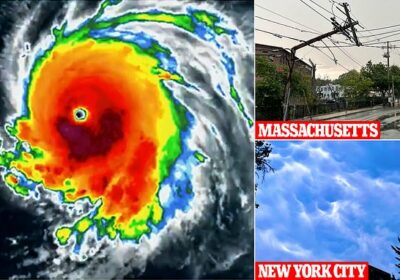 NYC is hit by sudden storm that's cancelled over 200 flights across NY and NJ as locals share concerns over 'creepy clouds' and forecasters warn East Coast could soon be hit by Cat-5, 165mph Hurricane Lee
Severe thunderstorms have rolled in over the East Coast

The weather front precludes Cat-5 Hurricane Lee forecast to make landfall 

Travel chaos struck the region as over 200 flights have been cancelled
New York City and Boston are bracing for Category 5 Hurricane Lee to make landfall, but the East Coast is already experiencing severe thunderstorms set to last through the weekend. 
The region has sweltered under high temperatures and humidity in recent weeks, but both major metros are expected to be washed out Friday evening. 
The weather front has brought travel chaos to the skies as over 200 flights have already been cancelled out of JFK, Newark and LaGuardia airports, according to FlightAware. 
As the thunderstorms rolled in, residents took to social media to share images of ominous clouds filling the skies of New York in a sign of what is forecast to come. 
Hurricane Lee is thundering towards the East Coast and is forecast to make landfall next week, after severe weather begun battering the region Friday evening
New Yorker Joanna Oltman Smith shared a photo of mammatus clouds in the Big Apple Friday – and branded the sky formation 'creepy'
The storms have come following blistering temperatures across the eastern seaboard, where the mercury topped 90 degrees for three consecutive days for the first time all year in New York City on Friday. 
Summer in the Big Apple was grayer and cooler than usual, with the metropolis repeatedly blanketed by smoke and haze from Canadian wildfires. 
A heat advisory warning is still in effect in New York City and parts of New Jersey, as the torrential front barreling in resembles a tropical storm. 
Officials are bracing for damage as high winds, heavy rainfall and potential hail could cause flash flooding and structural damage in some areas. 
Reports indicate trees and power lines have been downed in New Jersey, and a severe thunderstorm watch was issued for almost the entire tri-state area until 11pm Friday. 
Flash flood warning have also been issued for large swathes of the Hudson Valley following a period of dry and hot conditions. 
Much of Massachusetts also remains under a severe thunderstorm watch, covering Middlesex, Essex, Franklin, Hampden, Hampshire counties. 
In Hoopsick Falls, New York, the town's mayor urged residents to remain indoors as a powerful thunderstorm struck the community of 3,000 people on Thursday. 
Fallen trees and powerlines were also reported in the area, as crews worked through the day to clear roads after they were blocked by debris. 
Storm damage was also seen in Boxborough, Massachusetts – around 40 miles from Boston – where multiple powerlines and tree limbs were torn down by the high winds. 
Storm damage was also seen in Boxborough, Massachusetts, where multiple tree limbs were torn down by the high winds 
Crews worked through Friday to clear the roads after the storm surge swept through, which also tore down power lines 
Another image of chaos caused by Friday's extreme weather in Massachusetts
The storms on Friday are forecast to be the start of several weather bombs to strike the region into Monday, while heavy rainfall is expected to continue through the week as temperatures plummet. 
The severe weather comes amid growing fears over Hurricane Lee, which was registered as a Category 1 hurricane on Thursday, before it escalated to a Category 5 overnight. 
Lee has been picking up steam as it thunders towards the coastline, with wind speeds in excess of 130mph. 
It is expected to make landfall late next week, however forecasters have struggled to nail down the exact path of Hurricane Lee, leading to varying estimates over the extent of the damage it could bring to the East Coast.
The eye of the storm accelerated rapidly from late Wednesday over the Atlantic, and into late Thursday the National Hurricane Center recorded waves as high as 55 feet near its center. 
According to meteorologist and hurricane expert Michael Lowry, Lee is in elite company as less than one percent of all tropical cyclones ever attain Category 5. 
He said on X (formerly Twitter) that 'Lee is the farthest southeast we've ever observed a Category 5 hurricane in the Atlantic since records began 172 years ago.' 
Wildfire outbreaks in canada all summer, Covid that never seems to end, flesh eating bacteria in oysters and shark attacks. Why is the world always ending?? Lol but actually. #endoftheworld #hail #hurricane #hurricanelee #stormwatch #weatheradvisory #newyorkweather #newyorkweatherbelike #lifewithrachel #lol #wtf #badweather #rainyday #crazyweather #hurricane2023
Hurricane Lee escalated from a Category 1 to a Category 5 hurricane overnight on Thursday, leading to fears it could tear apart the East Coast
Forecasters have struggled to nail down the exact path of Hurricane Lee, leading to varying estimates over its the extent of the damage it could bring
The hurricane churned through open waters in the Atlantic Thursday, sweeping past the northeast of The Caribbean and missing Puerto Rico as it moves towards the United States. 
Models of Hurricane Lee's potential path show it is likely to bring a deadly storm surge and heavy rains to cities including Boston and New York City. 
On Thursday, the National Hurricane Center warned: 'Lee continues to strengthen at an exceptional rate.' 
It wasn't rainy everywhere though  – with Reagan National Airport in Washington DC enjoying blistering weather on Friday evening 
Spaghetti models of Hurricane Lee's path – maps which show computer simulations of where the center of the storm could be in several days time, given a set of variables – show Lee turning northeast and heading up the East Coast. 
Lee registered winds of up to 180mph as it twisted over the ocean, but is expected to weaken to around 130mph if it makes landfall. 
The National Hurricane Center said on Friday that the storm was 'incredibly powerful', and had escalated far beyond the strength it initially appeared to hold. 
Friday's thunderstorms may have been fueled by the storm as the NHC said by Sunday 'most of the US East Coast' will be hit with dangerous rip currents.
Source: Read Full Article