Prince Harry did NOT wear Coronation medal given to him by Charles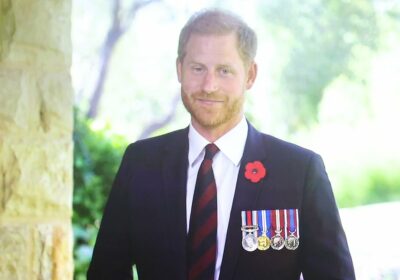 Another snub to the King? Harry did NOT wear Coronation medal given to him by Charles as he delivered gag-filled video monologue for Stand Up for Heroes where he wore four gongs including one for Afghanistan service
The Duke of Sussex released delivered the video for US veterans in New York 
Prince Harry did not wear a Coronation medal given to him by King Charles as he delivered a gag-filled video monologue for US veterans in New York last night.
The Duke of Sussex wore four British military medals, including three given to him by his grandmother the Queen, and a Royal British Legion poppy on his suit jacket, during a monologue filmed at his £12million home in Montecito.
Notably absent was the medal minted to mark his father Charles' coronation, which Harry was awarded alongside members of the Armed Forces and frontline emergency service workers.
The medal, which is made of silver and plated in nickel, features an image of The King and Queen Camilla and was also given to those directly involved in the delivery of the Coronation. A total of 400,000 were issued.
It comes as relations between Harry and his father remain strained, with a spokesperson for the Sussexes revealing they have not had any contact from Buckingham Palace about any invitation to Charles's 75th birthday party next week.
Though the Duke since attended the coronation of his father at Westminster Abbey in May, his relationship with King Charles remains fractured – with the Royal Family not publicly noting his birthday in September. 
Prince Harry gives a video speech, joking about being ginger and media scrutiny, to a comedy event for US veterans. He wore four medals. The first was an Afghanistan campaign medal, then a 2002 Queen's Golden Jubilee medal, a 2012 Queen's Diamond Jubilee medal and a 2022 Queen's Platinum Jubilee medal (numbered left to right on his chest)
King Charles and Queen Camilla at the State Opening of Parliament this morning 
Coronation Medals were handed out to the Armed Forces, frontline emergency service workers and those who took part in the Coronation
The audience at Stand Up For Heroes in New York last night to watch Prince Harry's address, which was packed with gags 
In his latest public appearance, Harry seemed to be in good spirits as he poked fun at himself during the clip for the Stand Up for Heroes show and joked about people with ginger hair like himself being an 'endangered species'.
In his virtual speech, apparently filmed from garden of his Montecito mansion, he also made gags including someone off camera handing him a speech to keep him on script and a quip about his new life with his family in California not being scrutinised.
The video was released online just before his father King Charles III was due to set off to give his first King's speech at the state opening of the British Parliament in London this morning.
Harry's appearance at the show was done virtually, despite him flying on a private jet with wife Meghan Markle to a Katy Perry concert in Las Vegas on Saturday. 
The 17th edition of the annual event which raises funds to support members of the armed forces was hosted at the Lincoln Center in New York City yesterday. 
READ MORE Prince Harry and Meghan Markle branded 'eco-hypocrites' after flying to Katy Perry gig on the private plane of a Texan oil heir
It was hosted by British comedian Jimmy Carr and stars performing included comedian Tracy Morgan, Bruce Springsteen, and his friend John Mellencamp. Tom Hanks was also at the event with his wife Rita Wilson. Jon Stewart also appeared on stage.
The Duke and Duchess, who have been outspoken on environmental issues in the past, hitched a ride with other celebrities on a plane owned by Texan oil heir Michael Herd from Santa Barbara to Las Vegas. 
They joined the likes of Cameron Diaz and her husband Benji Madden as well as actress Zoe Saldana on the Gulfstream jet on a 40-minute private flight to watch the final show of Perry's Vegas residency.
At the start of his monologue, reported first by Hello! magazine, Harry said: 'Hello New York. Obviously I was deeply honoured when Bob asked me to debut my stand-up act with you all tonight.'
This was a reference to journalist Bob Woodruff and the Bob Woodruff Foundation, which hosted the event with the New York Comedy Festival.
The Duke also said: 'Due to the shockingly low representation of gingers last year, and out of respect for my fellow endangered species, here I am, reporting for duty.'
And he joked: 'As someone who never gets scrutinised, I haven't even had to prepare much.
'But out of an abundance of caution, I have been working on this particular act for quite some time and everyone I know tells me it's perfect.
'And no, these aren't people who just tell me what I want to hear, these are people like my finance manager, my lawyer, and of course, my reiki healer.'
According to Hello, a cough was heard from someone off-camera, and Harry handed a script. 
He asked: 'So, we're not doing the thing?', before reading the script: 'Thank you for having me to this splendid evening celebrating our incredible veterans.'
He then put the paper down and said: 'It's ok, I got this', before moving on to a more serious message.
He said: 'I've said it before and I'll say it again, service is what happens in the quiet and the chaos.
The Duke and Duchess of Sussex joined other celebrities on a private plane co-owned by a Texan oil heir and headed to the Katy Perry gig in Vegas on Saturday (pictured). But Harry did not travel to NYC for last night's charity event for veterans
Tom Hanks and members of the Color Guard Formation at Stand Up For Heroes last night
Bruce Sprinsteen and John Mellencamp perform onstage at Stand Up For Heroes last night
Comedian Tracy Morgan performs onstage during the Stand Up For Heroes event last night
Jon Stewart and singer and actress Rita Wilson, wife of Tom Hanks, also took to the stage
Ronny Chieng, Malaysian Chinese comedian star of Comedy Central's The Daily Show, gave a comedy set
'And whether we are wearing the uniform or not, we must continue to uphold the values we learned side by side on the base, on the drill square and on the battlefield. Values of service, values of honour and integrity and values of togetherness and solidarity.
'I know our journeys to this point differ but we are always connected through what we learned as humans, what we faced as families and how we've come out stronger because of our ability to listen, to understand, to support one another.'
It is not clear whether Harry's virtual appearance was pre-planned or a change to the schedule, and MailOnline has contacted representatives for the Sussexes for clarification on this point. 
Among the celebrities attending the event were Bruce Springsteen and John Mellencamp who performed onstage together, actor Tom Hanks and comedians Jimmy Carr and Tracy Morgan. 
Harry's virtual appearance was revealed after Harry and Meghan were branded 'eco-hypocrites' after they flew on a private jet to the Katy Perry gig.
Jimmy Carr performs onstage during the Stand Up For Heroes event in New York last night
The Boss, Bruce Springsteen, performs onstage
Husband and wife Michael Trotter Jr and Tanya Trotter, of The War and Treaty, sing
Shane Gillis, the American stand-up comedian, radio personality, sketch comedy writer and podcaster made the audience laugh
Colonel Tiaa Henderson sings the National Anthem onstage with Joint Service Color Guard during the 17th Annual Stand Up For Heroes Benefit presented by Bob Woodruff Foundation and NY Comedy Festival at David Geffen Hall
READ MORE Harry and Meghan insist Charles snubbed THEM over his 75th birthday party
Just hours after the Sussexes flew to Vegas, the Duke's brother, Prince William, flew on a commercial British Airways flight to Singapore for the Earthshot Prize awards, which celebrate winners for their contribution to environmentalism.
The move by Harry and Meghan sparked accusations of hypocrisy, with the Duke having previously set up his charity Travalyst to promote sustainable and eco-friendly tourism.
One royal expert has suggested that Harry, who is still a patron of the charity, should 'get the sack' for the decision to fly privately.
Angela Levin told The Sun: 'They think they have gotten so grand, they wouldn't dream of taking a normal flight.
'They've got all these rich friends to pay for it. It's worse than 'do as I say, not as I do' because he's a patron of a charity.
'William was welcomed hugely in Singapore , which must have annoyed Harry and Meghan. This sort of behaviour is exactly why we call them eco-hypocrites.'
Separately today, a spokesperson for Harry and Meghan said the couple have had 'no contact' from Buckingham Palace about an invitation to King Charles III's 75th birthday party next week.
Charles is set to celebrate the milestone with a party at Clarence House with his closest friends and family on Tuesday, November 14.
The Sunday Times reported that Prince Harry had turned down an invitation to the birthday bash, and will stay in California. But a spokesperson for the Sussexes told MailOnline that the couple had no idea about it.
'There has been no contact regarding an invitation to His Majesty's upcoming birthday. It is disappointing the Sunday Times has misreported this story,' they said.
The same spokesperson also denied that Meghan, who found fame on Suits, will be making a return to acting following reports earlier this week.
Source: Read Full Article