Russia suffers another blow as Ukraine strikes key Black Sea Fleet weapons depot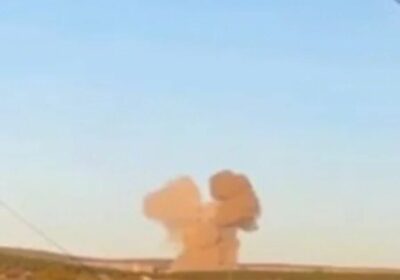 Ukraine missile destroys flamethrower system
Russia has suffered another huge setback after a weapons depot supplying the country's Black Sea Fleet was hit by a missile strike.
Images circulating on social media show a thick plume of smoke billowing into the sky following the devastating strike in Tsukrovaya Golovka, near occupied-Sevastopol.
A Russian soldier was injured in the strike
Telegram channel ASTRA reported that more than 350 police officers had to be evacuated from the nearby Internal Affairs Ministry buildings in Sevastopol as a result.
Explosions were also reported in the Bakhchisaray district from the direction of Sevastopol on October 18.
This comes less than a month after Ukraine targeted Russia's Black Sea Fleet headquarters using British missiles.
The strike killed 34 Russian soldiers with another 105 also injured.
The Ukrainian military also claimed at least 62 Russian sailors and maintenance crew were killed in the September 13 missile strike on Ropucha-class landing ship Minsk – also in occupied Crimea.
Earlier this month, Russia said it would withdraw its Black Sea Fleet following Ukraine's attack with British Shadow Storm missiles.
Russia has occupied Crimea since 2014.
But it appears the country's military is facing another setback as the Kerch Bridge connecting Russia and Crimea is now a "security burden" for Moscow, according to the UK Ministry of Defence.
The MoD said the "vital link in sustaining Russia's occupation of Crimea and its forces in southern Ukraine".
A recent report added: "However, it is now almost certainly a significant security burden requiring multi-domain protection, including the use of air defence systems and crews who would otherwise be deployed elsewhere."
DON'T MISS
Russia 'ghost ships' actively hunted by Ukraine in deadly cat and mouse battle [INSIGHT]
The bridge causing Putin huge headaches as it takes up resources to keep secure [NEWS]
Putin may want to 'seize' Georgia's Black Sea ports for Russia's naval fleet [LATEST]
Advert-free experience without interruptions.
Rocket-fast speedy loading pages.
Exclusive & Unlimited access to all our content.
Russian security forces' confidence in their ability to protect "this large and vulnerable structure" will continue to be threatened by the "ingenuity" of Ukraine's military, the report continued.
Meanwhile, Ukraine has made progress in its counteroffensive after crossing the Dnipro river.
Kyiv's soldiers were able to set up positions on the opposite bank as they try and push the Russians back in southern Ukraine.
Pro-Kremlin military bloggers said Kyiv's troops had created a bridgehead and were pushing toward the nearby town of Pishchanivka.
The town is south of a destroyed railway bridge and upriver from Antonivk.
The Ukrainians would have to make dangerous crossings through water to attack the Russians.
Source: Read Full Article