Son of 'assassinated' Wagner boss seen at dad's grave – before inheriting £100m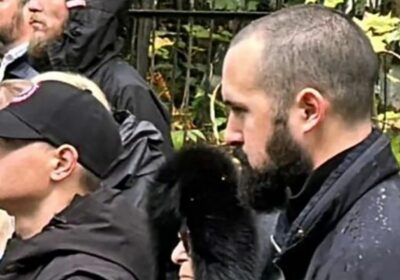 Bookmark
Never miss any of the fun stuff. Get the biggest stories and wackiest takes from the Daily Star, including our special WTF Wednesday email
Thank you for subscribing!
Never miss any of the fun stuff. Get the biggest stories and wackiest takes from the Daily Star, including our special WTF Wednesday email
We have more newsletters
Yevgeny Prigozhin's son has been photographed at his father's grave as he's set to inherit the majority of the Wagner boss' £100million fortune.
Pavel Prigozhin, 25, is reportedly set to become the next leader of his father's fearsome Russian mercenaries.
It comes just two months on from when a plane carrying Prigozhin crashed close to Moscow, killing Vladimir Putin's former ally. At the time Prigozhin's supporters claimed he had been assassinated, likely as revenge for his failed mutiny against the Russian government earlier in the year.
READ MORE: Inside Ukraine's daring jet ski raid into Crimea that SAS told them was 'mission impossible'
For the latest brilliantly bizarre news from the Daily Star, click here.
On Sunday (October 1) dozens gathered at Prigozhin's grave in St Petersburg to pay their respects. Black banners were seen sporting the motto "Blood, Honour, Motherland, Courage" alongside skulls, and similar ceremonies were held in other Russian cities to mark the 40th day since his death.
Pavel was in attendance in St Petersburg alongside Prigozhin's mother Violetta, 83. Their presence appears to suggest they have accepted Prigozhin was on the plane, following rumours he had somehow escaped death or used a body double.
Pavel is now in line to inherit his father's vast £100m fortune, which includes the Wagner group and a number of properties.
A document has been shared on Telegraph purporting to show Prigozhin's will, bequeathing most of his inheritance to his son. According to The Times it reads: "All my property… as well as property that may be acquired by me in the future I bequeath to Pavel Evgenyevich Prigozhin."
If Pavel dies the fortune will be split between Prigozhin's widow Lyubov, Pavel's two sisters and the Wagner boss' grandchild (Pavel's son).
The Institute for the Study of War (ISW), a US-based think tank, has cited a Wagner-supporting Telegram channel as saying that Pavel is now set to take "command" of the Wagner forces. He is also said to be negotiating with the Russian national guard, Rosgvardia, to have Wagner forces reintroduced into the fighting in Ukraine.
The ISW report stated: "A prominent Wagner-affiliated Telegram channel announced on October 1 that Yevgeny Prigozhin's 25-year-old son Pavel Prigozhin has taken over 'command' of the Wagner Group, and that Pavel Prigozhin is negotiating with Rosgvardia about having the Wagner Group rejoin combat operations in Ukraine.
"The prominent Wagner-affiliated source reported that Wagner fighters would not have to sign contracts with the Russian MoD and that the Wagner Group would retain its name, symbols, ideology, commanders, management, and existing standard operating principles.
"A different pro-Wagner source claimed on September 30 that Rosgvardia Head Viktor Zolotov is considering allowing Wagner Group elements to join Rosgvardia as a separate Wagner unit, though the Pavel Prigozhin camp has not commented specifically on how its branch of the Wagner Group may operate with Rosgvardia."
For the latest breaking news and stories from across the globe from the Daily Star, sign up for our newsletter by clicking here.
Family
Russia
Russia Ukraine war
Ukraine
Vladimir Putin
Source: Read Full Article