Starmer pledges to take on tech firms creating abuse against women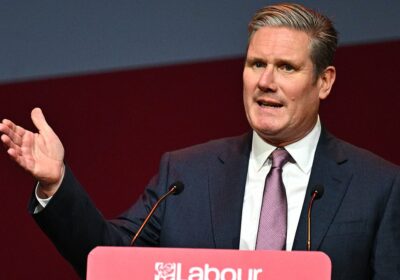 Sir Keir Starmer pledges to 'drain the swamp' of hate and inequality and take on tech companies creating 'toxic attitudes' towards women in speech at Labour conference
Labour leader also committed to victims' legislation and domestic abuse register
Sir Keir Starmer pledged to take on tech companies who were helping create 'toxic attitudes' towards women. 
The Labour leader said a government led by him would 'drain the swamp of hate and inequality' by tackling online abuse and cracking down on violence against women and girls. 
In a speech to his party's women's conference, Sir Keir said there were still 'many battles to win' to defend the right 'not to be objectified, demeaned, judged, or worse'. 
He said: 'We have seen women holding powerful men to account, women coming forward with allegations about serious sexual violence, who were then quickly disparaged or dismissed online, even threatened. 
'It is a sharp reminder of the hard road we must walk to eradicate toxic attitudes towards women from our society.' 
At his party's women's conference, Sir Keir Starmer pledged to crack down on online abuse and hate against women
Addressing the audience in Liverpool on the eve of his party's main conference, potentially the last before a general election, Sir Keir said his party would deliver 'the reward of reform' by changing the way violence against women and girls was addressed. 
The police would be reformed to 'tackle this scourge head on', with specialist rape units, domestic abuse workers in control rooms and better training for officers. 
There would be 'proper' victims' legislation, a domestic abuse register and 'we'll take on the tech companies who push misogyny into the minds of our children for profit'. 
He added: 'The broader lesson is this: don't succumb to the Tory project, the hope they want to kick out of our country. Government can make the difference for women and working people.' 
Sir Keir said Labour would offer a 'simple message' to voters that it would 'make a practical difference to the lives of millions of women in this country'. 
Among Sir Keir's promises were a proper 'victims' legislation and a domestic abuse register
Meanwhile, Rachel Reeves said she wanted to break the 'glass ceiling' at the Treasury by becoming the first woman to hold the office of chancellor of the exchequer. 
The shadow chancellor said: 'I have spent my entire professional career in the worlds of economics and politics. '
'When you do that, you get used to a world that doesn't look a lot like modern Britain. 
'Eight hundred years of the office of chancellor of the exchequer, not one single woman to be found. 
'There are still glass ceilings to break and it will be the privilege of my life to break this one.' 
Source: Read Full Article