Tributes pour in for 'kind & empathetic' Jessica Baker, 15, who died alongside driver after school coach overturned | The Sun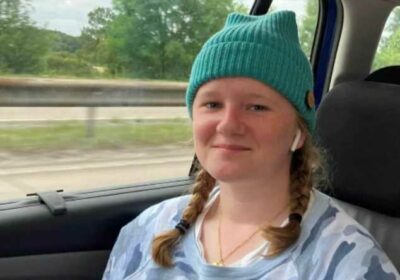 HEARTBREAKING tributes have poured in for the 15-year-old schoolgirl killed in the M53 coach crash.
Jessica Baker died alongside bus driver Stephen Shrimpton when their vehicle overturned in Wirral on Friday at 8.30am.
Headteacher of West Kirby Grammar School, Simeon Clarke said Jessica was "unequivocally kind and empathetic" and will be "greatly and sadly missed".
In a tribute issued through Merseyside Police, Jessica's family remembered her kind and loyal nature.
"Jessica was a warm-hearted, wonderful daughter, granddaughter and niece, devoted sister and loyal friend," they said.
"A talented climber, based at the Boardroom Climbing centre academy where she helped coach younger climbers and competed around the country inspiring others.
Read more News
HOUNDED
Inside town that went to war with DOGS as angry owners slam 'dangerous' £1K fine
star gone
Lock, Stock and Two Smoking Barrels star Jake Abraham dies aged 56
"At the age of 15, just starting Year 11 at West Kirby Grammar School, where her focus was not just on academic work but also sports, representing the school at many events.
"Her untimely death has led to a massive void in our lives that will never be filled.
"She will be missed by many, from not only school but also the climbing community across the country."
The tributes come after Mr Shrimpton's sister-in-law Emily Church said on a GoFundMe appeal that he suffered a "medical issue" while behind the wheel.
Most read in The Sun
SICKO FANS
Cops arrest two after football yobs 'taunt' fans with Bradley Lowery pic
HELL STATE
Torture, beheadings & gang-rapes: how rural region became militant-run warzone
hot water
Holly Willoughby 'told not to wear a bra' by kids TV bosses in new misogyny row
'PRAYING FOR YOU'
Ajax game abandoned and players in tears after keeper knocked unconscious
"I'm raising some funds for my brother-in-law's funeral," the page read.
"He tragically died in an accident on the M53 on the morning of the 29th of September, after suffering medical issues at the wheel while driving students to school."
"He's sadly left behind my sister who's now a widow in her early thirties, and unfortunately a single mum along side his much loved two young children who are only 8 and 4, who are going to grow up without their beloved father.
"Any donations to this unexpected circumstance would be much appreciated to give Stephen a funeral he deserves."
The vehicle was carrying more than 50 students from West Kirby, an all-girls grammar, and Calday Grange, an all-boys grammar school, in Merseyside.
Students caught up in the chaos were forced to climb out of the windows of the vehicle escape the wreckage, according to Mail Online.
Witnesses report having seen school kids fleeing from the smashed rear window of the bus while their traumatised pals travelling in a second bus were left watching on in horror.
A paramedic who rushed to the scene has now told how one girl who was weeping in the aftermath said the crash was "very scary" and claimed: "I thought I was going to die".
He told MailOnline: "She was crying her eyes out. She was in shock and said it was horrible and very scary. I think some of the older kids helped her out.
"She said she thought she was going to die in the bus."
He added: "The bus was a mess. The children were in shock. It's going to take a long time for them to get over, what they've seen."
Shocking photos show broken glass, debris and school bags strewn around the bus wreckage.
Student Jessica was the sole other person besides the driver to die in the crash.
A total of 58 people were involved in the incident with 52 attending the emergency services training centre.
In a statement, Merseyside Police confirmed a bus had struck a reservation near Junction 5 and overturned.
Read More:
BIG REWARD
Katie Price's fiancé Carl Woods offers £5k reward after Range Rover is stolen
star gone
Lock, Stock and Two Smoking Barrels star Jake Abraham dies aged 56
Four others were taken to hospital, including a seriously injured 14-year-old boy.
Thirteen people sustained minor injuries.

Source: Read Full Article