Aston Villa Women forced to wear 'wet-look' Castore kit for WSL opener vs Man Utd despite major backlash | The Sun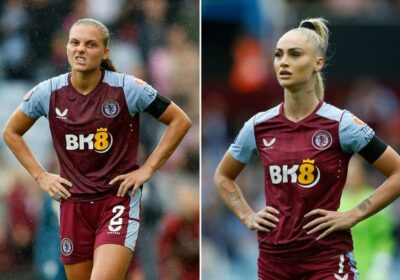 ASTON VILLA WOMEN wore the club's sweat-heavy kit in their Women's Super League opener.
The WSL is back underway today with the Midlands-based side kicking things off against Manchester United.
Villa players have been forced to wear the wet-look kit despite huge backlash with no short-term solution found.
Both the men's and women's teams have complained about the Castore shirt and say it impacts their performances.
The kit appears to retain sweat and become heavy for players.
The men's side wore it as they beat Brighton 6-1 yesterday.
READ MORE IN FOOTBALL
NEW LISHA LIFE
Megabucks life of 'world's sexiest footballer' dubbed 'the female Beckham'
I'VE GOT A TEXT!
How to join The Sun's brilliant new WhatsApp channel in three easy steps
It was thought a solution might be found prior to the women's match today, but it wasn't.
Speaking ahead of kick-off, Aston Villa Women's boss Carla Ward said: "It's up to the football club's legal team and Castore to discuss that and deal with that.
"It's something I've tried to completely ignore as difficult as that is.
"The football club are in full control of that. They've been excellent with us, myself and the players around it."
Most read in Football
R.I.P. FRANK
Aberdeen legend Frank McDougall dies aged 65 as tributes pour in
DARREN DITCHED
VAR ref AXED following shambolic call in Tottenham vs Liverpool
SICKO FANS
Cops arrest two after football yobs 'taunt' fans with Bradley Lowery pic
'PRAYING FOR YOU'
Ajax game abandoned and players in tears after keeper knocked unconscious
FREE BETS – BEST BETTING OFFERS AND BONUSES NEW CUSTOMERS
The kit manufacturers responded to the controversy by stating they intend to "address this issue as quickly as possible to meet the standards we expect".
A Castore spokesperson said: "There has been some media speculation about a potential issue in the football kit supplied by Castore to Aston Villa Football Club.
"We are working closely in collaboration with the club to address this issue as quickly as possible to meet the standards we expect. We would like to thank the club for their patience and support to date.
"As a proud new British brand, we always hold ourselves to the highest of standards and strive to do everything we can to constantly improve the performance of our products. This means addressing any customer concerns with promptness and humility."
There has been reports that Villa could terminate their deal with Castore.
Broadcaster Jacqui Oatley led criticism of the situation, saying she had hoped a solution would have been found before the WSL began and it's not something the players should have to worry about.

Source: Read Full Article