Trump's chief of staff testifies, given immunity in election interference probe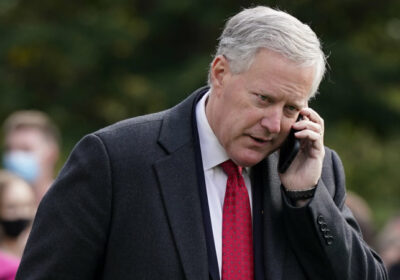 Save articles for later
Add articles to your saved list and come back to them any time.
Washington: Mark Meadows, the final chief of staff to Donald Trump, has been given immunity from prosecution in the election-interference probe against the former president in Washington and has testified before a grand jury, according to a person familiar with the case.
In his testimony before the grand jury being used by Special Counsel John "Jack" Smith, Meadows said he repeatedly told Trump in the weeks following the conclusion of the 2020 election that claims of election fraud were baseless, according to the person, who asked not to be named discussing non-public information.
Then US president Donald Trump and his White House chief of staff Mark Meadows,talk outside the Oval Office in 2020.Credit: AP
Smith had compelled Meadows to testify through a court order, the person said. If Meadows didn't testify, he could have been held in contempt of court.
Meadows was a central player in the investigation under the purview of Smith and his staff exploring efforts by Trump and his allies to overturn the results of the 2020 presidential election won by Joe Biden. But Meadows was not among the six unindicted co-conspirators described in the August 1 indictment returned against Trump.
In the indictment filed in federal court in Washington, Trump was charged with three criminal conspiracies to subvert the 2020 election. He was accused of trying to undermine the counting of votes and the certification of the results, obstructing congressional proceedings on January 6 and conspiring against people's right to vote and to have their votes counted. Trump has denied all the charges.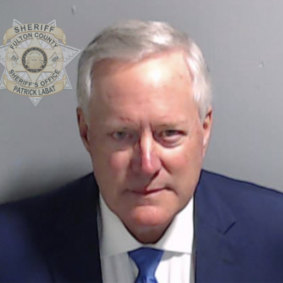 Meadows was charged alongside former President Donald Trump and 17 others accused of trying to overturn the election.Credit: Fulton Country Sheriff's Office
The DC election interference case is one of four criminal indictments Trump is facing in state and federal courts as he makes another run for the White House. On Tuesday, a fourth codefendant of Trump's pleaded guilty in state court, where the former president is accused of leading a conspiracy to stay in office after losing the 2020 election.
Trump had unsuccessfully fought a grand jury subpoena for testimony from Meadows and other former senior administration advisers. A federal appeals court cleared the way for Meadows' appearance in April, but he remained conspicuously unseen at the federal courthouse in Washington where the grand jury sat, even as other ex-aides who were part of the earlier subpoena fight showed up to testify.
Speculation that Meadows might break ranks with his former boss and co-operate with federal investigators began after the Justice Department declined to prosecute him for refusing to comply with a subpoena to turn over documents to the congressional committee investigating the January 6, 2021, attack on the US Capitol.
The January 6 committee's report, released in December, placed him in the thick of a series of key meetings and actions inside the White House during the run-up to the US Capitol attack, as well as other activities and communications on the day of the insurrection.
The report also outlined Meadows' role in arranging the infamous January 2, 2021, call in which the then-president asked Georgia Secretary of State Brad Raffensperger to "find 11,780" votes. On the call, Trump also suggested that Raffensperger could be criminally prosecuted if he didn't help overturn the 2020 election.
Meadows was on the call, and can be heard expressing hope they "can find some kind of agreement" and "find a path forward that's less litigious". Meadows also asked for state election data, and continued to do so, though he advised that would violate the law.
Smith's office separately has charged Trump in Florida with mishandling state secrets after he left office and conspiring with two of his employees to try to obstruct the government's efforts to get those classified documents back from his Mar-a-Lago resort.
Meanwhile, in New York, the former president is facing an indictment on state charges alleging he falsified business records in connection with hush payments to an adult film star before the 2016 election. He's pleaded not guilty. Trials in the New York and Florida cases are set for March and May, respectively.
Trump has pleaded not guilty to all of those charges.
Bloomberg
Most Viewed in World
From our partners
Source: Read Full Article