Vladimir Putin's failed invasion laid bare with '300,000 Russian troops dead'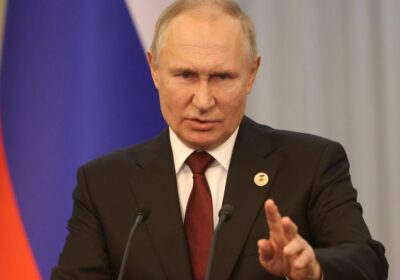 Ukraine claims 307,000 Russian soldiers have been killed since Vladimir Putin launched his failed invasion of the country in February 2022.
While the losses are far higher than Western estimates, there is no doubt that both sides have suffered an enormous amount of casualties in a nearly two-year-long brutal war.
Ukraine's Armed Forces also claim to have destroyed 5,300 Russian tanks as well as 322 planes and 324 helicopters alongside thousands of other pieces of equipment worth billions of pounds.
US intelligence believes that Russia is approaching 300,000 overall casualties, including wounded and killed, according to Pentagon documents leaked in the spring.
That number could include as many as 120,000 Russian dead and is likely to have grown due to fierce fighting over the summer and autumn.
READ MORE: Putin could provoke 'another war in Europe' as tensions brew in the Balkans
The US put Ukrainian losses at close to 70,000 killed and 100,000 to 120,000 wounded – those numbers are also likely to have grown.
UK intelligence arrives at a similar number of Russian casualties, around 290,000 with 50,000 to 190,000 of those dead or permanently wounded.
The staggering losses do not appear to have deterred Putin from doubling down on the invasion and Russia has been launching massive human wave assaults in eastern Ukraine, resulting in heavy casualties.
The fighting has centred on the town of Avdiivka where Russia launched massive armour attacks which were repelled last month.
Don't miss… Kremlin slams Israeli minister's threat to drop nuke on Gaza and urges inquiry[REPORT]
Support fearless journalism
Read The Daily Express online, advert free
Get super-fast page loading
Ukraine has claimed to have destroyed "hundreds" of Russian vehicles in the fighting near Avdiivka and analysts say that Kyiv's defences are holding.
Russian forces have made some gains in the area, however, according to the Institute for the Study of War.
It said: "Russian forces conducted offensive operations near Avdiivka on November 7 and reportedly advanced."
The think-tank also claimed that Russia was planning to deploy a battalion of Ukrainian prisoners of war – in violation of the Geneva Convention – to fight against their own side in Ukraine.
Source: Read Full Article