We live in the UK's 'WORST' seaside town & now it's being made even more unbearable thanks to council's rising costs | The Sun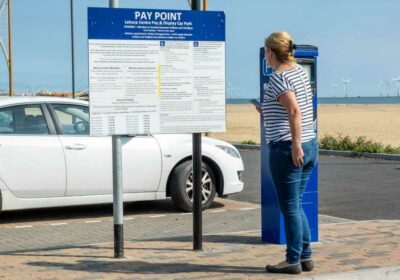 RESIDENTS living in a seaside town described as one of the UK's "worst" say they're fed up with the rising price of parking in the area.
Parking costs in Great Yarmouth, Norfolk have gone up this year – leaving locals furious with some saying it should be free.
Holidaymakers also say they're annoyed at the increase.
Pensioners Eugene and Glenda Toner are spending a week in a hotel in nearby Gorleston but were stunned to see the car park prices.
Eugene, 72, said: "It's absolutely shocking. These new rates will just drive people away – a family need to be able to park near the beach."
The Toners have found their own solution – at an £8-a-day car park further up the coast.
Read more in News
Our seaside town was a retirees' paradise… now it's overrun by zombie addicts
Our seaside town is the 'Costa del Dole' – it's most disgusting place on Earth
The new charges are backed up by a penalty threat that could see fines of up to £70.
Another visitor Kelly Powley, 42, with two young children aged seven and four, complained: "It's just too much – really very expensive.
"Parents in Yarmouth may not be able to afford those ice-creams for their youngsters.
"There are plenty of cheaper options in the area too – a trip to Banham Zoo costs ten pounds a ticket – and includes free parking."
Most read in The Sun
Mason Greenwood offered lifeline by European giant after being axed by Man Utd
Harry reveals he was left in foetal position & didn't have support network
Brits stranded by travel chaos face 2 weeks delay as air boss doubles pay
Beloved radio host dies aged 57 after 'short illness' as tributes pour in
Another Yarmouth visitor Peter Beale, from Suffolk, said: "The prices are extraordinarily high here – and the fines up to £70.
"I don't know how the council can justify it. They should be trying to attract people and young families to the town but instead they are driving them away with such exorbitant parking charges."
The local council said parking at one seafront long-stay car park has now gone up 12.9 per cent – from from £9.30 to £10.50 for all-day parking from 8am to 9pm.
Other seafront short-stay car parks have increased by 13 per cent – from £22.60 to £25.60 for an eight-hour stay.
Meanwhile, a car park at the Marina Leisure Centre – a popular local attraction in view of the sea – has had an increase of 5.2 per cent, from £27.50 to £28.90 for an eight-hour stay.
The council spokesperson said: "It should be noted that this car park is predominantly for Marina Centre users who can park there for free for up to three hours."
Some have found a way to get around paying more than they'd like for parking.
Wayne Talman looks after a private car park for two dozen cars within sight of the sea where drivers pay just £8 for a day's parking and £15 for a 24-hour stay.
He said: "I know the council parking fees are very high – but it's not fair on ordinary families looking to give their kids a day out at the seaside."
Theatre owner and Great Yarmouth local Peter Jay says parking in the area should be free.
He said: "I am very anti them increasing the charges – in fact they should be putting them down not up.
"We are always battling to get people to come to Yarmouth and when they do come here many people complain to me about the cost of parking.
"Sometimes they have to race out at the climax of our show to put more money in the meter. It is such a short-sighted policy.
"The entertainment and hospitality sector and the crowds it draws in are about the only things that make money for them and in the end they will kill it.
Read More on The Sun
I'm an ex-paramedic – the dangerous food that acts like a plug on a child's airway
Peter Andre reveals sad 'real reason' he never has birthday parties
"We have to make it easy for people and parking should really be free."
Great Yarmouth was named the sixth worst seaside town in the UK by Which? this year.

Source: Read Full Article