Why did it take weeks to shut trampoline jump that broke backs?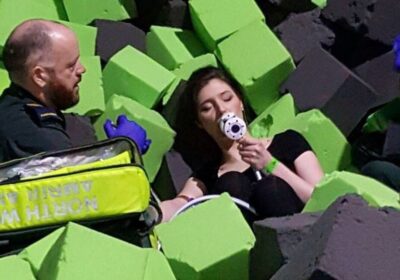 Why did it take seven weeks to shut the trampoline park jump that broke the backs of 11 people? Not to mention the 259 others who suffered injuries from smashed noses to knocking out their own teeth!
 The Flip Out centre in Chester has seen a string of recent spinal and leg injuries
Customers have fractured their spines, among other horrific injuries 
Standing on top of the 13ft-high platform, Liza Jones took one last look and then jumped. 
As she fell through the air, the 26-year-old assumed a seated position as instructed, ready for a 'safe' landing in the foam-filled pit below. It wasn't to be.
'We were told to land on our bottoms, but that puts all the force up through your spine,' she said of the moment she realised something had gone terribly wrong.
'It was really scary, it was the most pain I've ever suffered.' 
Initially treated by paramedics where she lay, it quickly became clear that she was badly injured. 
'I had a burst vertebra and I was told in hospital that if there had been any movement I could have ended up paralysed,' Liza recalled. And, incredibly, she was not alone. 
Liza Jones, 26, was one of 11 people to break their back at the "unsafe" park
Liza Jones, from Wrexham had been using the 13ft high "tower jump" at Flip Out, in Chester
Liza Jones who suffered a back fracture and burst vertebrae after landing in a foam pit
'I was one of three people who suffered broken backs that day,' she told the Daily Mail. 'They were in hospital in the beds next to me.' 
Indeed, in the end it would be the overworked doctors and nurses who raised the alarm as the local accident and emergency department came to resemble a warzone. 
There were sprains, split lips, missing teeth and broken bones. But most serious of all were the 11 fractured spines that saw a string of patients like Liza requiring emergency treatment. 
Only the skill of surgeons prevented them from being paralysed for life. 
And the cause of all this pain and misery? A brand new trampoline park called Flip Out Chester that weeks earlier had opened on the edge of the Cheshire city. 
It was the brainchild of two young friends, David Shuttleworth, who is known by his middle name Elliott, and Matthew Melling. 
READ MORE –  Trampoline centre that left three people with broken backs or legs in a single night after they plunged into a foam pit from a four-metre tower is being probed by council chiefs
The pair met at university where they had set up, ran and then sold a student gym. With the proceeds and help from their parents, in 2015 the unemployed graduates then invested in a trampoline park. 
At the time a new concept for Britain, they consist of multiple trampolines laid out side-by-side allowing children and adults to literally bounce around a giant room. 
But not content with the trampolines, more 'extreme' attractions were added. Among them was the so-called Tower Jump from which users could throw themselves into a cushioned pit below. That was the theory. 
The reality was that in the space of seven weeks, 270 people would suffer injuries falling from the structure. 
Today, the shocking story of what unfolded can be told in full for the first time after Shuttleworth and Melling pleaded guilty to health and safety offences on the opening day of their planned trial. 
The timing of their pleas meant that details of the case against them were not heard in public. 
'In my 33-year career I can truly say I've never known a case like it,' Andrew Broome, a solicitor specialising in health and safety cases who was called in by the local council to investigate and prosecute the trampoline park, told me this week. 
'I have never known a single piece of apparatus like this cause such injury over a sustained period of time. What we've had here are 270 people that we know of — there are undoubtedly more — who have been hurt over effectively a 50 to 60-day period of operation. 
And the cause of all this pain and misery was a brand new trampoline park called Flip Out Chester that weeks earlier had opened on the edge of the Cheshire city
It was the brainchild of two friends, David Shuttleworth (right) and Matthew Melling (left)
The pair met at university where they had set up, ran and then sold a student gym. With help from their parents, in 2015 the graduates then invested in a trampoline park
'That's an extraordinarily large amount of time for people to be hurt in such a serious way. In fact, that's unique in my experience.'
What is hard to comprehend is why it took so long for Shuttleworth and Melling to close the tower down. 
This was despite many of the accidents being caught on the venue's own CCTV, and despite a growing cacophony of complaints from those who were injured, many of whom later sued for compensation. 
While some claims remain unsettled, others are understood to have received sixfigure payouts from the operator's insurers. 
READ MORE – Trampoline park bosses who ran notorious venue where ELEVEN people broke their backs 
As for Shuttleworth and Melling, they are expected to be sentenced in the New Year, when they could face a hefty fine and up to two years in prison.
Interestingly, the Mail has also learned that despite the duo quitting the company set up to run the two parks, they have continued to be involved with the wider Flip Out business. 
Shuttleworth has launched a number of other activity-based attractions — including one that features customers hurling axes. Looking for a business opportunity, Shuttleworth and Melling came across the idea at a franchise 'fair'. 
Flip Out had originated in ­Australia. In 2015 the pair set up an eponymous company with themselves and Shuttleworth's parents as directors. 
Having secured a hefty bank loan, Flip Out Stoke opened in late 2015. In the first year, Shuttleworth and Melling would tell the local paper that they had 460,000 visitors and expected to turn over £2.75million. 
Keen to expand, they found a second site in Cheshire and in December 2016 Flip Out Chester welcomed its first customers. 
But within days it was apparent that all was not as it should be. 'Literally from the second day of operation, people were starting to get hurt and hurt quite seriously,' says Mr Broome. 
Those injured were all using the same bit of apparatus — the Tower Jump. 
Lucy Jones, 19, joined three friends for the post-Christmas get together at Flip Out Chester
Ms Jones, of Northop, Flintshire, North Wales, now plans to sue the park for negligence and breach of statutory duty
MS Jones says she experienced the 'worst pain' of her life after she broke her back
The structure allowed people to jump from different heights into a cushioned pit below. The pit had protective matting on the bottom, on top of which were a jumble of foam cubes. 
'What we think happened is that at a very early stage the foam cubes were being '­cratered' — they were being literally scattered by people jumping into them,' said Mr Broome. 
READ MORE – Trampoline bosses goof around in safety video after string of accidents at Flip Out park 
'And, of course, people were just effectively then bottoming out — they were just jumping and they were pretty much landing on insufficient foam and, of course, all that energy was being transferred up their spines and into their bodies with the consequence that they were being seriously injured.' 
The jumpers were instructed that they should assume a seated position before landing. But, says Mr Broome, this appeared to result in further injuries. 
'What was happening was that people's knees were coming up,' he said. 'And then the knees were hitting them in the face. 
So they were just smashing noses, or breaking teeth. They were splitting lips. I mean, there are numerous instances — we had 123 of those we could tell from the record. People were bleeding into foam. So you can imagine what that was like.' 
Michelle Conway needed stitches after her top lip was ripped away from her nose
One woman even sustained a second degree tear to her perineum, an injury associated with a difficult childbirth. But the most serious injuries of all were the spinal breaks, four of which required emergency surgery. 
'Those are the ones who had breaks that were unstable and obviously could have resulted in paralysis if the surgery hadn't taken place,' added Mr Broome. 
Liza, who was visiting the park with her boyfriend, was hospitalised on February 1, 2017. She later underwent surgery at Liverpool's Walton Centre for neurology and neurosurgery to have metal plates and screws inserted in her spine, after which she required months of recuperation. 
She is among those still seeking compensation. On the same day, Leeds University student George Magraw, 21, of Ellesmere Port, fractured his spine on the same jump. He described feeling his spine 'crunch' on landing and said medics had told him he was lucky not to be paralysed. 
When he got to A&E at nearby Countess of Chester Hospital he said 'half' the people waiting had suffered injuries at Flip Out. 
George needed an operation to replace a shattered vertebra with a metal disc and was told it would take him months to recover. Incredibly, they were not the first such injuries. 
Lucy Jones, 18 at the time, fell victim in January 2017, leaving her temporarily paralysed down her left side. 
Sarah Mcmanus wearing a back brace after she fractured her spine on a jump at Flip Out
Recalling the incident, the dental nurse said: 'I landed in a seated position, as we'd been told to do. But, when I landed, I felt the worst pain I have ever been through in my whole life. 
For a while, I couldn't breathe or feel anything.' After being taken to the Countess of Chester Hospital, it was discovered that she had fractured vertebrae in her spine. She underwent a five-hour operation to place metal rods into her back followed by months of physiotherapy. 
READ MORE – Nurse feared she was 'paralysed for life' after suffering a serious back injury at Flip Out trampoline park 
In the same month 29-year-old Sarah McManus was also injured on the same apparatus. 'When I hit the foam, I heard a crack in my back and felt like I'd been winded,' said the personal assistant, who suffered a fractured vertebra.
'I had to throw some of the foam sponges in the air to get attention.' 
She added: 'I was eventually fitted with a back brace.' By the time the Tower Jump was voluntarily shut down in early February 2017, Cheshire West and Chester Council had launched a formal investigation, having been alerted by medics at the hospital. 
Following delays caused by the pandemic, Shuttleworth and Melling were charged with failing to prevent exposure to risk under the Health and Safety at Work Act 1974. 
The pair, both 33, were due to face a trial in October but pleaded guilty before it began. Sentencing for the two men was adjourned for pre-sentence reports. 
The general manager of the park was acquitted of the same charge following a three-week hearing. Separately, a number of civil claims have been settled, including several brought by Jonathan Flattery of Express Solicitors.
Shuttleworth resigned his directorship in the company running the two parks in 2018, with Melling following suit two years later. 
Pictured: Ceri Jones, who was injured at the trampoline park in Chester
But in 2020 Shuttleworth launched a new venture, Boom Battle Bar, described as the 'fastest growing adventure bar' in the UK. Attractions included hi-tech electric darts, shuffleboard, crazy golf and 'Bavarian axe throwing'. 
The Boom Battle Bar franchise was sold for £18million after just 18 months of trading. 
In more recent interviews, Shuttleworth is described as the 'founder and chief development officer' of an entity called We Do Play Ltd which counts Flip Out and Putt Putt Noodle, an immersive mini-golf experience, among its brands. Melling was also linked to the opening of a new Flip Out franchise in 2021. 
Approached at his home in Stokeon-Trent, married father-of-three Shuttleworth declined to comment on the court case. 
Attempts to contact Melling were also made. A spokesperson for Flip Out said that the Tower Jump 'was an isolated piece of equipment developed by the franchisee at the time and is not present in any other Flip Out park'. 
She added that Flip Out had worked with experts 'to develop robust health and safety processes and procedures which are implemented in all of our parks'. 
Asked about the two men's involvement with the company, she said: 'In light of recent events, David Shuttleworth and Matthew Melling are no longer associated with Flip Out, Putt Putt Noodle and Guacabowle.
Source: Read Full Article