Former First Lady Rosalynn Carter Dead At 96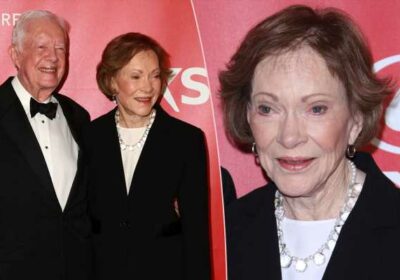 Rosalynn Carter has passed away at 96 years old.
The former First Lady, who was married to President Jimmy Carter for 77 years, sadly died on Sunday afternoon. The family's foundation, The Carter Center, broke the news on their website, writing:
"Former First Lady Rosalynn Carter, a passionate champion of mental health, caregiving, and women's rights, passed away Sunday, Nov. 19, at 2:10 p.m. at her home in Plains, Georgia, at the age of 96. She died peacefully, with family by her side."
https://www.instagram.com/p/Cz11QIrOCYL/
A post shared by The Carter Center (@thecartercenter)
Rosalynn's death comes just two days after she entered hospice after being diagnosed with dementia back in May.
Rosalynn isn't the only Carter with health complications, as Jimmy, himself, 99, is also in hospice, and has been since February. In The Carter Center's release, Jimmy paid tribute to his late wife:
"Rosalynn was my equal partner in everything I ever accomplished. She gave me wise guidance and encouragement when I needed it. As long as Rosalynn was in the world, I always knew somebody loved and supported me."
Our hearts are with all the Carters. Rest in peace to a true great.
Source: Read Full Article