Martha Stewart reveals secret dating advice for 'beautiful girls'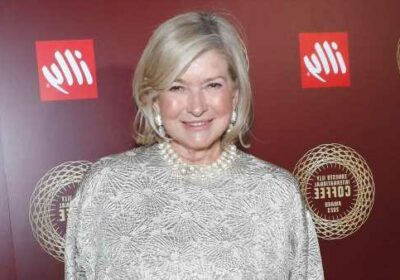 EXCLUSIVE: Martha Stewart, 82, admits she's still interested in finding love – as she reveals her SECRET dating advice for 'beautiful girls' wanting to meet a man 
 Martha was previously married to Andrew Stewart from 1961 until 1990
 Lifestyle guru revealed the 'nicest place to meet people' when going on dates
READ MORE: Martha rents out her beloved New York farmhouse to lucky fans 
She recently claimed that she doesn't have time to 'take care of a man full-time', but Martha Stewart has now admitted she's still very much interested in going on dates – and she may have revealed the best way to win her attention.
The 82-year-old lifestyle guru, who was married to Andrew Stewart from 1961 until 1990 and has also enjoyed a romance with Hollywood actor Sir Anthony Hopkins, said she believes the best way to win over 'beautiful girls' is to sidle up to them in a park. 
Speaking exclusively to DailyMail.com, Martha said: 'I think every beautiful girl should date.
'I think the nicest place to meet people like that is walking in the park, sitting on a bench…'
Lifestyle guru Martha Stewart, 82, has confirmed she's still interested in going on dates
The TV star and author married Andrew Stewart in 1691 but they separated in 1987 and divorced in 1990 
Martha enjoyed a brief romance with Hollywood actor Sir Anthony Hopkins in 1990
Martha was in a 15 year relationship with high-tech pioneer Charles Simonyi until 2008
Conscious of giving away her secret, she added: 'I'm not going to give away my secrets actually!'
When asked if she was still willing to go on dates, Martha simply replied: 'Of course!' 
The mother-of-one looked stunning as she posed on the red carpet at the 2023 Ernesto Illy International Coffee Award event, which was held at the New York Public Library.
Martha showcased her slender frame in a stunning gold embroidered dress that fell just above her ankle and featured oversized sleeves.
The TV star and author accessorized her chic attire with gold peep-toe platform heels, a statement pearl necklace and matching earrings as she stopped to have a her photo taken with celebrity chef Marcus Samuelsson.
Earlier this year, Martha revealed how her dating life had changed following her sexy Sports Illustrated Swimsuit Issue cover.
'I've gotten a few inquiries. Just a couple,' she told Entertainment Tonight at the New York City launch party for the magazine's issue back in May.
However, she also claimed that finding someone special wasn't at the top of her list of priorities as she was 'still working really hard'.
'You have to make time for certain things. My garden is very important,' she said, before adding that her 'two amazing grandchildren' take precedent in her life.
Martha claimed that the 'nicest place' to meet people for dates is 'walking in the park' or 'sitting on a bench'
The 82-year-old said her dating life changed when she graced the cover of Sports Illustrated magazine's Swimsuit Issue
No doubt Martha is hearing up for the holidays with her grandchildren and her 58-year-old daughter Alexis – but this year she confirmed that she's actually canceled Thanksgiving dinner.
Speaking on Thursday's episode of The Kelly Clarkson Show, Martha revealed that she's backpedaled on her plans to host a Turkey Day meal and will instead be visiting different friends' homes on November 23.
'I gave up Thanksgiving. I canceled,' she explained. 'Nine guests canceled because somebody got sick. So I called up my chef friend and I said, "We're not doing Thanksgiving".'
'I've also cooked 14 turkeys already for my TV show, and I still have to [cook] one more turkey on the Today show,' she added. 'So forget it!'
Source: Read Full Article