How Pippa Middleton mixes healthy diet and buggy runs with 'naughty stuff' at 40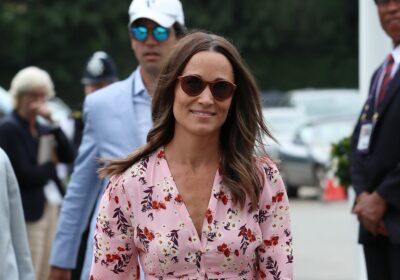 Pippa Matthews is celebrating her 40th birthday today. While she may be known for being the sister ofKate Middleton,Pippa has forged a very successful path for herself and is a published author, charity ambassador and is a doting mum to three children – Arthur, Grace and Rose.
But while she may not spend her days completing royal engagements like sister Kate, the pair have a very close sisterly bond,with Jennie Bond telling OK! that they "have always been inseparable. They share similar interests".
Among those similarities, both sisters are known for their interest in sport and staying active.
In the past, Pippa has opened up about her fitness regime and has explained how she mixes "brisk, rigorous walking" with high intensity interval training (HIIT) as part ofher column for Waitrose.
"I'm not a trained fitness professional but fitness and health have always been of core importance to me," she wrote. "Lifestyle changes can make a huge difference to body, mind and soul."
Meanwhile, Pippa has also revealed that she is particularly keen on running and has been doing the sport since she was just eight years old.
Speaking toHoka in 2021 about the sport, she said: "It has brought clarity when I have felt muddled, a safe space before I make any big decision and a sense of freedom when life's pressures weigh me down."
But as a busy mum-of-three, Pippa's routine has changed throughout the years as she balances her love of sport with her life as a hands-on parent. In the same interview, she revealed that she stayed active during her first two pregnancies and that she stays active around her children.
"Being active with my 2.5-year-old son in the park or playground, transporting him on the back of my bike, and buggy running when he was a baby have been ways in which I have been able to include outdoor exercise whilst being a hands-on mummy," she added.
Pippa also pays attention to what she eats and once told the i paper in 2018 that she'll "always have breakfast" to kickstart her day. The mum-of-three has also collaborated with the British Heart Foundation to create the Heartfelt, Healthy Recipe Book which is filled with 100 recipes that are heart healthy.
Given her interest in health, Pippa aware that moderation is key and isn't afraid to balance her healthy diet with things that are a bit more "naughty".
"I grew up with the belief that good health is about moderation in all things," she said in her Mind & Body column for Waitrose. "So I'll be celebrating healthy living through exercise, a balanced diet and a little of the naughty stuff sprinkled in – I'm talking chocolate, crisps and occasional glass of wine."
Source: Read Full Article