Les Dennis 'to face' Krishnan in first Strictly dance-off as expert exposes clue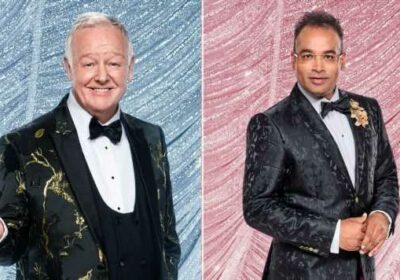 Strictly: Lorraine Kelly compares Les Dennis to a 'wardrobe'
Les Dennis and Krishnan Guru-Murthy could be the first Strictly Come Dancing 2023 contestants to face the dance-off, according to body language expert Darren Stanton.
Analysing the two stars, he spotted what he deemed to be clues that they would be in the dreaded bottom two, and would see them go head to head in order to decide who progresses in the competition.
"I think Les will be using his comedy as a defence, but he enjoyed himself during his routine," Darren said.
"The public will want to see him dance before he goes out of the competition, so it's good he's getting stuck in already with bundles of enthusiasm."
"I don't think he will last very long, but he's giving it a good go," he intimated. Meanwhile, he believed that Krishnan's presenting background was holding him back in the competition.
READ MORE: Strictly's Angela Rippon's 'fantastic' WhatsApp sign off to fellow stars
"As Krishnan is a presenter and is normally in control, I think he found it hard being the one following Lauren as the leader.
"There wasn't very much reciprocal liking between them or genuine smiles of happiness.
"Their postures didn't mirror either. He was laughing a bit during his routine, as a way of protecting himself, but it wasn't authentic.
"I don't have a lot of confidence that he will go far," Darren predicted speaking on behalf of Betfair Bingo.
His insight seems to imply that they could be the first two to face the judges for the deciding dance off this Sunday night when the two couples with the least amount of votes will fight for a place in the competition.
Don't miss…
Coleen Nolan recalls heart attack scare while taking part in Big Brother[VIDEO]
Coronation Street's Ryan Connor pays heartfelt tribute to 'amazing' co-stars[EXCLUSIVE]
Neighbours heartthrob unrecognisable 28 years after show exit[PICTURE]
We use your sign-up to provide content in ways you've consented to and to improve our understanding of you. This may include adverts from us and 3rd parties based on our understanding. You can unsubscribe at any time. More info
After dancing again, it will then be up to the judges to decide who will stay and who will go.
Les and his partner Nancy Xu are currently at the bottom of the leaderboard with 22 points for their Tango to the human League's Don't You Want Me.
However, Krishan and his partner Lauren Oakley surprised many with their debut dance – a Cha Cha to Boom Shack-A-Lack by Apache Indian.
They scored 22 points which puts them in fifth place overall alongside Eddie Kadi and Karen Hauer, who also scored 22 for their Quickstep to Phil Collins' song Two Hearts.
Strictly Come Dancing returns on Saturday September 30 at 6.20pm. Darren Stanton was speaking on behalf of Betfair Bingo.
Source: Read Full Article