Woman Finds Out Boyfriend Is Cheating Because Of AMBER Alert!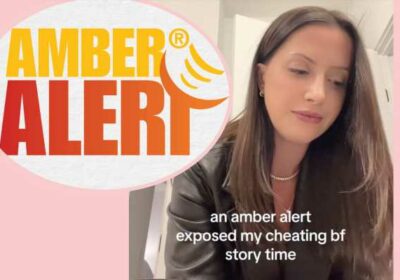 Nicole Christine has gone viral with a cheater-busting story for the ages! Well, particularly for the information age. Because it's all about tech.
The scorned (newly) single took to TikTok to share the story, beginning:
"This past week an Amber Alert revealed my boyfriend of a year and a half has been cheating on me."
Um… WHAT??! Tell us more…
She clarified this was a serious relationship with a man she "was building a life with" — in other words, "picking out rings and shutter colors with"! Damn!
She explained how an Amber Alert went off while her boyfriend was out for a "beer with the boys." Obviously the loud blast demands attention, that's part of the point. But after checking it out on her phone and realizing she didn't know anything, she turned off the notification. But it was still going — on her BF's Apple Watch!
"I pick up his Apple Watch, I silence the notification, and I immediately get an 'I miss you already' text."
OH NO! The timing! How devastating!
Though in Nicole's case there was also a bit of vindication. She had noticed a couple strange things lately, including her pillow smelling a little off and her bathroom stuff under the sink being shuffled around from its usual places. He told her she was being "a psycho". Gaslighting MFer…
But now Nicole had the watch and was able to see the text chain with the other woman. It turns out the girl who texted had been in "a full-on relationship" with her boyfriend for the past two weeks! NO!!! Remember, she had been with this guy a year and a half and they were making wedding plans! And this girl was getting "a copy-paste of the lovebombing" she had gotten when they first got together last year! OH NO!
Not only that, Nicole discovers there were "other women, too"! DAMN! That Amber Alert saved this woman's future! She could have married a guy who was regularly cheating on her and lying to her face. She could have been stuck with the guy for YEARS! Nicole agrees. She finished her video by saying:
"If I had never gotten this Amber Alert, if he had never gotten this Amber Alert, I'd never have known this."
Scary thought.
#amberalert #cheating
♬ original sound – Nicole in Charlotte
Source: Read Full Article