Alexander Zverev accused of 'choking' former girfriend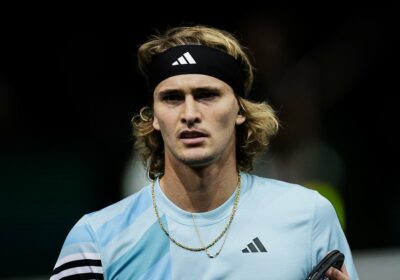 Alexander Zverev's ex-girlfriend claims he 'choked her against a wall in a row days before proposing' and 'raged if she moved his cuddly toys' … after world No 9 was fined nearly £400,000 in 'abuse' court case
Former world No 2 has been described as a jealous man and prone to violence 
Zverev was previously subject to an investigation by ATP into other abuse claims
ATP have said that it would be 'inappropriate' to comment on court ordered fine 
The former girlfriend of tennis star Alexander Zverev has alleged that the world No 9 'choked her during an argument' and was a 'jealous man' in a new interview. 
On Wednesday, Zverev received an order for a Berlin court to pay a fine close to £400,000 for physically abusing Brenda Patea, the mother of their child, and 'damaging her health' during an argument in May 2020.  
The German player has denied the charges, and through a spokesperson objected the fine, which is likely to lead to a trial. 
A statement by his representatives, Schertz Bergmann, called the penalty order 'scandalous', and hinted that the player would take action 'using all means possible'. 
Patea is thought to have dated Zverev for less than 12 months between 2019 and the birth of their daughter Mayla in 2021. 
Alexander Zverev allegedly 'choked' his former girlfriend Brenda Patea during an argument in May 2020
The former world No 2 and the German model were together for less than 12 months between 2019 and 2021 
The German model has described a 'mixture of shame, fear of Zverev's lawyers, and concern for her child' as playing a role in why she delayed requesting the court order, but speaking to Sueddeutsche Zeitung, Patea said that her decision to speak out has stemmed from a bid to set an example of victims of assault. 
Patea claims that during the confrontation, the former world No 2 'pushed (her) against the wall and choked her during an argument in the hallway.'
This led to 'pain in the throat and neck area, and difficulty swallowing', which she discussed when confiding after the incident in two friends. 
Zverev is believed to have admitted to 'touching' her neck, and just days after, proposed to his then-girlfriend. 
Patea also shared details about their relationship, alleging that Zverev's jealousy – and subsequent 'repeated physical violence against her' – could be set off by small things, such as likes on her Instagram profile, and that he repeatedly looked through her mobile phone. 
Zverev is also said to have had controlling habits, and Patea claimed that even moving a stuffed animal in his collection could have agitated him. 
Patea appeared to express regret, adding: 'I remained silent when I could have been loud'. 
After their break-up in 2021, the player is believed to have sought Patea's signature on a contract which gave her a one-off payment of £87,144 (€100,000), maintenance payments and the opportunity to live in one of Zverev's properties. 
Patea has described her former boyfriend as 'jealous' and that this could result in 'repeated physical violence' against her
After the pair broke up, Zverev is said to have offered Patea a contract which detailed restrictions around their daughter Mayla (pictured being in the public eye
Conditions attached to the contract are said to include a ban on discussing Zverev or their relationship publicly, as well as restrictions around their daughter, including the banning of 'photographs of the child's body parts, especially the hands and/or feet'. 
Patea was also banned from contacting Zverev's former girlfriend Olga Sharypova, who in 2020 and 2021 accused the player of several counts of assault in two different publications. 
Zverev obtained an injunction against Sharypova later that year, and Sharypova did not file criminal charges against her former partner. 
The player was the subject of a 15-month investigation by the ATP which concluded in January 2023 with the verdict that there was 'insufficient evidence to substantiate published allegations of abuse'. 
'This determination may however be re-evaluated should new evidence come to light, or should any legal proceedings reveal violations of ATP rules,' their statement added.
'Zverev has consistently denied all allegations and supported ATP's investigation.'
A number of players had voiced concerns over the lengthy process and lack of domestic violence policy formed by the governing body of men's tennis. 
Andy Murray and Novak Djokovic were amongst those who criticised the ATP's approach, with the three-time Wimbledon champion saying in October 2021: 'I don't know how long it was (before ATP responded to the allegations, but it certainly was not immediate. I have read some stuff, and obviously tennis doesn't have a domestic abuse policy.
'That is something we as a sport should be looking into, so the ATP know what to do in that situation, rather than having to think and react to it.' 
Patea claims that she has spoken out in a bid to set an example to others in the same situation 
Before the pair's split, the couple frequently travelled together for Zverev's Tour commitments (pictured in 2020)
On Thursday Zverev lost to Stefanos Tsitsipas in their round-of-16 clash at the Paris Masters
When contacted for comment on Zverev's court-ordered fine, the ATP said that it would have been 'inappropriate' for the organisation to offer comment. 
'We are aware of the allegations against Alexander Zverev and the recent court order in Germany,' the statement read. 'As legal proceedings are still ongoing, it would be inappropriate to comment at this stage.' 
Zverev was knocked out of this week's Paris Masters tournament by Stefanos Tsitsipas on Thursday. 
Whilst not yet qualified, Zverev is expected to make the cut for mid-November's Nitto ATP Finals in Turin.    
Source: Read Full Article