UK weather: Brits face yellow weather warnings today after Storm Ciarán leaves trail of destruction | The Sun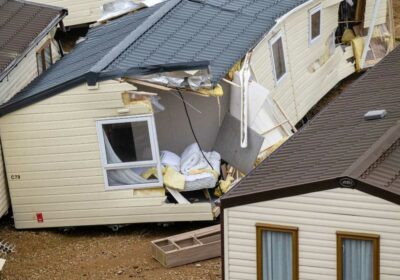 BRITS face yellow weather warnings today after Storm Ciarán left a trail of destruction across the country.
The Met Office has issued a yellow rain warning for eastern Scotland as the storm moves into the North Sea.
Flooding could cause commuter chaos in cities like Dundee and Aberdeen, with a chance of train and bus delays as well as road closures.
There is a small possibility homes and businesses could be flooded with deep or fast-flowing floodwater.
The warning, which came into force at 6am yesterday, will stay in place until 6pm this evening.
A number of schools across the UK are still shut today after Storm Ciaran lashed the country.
Read More Storm Ciaran
WASHED AWAY
Moment wave sweeps tourist off her feet as she tries to take a selfie in storm
POWER OUT
More than 16k homes left without electricity across UK as Storm Ciaran hits
Another yellow warning has been issued for the south coast from Portsmouth to Kent between 3pm and midnight tomorrow.
Heavy showers and gusty winds are likely to flood some homes and businesses and make journey times longer.
Experts are warning Brits to stay away from exposed shorelines, where large waves could put them in danger.
Met Office forecaster Alex Burkill said: "We can expect more unsettled weather as we go into the weekend.
Most read in The Sun
KAT GOT THE CRIM
Jessie Wallace seen on boozy night out with road rage killer Kenneth Noye
JUNGLE'S LATEST SIGNING
Singer turned TV host is latest name to sign for I'm A Celebrity
WEBB WOEs
Emmerdale split fears over Charley Webb and Matthew Wolfenden's 'separate lives'
AD SLAM
M&S REMOVES Xmas ad post & apologises for 'unintentional hurt' – but star hits back
"Storm Ciaran will be well out into the North Sea by Saturday.
"But another system is approaching from the west – and is going to bring some heavy rain and strong winds as we go through Saturday.
"We do have a rainfall warning in force for parts of the south east because of those hefty showers, which could turn quite intense."
It comes after Storm Ciaran drenched Brits yesterday – causing a major sewage overflow and leaving thousands of families without tap water in and around Southampton.
Southern Water said: "We're really sorry that customers are likely to experience either low pressure or a loss of water supply.
"This is due to Storm Ciarán's unprecedented impact on the water quality and levels of the River Test, close to our Testwood Water Supply Works. 
"This has made it extremely difficult for us to abstract water and treat it for drinking water, and has led to a temporary site shutdown.
"As a result, we are struggling to fill reservoirs in some areas of southern Hampshire and the Isle of Wight.
"Our teams are working around the clock to get our Testwood site back working as soon as possible as stormwater levels fall and water quality improves."
"If you are concerned or are a vulnerable customer and need access to bottled water as a priority, please call us on 0330 303 0368."
Read More on The Sun
SKIN WINS
I'm 74, my 4 secrets for ageless beauty & yes, I still have vodka & McDonald's
LOCKDOWN
Big Brother live feed axed after HUGE row erupts and housemate is heard screaming
Storm Ciaran set a new record for the lowest mean sea level pressure recorded in England and Wales in November.
The heaviest rain was recorded in the Hampshire villages of Leek and Middle Wallop, where 37.6mm.
Source: Read Full Article