Freddie Flintoff was still covering his face weeks ago, snuck into Ashes incognito and even trained a guide dog says pal | The Sun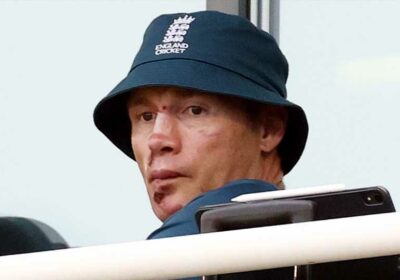 FREDDIE FLINTOFF was still covering his face six weeks ago following his horror Top Gear crash, his former England team-mate has revealed.
Former cricketer Steve Harmison met up with Flintoff when their sons played against each other.
Flintoff, 45, suffered facial injuries and broken ribs in the 130mph crash in an open-topped three-wheel Morgan Super 3, but has since returned to public life.
The retired England all-rounder was spotted helping the England team during the ODI matches against New Zealand last week.
And Harmison has admitted that Flintoff had kept himself busy while recovering from his accident.
He told talkSPORT: "It was great to see him back.
READ MORE
Freddie Flintoff seen helping to coach England nine months on from crash
Get £30 in free bets when you stake £10 today with Bet UK
"It's been tough, you've seen the pictures of him with a smile on his face but I saw him about six weeks ago when my son Charlie and his son, Rocky played against each other and it was great to see him.
"Obviously I roomed with Andrew for the best part of 15 years and we'd gone through all our careers together and so to see our two sons playing each other, Northumberland against Lancashire, it was fantastic.
"I got to see him then but at that time he covered his face up when he walked around – believe it or not, he was training a guide dog which I'm sure is going better now than it was because he tripped over around three times on his way around the field.
"He was on great form, but to see him around the England group, the main team, was fantastic."
Most read in Cricket
BABY JOY
Shaheen Afridi's sweet gesture to first-time dad Jasprit Bumrah despite rivalry
BACK TO BUSINESS
Popular Wimbledon presenter stuns in bold outfit back on the day job
DOWN & OUT
Rohit Sharma hanging on by thread & its gonna go wrong for India, warns legend
FREDDIE TO GO
Flintoff smiles & signs autographs as he meets fans nine months after crash
FREE BETS – BEST BETTING OFFERS AND BONUSES NEW CUSTOMERS
Harmison, 44, played alongside Flintoff between 2002 and 2009 and won the 2005 Ashes series together.
He also claimed that Flintoff would be a good addition to the England team with his "great cricket knowledge" that can be passed to the younger players.
He added: "This England team are a good bunch and not only are they great cricketers, but they're great ambassadors.
"Freddie was always brilliant in the dressing room, and so to have Andrew in the dressing room with them and feeling comfortable and letting him get his feet under the table because they'll be in for a show.
"He's a funny fan who is infectious, he has great cricket knowledge and a great cricket brain – unfortunately for cricket he was even better in entertainment, so he went off to make the big bucks on the TV and so to see him in the dressing room to give the young lads an education in cricket is brilliant."
TalkTV host Piers Morgan has also shared his delight in seeing Flintoff return.
Morgan also revealed that Flintoff had been attending this year's Ashes series against Australia "incognito," with only a few people seeing him.
He said: "I'd heard from various people that through the Ashes series that he was turning up as a guest of Rob Key, who runs England cricket now and is one of his great mates, but they were very incognito and watching it in back offices on TV.
"A very small number of people went to see him.
"I was encouraged, but he's still got a lot of scarring on his face and signs of injury nine months after the crash.
Read More on The Sun
Mum spends benefits on designer school shoes for kid only for them to be banned
Kate Garraway reveals heartbreaking reason she kept hospital dash secret
"I know he's had a lot of mental health issues because of it, as you would expect because it was a horrendous crash that nearly killed him.
"Freddie is gingerly putting himself back into the game and it's brilliant to see him laughing and joking and interacting with the public again. I think he needs that."

Source: Read Full Article