Jordan Sinnott: Mum of footballer who was killed on night out dies from cancer as family say 'give Jord a big cuddle' | The Sun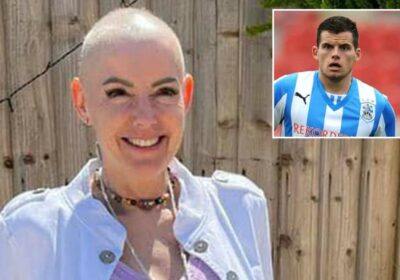 THE MUM of a footballer who was killed while on a night out has died after being diagnosed with cancer.
Jordan Sinnott died in January 2020 aged 25 after being attacked by three drunk and violent thugs in Retford, Nottinghamshire.
Just a week after Sinnott's funeral, his partner Kelly found out she was 12 weeks pregnant with their daughter Maisie.
And now in another tragedy for the family, his mum Melanie Tait has died after a battle with cancer.
Melanie had spent her final years setting up a charity in honor of her son – and did a sponsored sky dive in his honor earlier this year.
In a post on Facebook on Sunday the trust said: "It's with the heaviest of hearts we would like to share the devastating news that yesterday after a long fight with cancer, our beautiful Melanie has gained her wings.
"We are utterly heartbroken.
"Give Jord a big cuddle from us Mel, we love you both unconditionally."
On July 31, 2020, Denovan, 22, and Matthews, 21, were jailed for 11 years and eight years and three months respectively after being convicted of manslaughter at Nottingham Crown Court.
Jordan had proposed to Kelly at Christmas just four weeks before his death and had gone out with her and friends in the market town to celebrate.
Most read in Football
GETTING SHIRTY
Fans slam Astrid Wett and want her 'banned from matches' for outfit choice
CARR BLIMEY
Fans reckon Carragher 'goes full Neville' during Chelsea's draw with Man City
PEP TALK
Guardiola reveals reason for dropping Grealish as fans fear he 'may want to leave'
TRAGIC LOSS
Body of footballer recovered from river after car crash leaves two dead
In his last moments with Kelly, he performed his favourite song Sweet Caroline on the karaoke.
Jordan and two friends later went drinking in nearby pubs as Kelly went home at about midnight.
CCTV showed Denovan and Matthews following the pals into The Vine pub at about 1.40am, with prosecutors describing them as a "pack hunting down and exacting retribution".
The brute told Jordan he was a "good-looking lad" and would have no trouble "pulling girls" — unlike him, who was "fat and ginger".
Falsely believing he was engaging in jovial banter, Jordan replied: "Yes I can see that."
The court heard Denovan's comment was a "deliberate honey trap" to spark a fight.
Denovan then "flew immediately into a rage" and punched Jordan twice in the face before Jordan and his friends managed to leave the pub.
The thugs then followed them to a nearby takeaway and restarted their attack.
Denovan punched Jordan again and Matthews then hit him "two or three times" causing the footballer to hit his head on the pavement as he fell backwards to the ground.
Jordan was rushed to hospital but pronounced dead with his family at his side at around 6pm on Saturday, January 25.
Paying tribute at the time, Jordan's parents, former Bradford City footballer Lee Sinnott and Mel said: "We've lost a son, a brother, a fiancé, a grandson, uncle, nephew, cousin, a true friend to so many. 
Read More on The Sun
THAT'S A WRAP
Strictly star crashes out of the competition as fans claim result is a 'fix'
CASH IN
I found £2,000 free cash in lost bank accounts thanks to handy Martin Lewis tip
"But more heartbreaking than anything, a father to his unborn child. 
"And what a great daddy he would have been."

Source: Read Full Article