Suella Braverman MUST go, say Tory moderates amid Ulster comments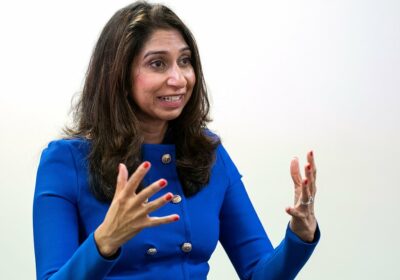 Suella Braverman MUST be sacked, say Tory moderates: Clamour for Rishi Sunak to act after 'tentgate' grows as Home Secretary now sparks new row by comparing pro-Gaza 'hate marchers' to 'what we see in Northern Ireland'
Pressure is increasing on the Prime Minister to sack Suella Braverman after the Home Secretary called homelessness a 'lifestyle choice' and compared pro-Palestine marches to 'what we see in Northern Ireland' – sparking anger within the Tory ranks.
Cracks have appeared between the Home Secretary and No10, with suggestions that she is daring the Rishi Sunak to fire her with increasingly provocative comments.
Earlier this week, the PM refused to fully endorse one of his most senior minister's comments on homelessness – as she faced mounting anger from within the party after revealing plans to stop rough sleepers being given tents.
Now, an op-ed by Mrs Braverman has sparked a new row, with Conservative peers and MPs suggesting she has 'crossed a line' with her latest remarks.
In the opinion piece for The Times, the Home Secretary blasted the Met Police for allowing pro-Palestine protests – which she labelled 'hate marches' and suggested are 'reminiscent of Ulster', with organisers potentially having 'terrorist links'.
Home Secretary Suella Braverman has blasted the Met Police for allowing pro-Palestine protests – which she labelled 'hate marches'
Rishi Sunak has come under pressure from members of his party over comments made by the Home Secretary
She wrote: 'I do not believe that these marches are merely a cry for help for Gaza.  They are an assertion of primacy by certain groups – particularly Islamists – of the kind we are more used to seeing in Northern Ireland. 
'Also disturbingly reminiscent of Ulster are the reports that some of Saturday's march group organisers have links to terrorist groups, including Hamas.'
Tensions have been rising ahead of Remembrance weekend, and threaten to reach boiling point when thousands of demonstrators supporting the plight of Gazans and far-right organisers could come face-to-face.
While Mrs Braverman has been outspoken about Palestine marches, ministers have refused to join her in calling them 'hate marches' and have been distancing themselves from the use of inflammatory language.
Tories have accused the Home Secretary of 'dangerous' rhetoric fuelling anger among right-wing groups planning counter-demonstrations.
A Tory WhatsApp group has been 'ablaze' today following the comments, according to Times political correspondent Aubrey Allegretti. 
Dan Poulter, MP for Central Suffolk and North Ipswich, is reported to have said: 'My only reflection on this and other matters is that this is a very different party to the one I was elected to in 2010.'
Protestors march down Regent Street as they take part in a National Demonstration against military action in Gaza
Meanwhile MP Paul Holmes, a frontbencher who is Parliamentary Private Secretary to Michael Gove, reportedly said: 'More and more lately, I have utter despair at coming into work and this party.'
 A Tory minister told the i newspaper that the Home Secretary is 'dangerous and totally irresponsible… her job is to calm things'.
The Home Secretary has also been criticised by policing figures, who have condemned the public nature of her criticism of the Met's decision to allow Saturday's protest to go ahead. 
Mrs Braverman accused the Met of 'playing favourites' after the force decided not to seek a ban on the pro-Palestine gathering. 
Former Deputy Mayor for Policing in London, Conservative peer Lord Greenhalgh slammed her comments, telling BBC Newsnight: 'I don't think that's an acceptable way for a Home Secretary to behave.'
In an unusual move, Mr Sunak last night warned Met Commissioner Sir Mark Rowley that he will be 'held accountable' if pro-Palestine marches wreck this weekend's Remembrance events.
Home Secretary Suella Braverman has branded the planned protest a 'hate march'
Commentators have questioned whether No10 had given the go-ahead to Mrs Braverman's op-ed.
Earlier this week, a senior backbencher publicly accused Mrs Braverman of 'inflaming' community tensions.
Gloucester MP Richard Graham said that 'tone matters' as he attacked her high-profile interventions in recent days.
The police decision on Tuesday to give the green light to the protest surprised ministers after senior officers warned the previous day of a growing threat of disorder.
Far-Right groups and football hooligans are believed to be organising gatherings via group chats.
They warned they will travel to London to help 'protect' sensitive sites such as the Cenotaph – raising further risks of trouble.
Sir Mark said the threat of violence was not high enough to trigger legal powers that would allow him to ban the rally
Rishi Sunak last night warned Britain's top policeman he will be 'held accountable' if pro-Palestine marches wreck this weekend's Remembrance events
Scotland Yard deputy assistant commissioner Ade Adelekan said on Monday that 'the risk of violence and disorder linked to breakaway groups is growing' – and urged the march organisers to abandon it.
The Met had urged march organisers to 'urgently reconsider' the event on Saturday because of a growing risk of violence, but the pro-Palestinian coalition behind it has refused to call it off.
The force could request the power to ban the event under Section 13 of the Public Order Act 1986, but that would apply only if there was the threat of serious public disorder which could not be controlled by other measures. 
Sir Mark said the intelligence associated with Saturday's demonstration did not meet the threshold required.
He vowed that officers would act to prevent disruption 'at all costs'.
A Whitehall source said: 'How can you say on Monday that there is a growing risk of violence and disorder and then say on Tuesday that it's fine to go ahead?'
The Home Secretary was branded 'clumsy and crass' by senior backbencher Steve Brine for trying to defend the move on the grounds that sleeping rough was a 'lifestyle choice' by those on the streets.
Braverman has also faced pushback – including from fellow minister Alex Chalk – for describing rough sleeping as a 'lifestyle choice' as she promoted plans to criminalise charities for providing tents.
Braverman's flagship criminal justice bill has been delayed amid resistance from fellow cabinet ministers.
Claire Coutinho said the reasons behind homelessness are 'complex' and that she wouldn't necessarily call it a 'lifestyle choice'. 
And in a BBC interview, Mr Brine, the chairman of the Health Committee, said: 'I utterly resist the line that sleeping rough is a lifestyle choice. I just think it was clumsy and it was crass.'
The Prime Minister declined to criticise the claim made by Mrs Braverman on social media at the weekend, but stopped short of repeating them in an interview. 
Migration levels 'harming cohesion', warn Conservative MPs
Senior Conservatives are calling for a clampdown on legal migration amid warnings that record arrivals are undermining community cohesion and making Britain 'poorer'.
Former business secretary Jacob Rees-Mogg and ex-immigration minister Kevin Foster used the Commons debate on the King's Speech to call for tighter controls on visa numbers after net migration hit a record high of 606,000.
Sir Jacob said the Treasury was in thrall to the Office for Budget Responsibility, whose economic forecasts assume that high immigration will boost economic growth. 
He said the analysis was 'wrong', adding: 'It focuses on total GDP, rather than GDP per capita. We are actually making ourselves poorer as a nation by the excess of migration that we are having and we are risking what I might call the comfort of the nation – the ease with which we all live together.'
Mr Foster said current visa salary thresholds were 'out of date', given surging inflation, and that the system of setting salary thresholds 20 per cent lower for shortage occupations should be 'abolished'.
n Indian nationals will be barred from lodging asylum claims in Britain, Home Secretary Suella Braverman announced last night.
The country will be placed on a list of 'safe states' to make it easier to send its citizens back home. It follows a surge in the number of Indians coming here across the Channel.
Source: Read Full Article