Rugby World Cup to scrap 'disturbing' pre-match national anthems after fan backlash and admitting 'it didn't work' | The Sun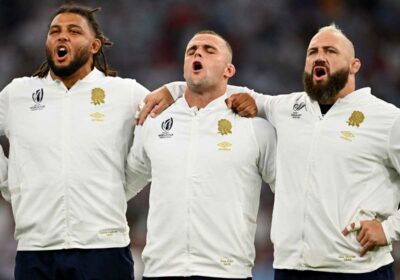 RUGBY World Cup organisers have confirmed they will redo the pre-match national anthems.
That's after dire feedback from fans described the current versions as "disturbing" and "surprising."
France is hosting this year's World Cup, with early favourites like Ireland and South Africa already racking up good wins.
However, one of the major talking points so far has been about the pre-recorded national anthems, which are played on speakers before kick-off.
The tunes have been belted out by a children's choir comprised of 7,000 promising singers.
But there is no additional music or even a live singer in the stadium.
READ MORE ON RUGBY
Win an incredible Lamborghini + £5k or £100,000 cash alternative from 89p
Fans spot Rugby World Cup referees are missing crucial piece of equipment
And fans have not been pleased so far, with Ireland supporters particularly disgruntled ahead of their 82-8 thrashing of Romania.
Tournament organisers hastily gathered feedback from supporters following the World Cup's opening matches.
And after an overwhelming amount of negative answers, all national anthems will now be redone.
Chairman Jacques Rivoal said: "The feedback we got after eight games were that these anthems were disturbing, or surprising to our fans.
Most read in Rugby Union
HORROR ATTACK
Female rugby fan abducted & gang raped was found 'in distressed state'
TRY HARDER
Fans want ITV to change Rugby World Cup coverage after 'election debate' set
LUCKY STREAK
Britain's most famous streaker's phone didn't stop ringing after topless stunt
RAPE HORROR
Female rugby fan kidnapped & gang-raped by 3 men after watching World Cup match
CASINO SPECIAL – BEST CASINO WELCOME OFFERS
"We are here to prioritise the fan experience, and we were quite concerned by this negative feedback.
"It is quite a sensitive question because for all the teams it's a very important point.
"Today we have proposed new versions, simplified versions, while preserving the children's voices.
"These different versions will not be disturbing for the supporters, and will offer a more affirmative musical performance."
Director Michel Poussau added: "We understand it didn't work, or it hasn't worked as well as we hoped.
"We can have anthems which will be closer to expectations, but will still have that touch from these kids, who I want to say have been amazing, have been working very hard and who deserve the be part of this tournament."
Source: Read Full Article