Top owner John Dance banned from running horses AGAIN as 'further concerns come to light' amid fraud investigation | The Sun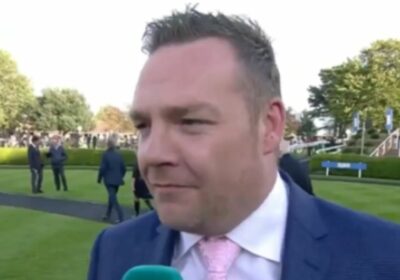 TOP owner John Dance has been banned from running his horses under the Coverdale Stud and Titanium Racing banners.
Racing was stunned back in June when it emerged that Dance was at the centre of a £80million criminal investigation.
Dance's WealthTek was shut down by the Financial Conduct Authority (FCA) in April and they placed a £40 million freezing order on his assets.
He was initially unable to run the horses under his and his wife Jess's name, but a subsequent agreement between the BHA and the FCA allowed him to run them under the Coverdale Stud banner.
Although the fraud investigation is currently ongoing, the new ban is not thought to be linked to it, according to the Nick Luck Podcast.
This new ban means no horses under the Coverdale Stud and Titanium Racing banners can run.
A statement from the BHA reads: "Since May, the BHA has permitted runners through Mr Dance's business in the name of Coverdale Stud and Titanium Racing Club in accordance with the terms of the high court freezing order.
"However, further concerns have since come to light and as a result the BHA has taken interim action to stop all such runners."
The ongoing investigation was a huge blow to trainer James Horton, who was Dance's boutique trainer.
His string were effectively in limbo from April and the news will be another hammer blow to Sir Michael Stoute's former assistant.
Most read in Horse Racing
THROWN OUT
Punters see £13,000 go up in flames after 1-100 in-running 'winner' disqualified
FIVER FLUTTER
This 9-1 pick for Grand National-winning trainer can light up Monday
TEMPLEGATE'S TIPS
My NAP runs at Kempton and looks a superstar in the making
FIVER FLUTTER
Saffie Osborne and her old man can team up for victory with this 9-2 chance
Dance was one of racing's best known owners, landing multiple Group 1s and a French Classic with fan favourite Laurens.
He was also the owner of Bravemansgame, who won Dance a King George in December before transferring into the sole ownership of Bryan Drew to finish second in this year's Gold Cup.
He also sponsored high-profile races including the Futurity Trophy at Doncaster.
Source: Read Full Article