Welsh club with 'longest name in football' land bizarre sponsorship from LaLiga | The Sun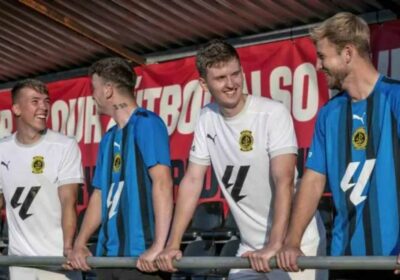 LA LIGA has agreed to sponsor a Welsh fifth-tier club with the 'longest name' in football.
Spain's top flight has penned a one-year shirt sponsorship deal with Llanfairpwll.
The club's full name is Clwb Pel Droed Llanfair­pwllgwyngyll­gogery­chwyrn­drobwll­llan­tysilio­gogo­goch Football Club, which is understood to be the longest name of any club in world football.
The new deal will see La Liga's logo displayed on the front of the club's home and away shirts from this weekend.
An official statement from La Liga read: "LALIGA, the world's most followed football league, has today been announced as the official front-of-shirt partner of Welsh side Clwb Pêl Droed Llanfairpwllgwyngyllgogerychwyrndrobwllllantysiliogogogoch Football Club (CPD Llanfairpwll FC) starting from the current 2023/24 season.
"As part of its partnership with CPD Llanfairpwll FC, the new LALIGA 'LL' logo will emblazon the front of the Club's home and away shirts in a move that will help the North Wales Coast West Division One side continue to challenge on and off the pitch.
READ MORE IN FOOTBALL
New Wrexham star got rid of £260k supercar to prove he wasn't 'Billy Big Time'
Win an incredible Lamborghini + £5k or £100,000 cash alternative from 89p
"Following the introduction of LALIGA's new brand positioning from the 2023/24 season, Spain's leading professional football league is set to bring 'The Power of Our Fútbol' to North Wales with a range of initiatives to take place across this season.
"The one-year deal will put the local community at the heart of the partnership, starting on Saturday's game at Maes Eilian (Eilian's Field) as CPD Llanfairpwll FC take on Holyhead Town FC, where fans can see the new PUMA blue and black vertical striped shirt for the first time as well as prominent 'The Power of Our Fútbol' messaging around the ground."
Llanfairpwll boss Gwyndaf Hughes believes the new sponsorship deal will bring a new level of professionalism to the club.
He said: "We've got a great group here who are really committed to bringing success to the club.
Most read in Sport
JOE BLOW
Awkward moment Joe Cole is left shocked by Souness' bold England call
SCOTLAND 1 ENGLAND 3
Bellingham on fire as Three Lions smash Scots despite Maguire shocker
SIMONA drug ban
Ex-World No1 Halep banned for FOUR YEARS after failing drug test
ROMAN RUINS
Forgotten stadium with bigger capacity than Prem grounds now lies abandoned
FREE BETS – BEST BETTING OFFERS AND BONUSES NEW CUSTOMERS
"This new partnership with La Liga brings further professionalism to our side, and I know the lads can't wait to wear the new kit with pride from this Saturday and throughout the season."
Llanfairpwll was formed in 1899 and is based on the island of Anglesey in Wales.

Source: Read Full Article