Vladimir Putin lifts lid on real reason for Kim Jong Un's trip to Russia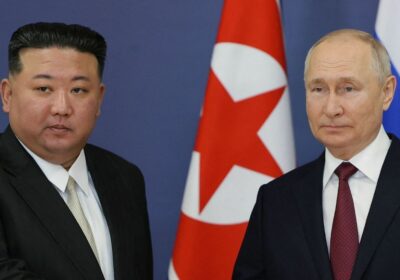 Putin & Kim Jong-Un shake hands in first meeting since 2019
Vladimir Putin revealed the real reason behind North Korean dictator Kim Jong Un's controversial trip to Russia during a visit to a Kremlin space station.
President Putin and Kim have today been seen walking around Russia's Vostochny Cosmodrome spaceport as they kickstart talks on nuclear weapons and satellite cooperation.
Maria Zakharova, spokeswoman for the Russian foreign ministry, told the RIA state news agency the historic talks were vital, describing also how the "situation on the Korean Peninsula is, of course, of utmost importance for security and stability in the region".
In a KCNA report, from North Korea state media, a spokesperson added of the talks: "Kim Jong Un said that his visit to the Russian Federation … is a clear manifestation of the stand of the Workers' Party of Korea (the country's ruling party) and the government of the Democratic People's Republic of Korea prioritising the strategic importance of DPRK-Russia relations."
But Putin appeared to lay bare the true menace behind Kim's trip to Russia when questioned by a journalist before Kim's arrival.
READ MORE: Putin meets with Kim Jong-Un as they vow to 'develop relations' in stark warning
Speaking at the rocket launch site, Putin was asked whether Russia could help North Korea "launch its own satellites and rockets" – to which the president said: "That's exactly why we came here."
The Russian continued: "The leader of North Korea shows great interest in space, in rocketry, and they are trying to develop space. We'll show our new objects."
Putin also said that "all the issues" would be spoken about "without haste", likely to include the Ukraine war.
Sergei Shoigu, the Russian defence minister, and his recent trip to North Korea were also referenced by Putin.
Don't miss…
Putin ramps up rhetoric as he claims UK trying to disrupt Russia nuke sites[WW3]
Ukraine fears desperate Putin is plotting massive strikes in autumn and winter[UKRAINE]
Vladimir Putin rages at 'rotten' US political system as he supports Donald Trump[PUTIN]
We use your sign-up to provide content in ways you've consented to and to improve our understanding of you. This may include adverts from us and 3rd parties based on our understanding. You can unsubscribe at any time. More info
Fears of a heightened relationship between Russia and North Korea was placed firmly under the microscope after it emerged Kim was heading to Moscow for landmark talks.
South Korea confirmed Kim's arrival into Russia via his armored train on Tuesday morning.
The meeting was described by John Bolton, the ex-US National Security Adviser, as "quite significant" and which "goes well beyond a potential arms deal".
Officials in Washington claim as a result of the meeting Pyongyang could provide Moscow weapons for its war with Ukraine.
Mr Bolton told CNN: "From North Korea's point of view, this gets them back into really significant contact with Russia for the first time since the collapse of the Soviet Union.
"Back in the Cold War, North Korea played off China against the Soviet Union very well, going back to the Korean War."
He, however, added that after the Soviet Union collapsed North Korea then became more dependent on China instead.
But ultimately stronger ties between the two would "increase Russian influence in Korea and the Peninsula and the whole geographic area, at a time when I think the Russians are worried about being the junior partner in the Beijing-Moscow axis."
Follow our social media accounts here on 
Express US and @expressusnews
Source: Read Full Article