UK's 'draconian' village where every door is green and takeaways are banned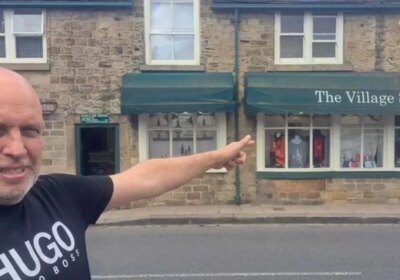 Bookmark
Never miss any of the fun stuff. Get the biggest stories and wackiest takes from the Daily Star, including our special WTF Wednesday email
Thank you for subscribing!
Never miss any of the fun stuff. Get the biggest stories and wackiest takes from the Daily Star, including our special WTF Wednesday email
We have more newsletters
A UK village has been labelled "draconian" for its strict green-only door policy and a ban on takeaway restaurants.
From residents being told they must request permission from a special "village trust" to alter their home to the complete lack of supermarkets, Wentworth has unusual rules to preserve the architecture.
Doing so means banning neon signs, keeping the village in order with just one shop, two pubs and a restaurant, and making sure there is "no sense of urgency" running through the South Yorkshire spot.
READ MORE: 'Bloodbath' as man stabbed to death on tram days after Nottingham triple murder
The picture-perfect area, owned by a pair of aristocrats , attracts visitors constantly, and those who live there have warned the village is "kept in check", YorkshireLive reported.
One local, wine merchant Matt Thompson, 43, said: "It's forced to be [traditional] because of the rules the estate has to abide by, everything has to be uniform.
"Hence all the 'Wentworth Green'. I see it everybody – but yes people come in and say 'what a great village.'."
Where it may draw some comparisons to Hot Fuzz and the town council found in the fictional village of Sandyford, the people of Wentworth are adamant on their roots being preserved.
"They were born here and they'll die here," Matt said, and although he brought up some "draconian rules", it appears to have had an effect on the area.
Ex-Wagner mercenaries told to 'fight for Moscow' just 24 hours before group was axed
Craig Horner, who owns the Wentworth Village Shop along with wife Zoe Horner, says the area has rules over the colour of doors and lamps.
He said: "It's a quaint quiet little village owned by a trust that likes to, as far is it can, keep things as it always has done. Certain things like the door colours, the lamps."
Zoe added: "They stick to the old traditions of village fetes and things like that. It's very much an old traditional village. There are new people coming in who have got a lot of new ideas, but they still keep the village traditions."
Craig is adamant the strict rules are kept, to prevent "neon signs, chip shops and all sorts".
Alexander Davies-Terry, the village's new head of estate, says he meets with every new person moving to the village, and was defensive of the green doors.
He said: "With the green doors, you drive through Wentworth and all the doors are green and that's part of the heritage and signifies it as an estate property.
"It's an aesthetic choice, some people might not like the green, but I think a lot of people like the status of living in an estate house or living within Wentworth."
Weird creatures flocking to Brit beaches as UK looks 'more like the Med'
Fellow Wentworth resident Nick Kenworthy, 66, says it is a "lovely" village with two pubs in a short distance.
He added: "It's what you want, I'm quite happy with nowt going on. If I wanted to live somewhere where there was plenty going on, I'd live somewhere else, wouldn't I?"
The village, which houses 1,400 residents, is almost entirely under the ownership of the Fitzwilliam Wentworth Amenity Trust.
Sir Philip Naylor-Leyland Bt., grandson of the 10th Earl Fitzwilliam, and Lady Juliet Tadgell, daughter of the 8th Earl Fitzwilliam, currently own the estate.
For more than 300 years, the Trust has held power over decision-making in the area, which has seemingly led to a 95% ownership in properties, with villagers not actually owning their homes.
Instead they are tenants and are unable to claim ownership of the homes, and, according to Matt Thompson, "the minute a bloodline dies out, the rent goes up."
Village Head of Estate Alexander spoke of the properties, which were typically Wentworth and easily identified by their green doors.
He said: "With the green doors, you drive through Wentworth and all the doors are green and that's part of the heritage and signifies it as an estate property.
"It's an estate village, we're not unique in being an estate village. You can find villages that have all blue doors – an estate I used to work on had all marine doors."
Derailed rollercoaster sparks 'complete panic' as rider plummets to their death
Some are content with Alexander's perspective and view of the village, with Georgia Flintoft, 19, saying: "I think it's lovely, everyone knows it's Wentworth as soon as you come here. You don't have a choice about it [the green paint].
"It makes everyone feel part of a community as we're all in it together."
Some, like shopowner Craig, believe the approval of any sort of modernisation in the village would be a slippery slope to reducing the area to an everyday place to live.
For the latest breaking news and stories from across the globe from the Daily Star, sign up for our newsletter by clicking here.
Source: Read Full Article